Living Green
From NFL Cheerleader to Activist – Crissy Peacock, our new Wellington Supermom!
By Bryan Hayes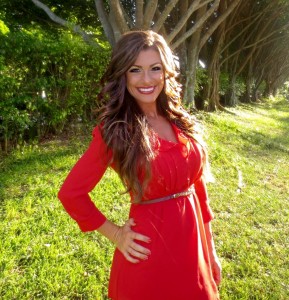 Not every mother was an NFL cheerleader, but Crissy Peacock stands out not only for her professional accomplishments but for her contributions to the community as well.  Just recently, Crissy became a member of the "March Against Monsanto, Wellington, Florida."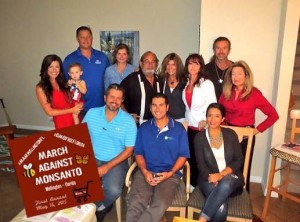 While her background may be unique, Crissy is like any other parent facing all the myriad of challenges that parents face on a daily basis including, of course, what to have for dinner every night. That in of itself is challenging enough.   Not only what to have on the menu, but examining so many choices of what to eat, where, and even how.   There are maybe budgetary constraints, individual dietary needs, and for anyone with children, there is that battle of "I don't like that", which seemingly is a chorus that rings through every household at dinner time.
As a mother (or as a father), how important is nutrition in your children's diet? Do you make conscious decisions about what your kids eat?   And, what is important? Is it nutrition-based, or more so based upon price, taste, brand, label, or something else that influences your food purchases?
For Crissy, "if you would have asked this two years ago, it would be very different", she said.   Her children ate very differently than they do now.  Their entire household has evolved, if you will, and has become increasingly more aware of what choices are available.
From her research, which included watching a lot of documentaries, especially on genetically modified foods, reading health studies and speaking with local farmers, she discovered that buying genetically modified food is a choice.   From that discovery, her entire kitchen began a transformation, and now they are eating 100% organic foods.
That change though was not instantaneous, and in fact, she said in the beginning it was incredibly overwhelming.  Simply uncovering what goes into our food was eye-opening, but it got to the point where she started to wonder, "What can I eat?"   What is out there that is healthy?
It really is a "choice" as Crissy explains.   For her, and her family, it is a matter of education.  She spent months researching the food industry and was shocked, because as she found, "80% of all food is now genetically modified, and this is all happening without my knowledge or my consent", she explains.
She realizes though, that knowing this new-found information is not just critical for her and her family, but it is equally important to share it with a wider audience.   While her children now eat a very balanced diet of organic foods, Crissy is an inspirational voice for other parents who even contact her on Facebook, asking for her advice on how they too can get their children to eat healthier.  She gladly takes their questions and enjoys helping other parents.  Her most common advice she gives?
"Read labels", Crissy advises. "Educate yourself." She adds, and continues.  "And, don't get overwhelmed.   Take it one meal at a time." Here's an excellent article about how to eat organic on a budget that Crissy recommends.
She heeded her own advice and recently got rid of all their toxic cleaning supplies. She has switched all of her beauty and makeup products to non-toxic, eco-friendly brands. Additionally, they stopped buying the endless supply of water bottles, replacing them with canteens, which are refillable.  She believes that by becoming knowledgeable about food has allowed her the opportunity to live not only a healthier lifestyle but a more sustainable one as well.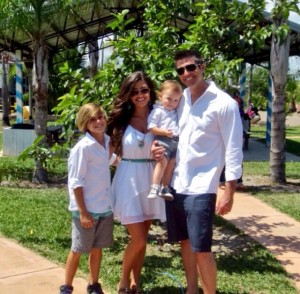 Not only is her family transitioning, but Crissy sees the same for the food industry as well. More and more companies are listening to the demands of consumers and dropping artificial ingredients from their products, for example.  Stores are carrying more and more organic and non-GMO foods in their offerings. And just last month, the chain of Chipotle restaurants announced that they were going GMO-FREE! There are more choices available today.
Seeing this as a real positive, Crissy explains this as an "ongoing process" with much work yet to be done.  She herself continues to challenge her family, and they her too, as they continue to help each other eat better and make better choices. Crissy continues being a positive voice for other parents who are themselves only taking their first step to a healthier lifestyle.
As Crissy would say, "Every parent has the ability to make a positive impact. Not only in your family's health, but the food industry as well. Vote with forks!"
About Crissy Peacock
Crissy grew up in a small town outside of Savannah, GA before moving to Boston, MA in 2009, where she sold real estate for Coldwell Banker and became an NFL Cheerleader for the New England Patriots.  She met her husband Mike Peacock at the Omni Amelia Island Resort, where they both worked and later married.  They moved with their two sons, Dawson (11 years old) and Tres (20 months old) to Wellington last year.  She recently became a member of the "March Against Monsanto, Wellington FL" team and was very helpful is managing their social media. Crissy is also in the process of creating a health and wellness company.
Please feel free to follow her and the March Against Monsanto Wellington efforts on social media:
Instagram: @MAMWellingtonFL
Gmail: MAMWellingtonFL@gmail.com
See the March Against Monsanto Wellington video!
***
Bryan Hayes is an actor, amateur photographer, business consultant and full-time lover of all things living.  To check out more from Bryan Hayes, please visit his blog at:http://outofthehaze.wordpress.com/