ANN NORTON SCULPTURE GARDENS AWARDED ARBNET ACCREDITATION
Global recognition comes during National Public Garden Week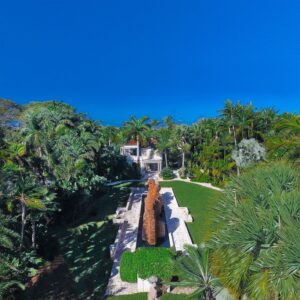 (WEST PALM BEACH, Fla) As National Public Gardens Week comes to a close this weekend, leadership at the Ann Norton Sculpture Gardens (ANSG) has announced the historic venue's newest honor as an internationally accredited arboretum. The ArbNet accreditation is the only global initiative to officially recognize arboreta at various levels of development, capacity and professionalism.
"Ann always wanted her gardens to be a sanctuary – a place of renewal and 'deep refreshing,' where neighbors can reconnect to nature and one another" said Frances Fisher, board chairman for ANSG. "Given recent times, we know we it will be more important than ever to honor Ann's vision and advance our mission to enrich lives with nature, art and history. We made a commitment to share this garden and its majestic collection of rare palms, cycads and native species on an international level, and receipt of this important accreditation enables us to do that."
The Gardens' assemblage of over 250 rare palm species, cycads and unique tropical plants has been revitalized, catalogued and nurtured following two recent hurricane seasons and is now recognized as one of the largest public collections in Florida. Located at 253 Barcelona Road in the historic El Cid neighborhood of West Palm Beach, ANSG is a non-profit foundation established in 1977 by resident sculptor Ann Weaver Norton (1905-1982). An urban sanctuary of two acres, the campus comprises Norton's historic house with exhibition galleries, her studio, monumental sculptures and tropical gardens.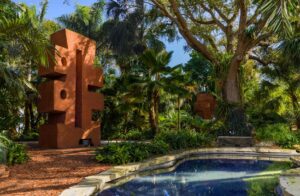 "Ann Norton's mysterious monuments and sculptures were all envisioned in her beautiful studio and built on site over a period of 15 years," said Margaret Horgan, managing director for ANSG. "Ann truly was a visionary! The monuments and sculptures were intended to be discovered as surprises amidst the dense, jungle-like vegetation of her gardens. At her request, the gardens were designed by world-renowned botanist Sir Peter Smithers as a rare palm garden, to represent her commitment to conservation and the preservation of a quiet retreat in the midst of a growing, busy city. It is almost mystical to experience the union of her powerful art within the natural landscape she created."
The Ann Norton Sculpture Gardens are currently closed to the public. To learn more or to take a virtual walk among the gardens, visit www.ansg.org or call 561-832-5328.
About ArbNet
ArbNet is an interactive, collaborative, international community of arboreta. ArbNet facilitates the sharing of knowledge, experience, and other resources to help arboreta meet their institutional goals and works to raise professional standards through the ArbNet Arboretum Accreditation Program. The accreditation program, sponsored and coordinated by The Morton Arboretum in Lisle, Illinois in cooperation with American Public Gardens Association and Botanic Gardens Conservation International, is the only global initiative to officially recognize arboreta based on a set of professional standards. The program offers four levels of accreditation, recognizing arboreta of various degrees of development, capacity and professionalism. Standards include planning, governance, public access, programming and tree science, planting and conservation. More information is available at www.arbnet.org.