Travel with Terri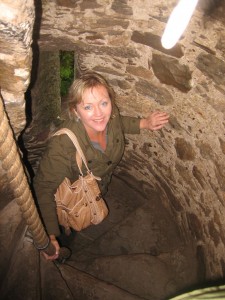 Experience Asheville:
 
Elegant…eclectic…entertaining
By Terri Marshall, Photos by Gregory Holder
Nestled in the mountains of Western North Carolina, Asheville is a destination worthy of discovery.  Here you can experience the elegance and grandeur of the Biltmore Estate…order a Happy Meal at the world's most opulent McDonald's…dance around a drumming circle…sample chocolate delicacies and enjoy a drink at a tavern with an illicit history.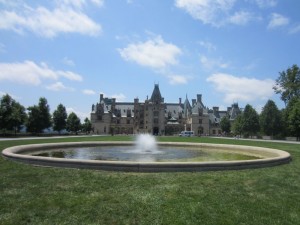 No other home in America displays elegance quite like the Biltmore House.  In 1895, George Vanderbilt created Biltmore as an escape for family and friends.  At the time, the building of Biltmore was one of the largest undertakings in the history of American residential architecture.  The house has an astounding 250 rooms with 34 bedrooms, 43 bathrooms and 65 fireplaces.  The basement has a gymnasium, changing rooms, bowling alley, servants' quarters, kitchens and an indoor swimming pool complete with electric lighting – a first for that time period.  The original estate grounds covered 125,000 acres – all magnificently landscaped by designer Frederick Law Olmstead, the creator of Central Park.
George Vanderbilt was a single man when Biltmore was constructed and obviously one of the world's most eligible bachelors of the time.   He married Edith Stuyvesant Dresser in 1898 and brought her home to Biltmore.  His untimely death at the age of 51 left Edith to carry on the legacy of Biltmore.  She ultimately sold all but 8,000 acres of the grounds to form Pisgah National Forest – America's first national forest.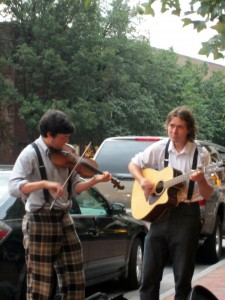 Experience the elegance of Biltmore through a selection of tours.  Offerings include Behind-the-Scenes Guided Tours – Butler's Tour, Architect's Tour and Vanderbilt Family and Friends Tour – or audio self-guided tours.  See www.biltmore.com.
The Inn at Biltmore Estate is the only lodging available on the estate grounds.  The luxurious accommodations provide the perfect location for enjoying all the Biltmore Estate has to offer.  Activities include Guided Horseback Trail Rides, Segway Off-Road and Basic Tours, Biking, Sporting Clays School and Fly-fishing School.  Enjoy a glass of wine on the veranda overlooking the surrounding mountains or indulge in a relaxing spa treatment. 
Antler Hill Village & Winery has a variety of restaurants and shops, an exhibition hall featuring The Biltmore Legacy and a farmyard for exploration.  The winery has free guided tours and free wine tastings – you may never want to leave.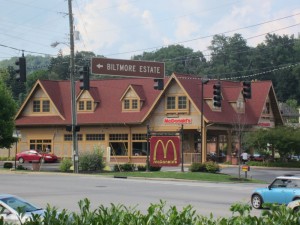 Just outside the estate grounds is Biltmore Village.  Originally built as a village for estate workers and their families, the village is now home to a variety of restaurants and shops.  The McDonald's at Biltmore Village is (believe it or not) a must-see destination in Asheville.  The marble floors, double-sided fireplace, chandeliers and grand player piano elevate the McDonald's dining experience to an entirely new level.  The menu is the usual hamburgers, chicken McNuggets and fries but somehow they taste a little better in this opulent setting.
When you finish your first class Happy Meal, head to downtown Asheville where you will find an eclectic mix of restaurants, shops, art galleries and people.  Every Friday night during warm weather months the Asheville Drum Circle displays the city's unique diversity as people of all ages, descriptions, occupations and races come together to dance to the thunderous rhythm of dozens of drums.  From suits to dreadlocks – here you will witness individuality and acceptance.  Try your hand at drumming, cast aside your inhibitions and dance or just watch in wonder!
After all the dancing, treat yourself to dessert at the French Broad Chocolate Lounge.  Proprietors Dan and Jael Rattigan first began a romance with each other.  That romance expanded to include chocolate.  After spending a few years farming cacao trees and running a dessert shop in Puerto Viejo de Limon on the Caribbean Coast in Costa Rica, this enterprising young couple returned to the States and settled in Asheville.
Asheville is lucky to have them and shows its appreciation by the lines of locals and visitors stretching from the counters, out the door and along the sidewalk.  Try the Highland Mocha Stout Cake – trust me.  In addition to a collection of decadent desserts and truffles, there are chocolate beverages, an assortment of coffees, teas, wine and beer.  Live music completes the experience on many evenings.  The couple has recently begun producing a line of artisan bean-to-bar chocolate bars at the new French Broad Chocolate Factory and Tasting Room.   See www.frenchbroadchocolates.com.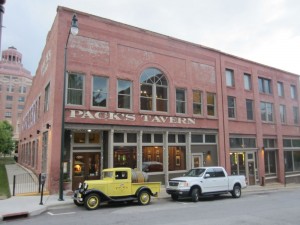 To experience more of the spirits of Asheville, head to Pack's Tavern at Pack Square Park.  Housed in the historic Hayes and Hopson building, Pack's Tavern rotates a selection of 30 or more local, national and international craft beers to provide a unique variety of beer styles.  The tavern also has an eclectic dinner menu with over 60 offerings – I recommend the fish and chips…perfect!
Pack's Tavern is a great place to pass the evening in Asheville, but during prohibition days there was something else passing through this building.  Hidden behind the steel doors in the basement is a dark chamber that leads to a tunnel passing under the police station next door and out to the fire department.  Through this tunnel liquor was smuggled out to the firemen who helped with the delivery of the illegal spirits! See www.packstavern.com.
A hop-on hop-off Red Trolley Tour is an excellent way to get acquainted with this unique city.  Drivers have the inside stories about the history of Asheville, its secrets and some of the antics that have served to make Asheville the elegant, eclectic and entertaining city it is today.  See www.exploreasheville.com.
Terri is a freelance writer with regular columns on travel, chocolate and bar reviews. She is busy each month visiting new places to bring unique travel destinations and events to you. Yes, it is a sacrifice – but she is willing to do that for her readers! You can see more of Terri's writing at www.examiner.com where she is the National Chocolate Examiner and at www.barzz.net. Also, check out her blog at www.trippingwithterri.com. You can contact Terri at terri.marshall60@gmail.com.