Cultural Corner
                                                 The Art of Kindness                                                   (BroadwayCon and the Snowzilla of 2016)
By Lori Hope Baumel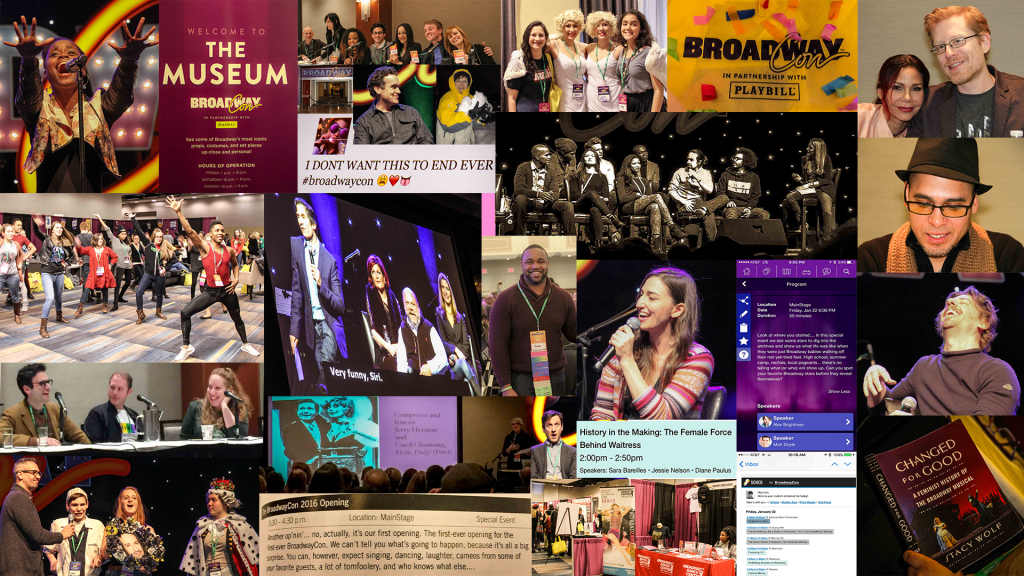 Why are we so surprised when we experience random acts of kindness? Perhaps it is because social media has given the public an outlet to voice their opinions. Negativity is abundant and positivity is gasping for breath. Unfortunately, too many people are griping about things they know nothing about. Those who post with optimism are trying to offset the balance. Kindness is a quality that should be innate, but in a world filled with bitterness it can be a difficult trait to acquire. Yet, like artistry, it can be learned.
I have learned that kindness and art often parallel. Artists create out of passion. Performers get to do what they love – and, if they're lucky, they get paid for it. George Carlin once said, "I perform for free but you gotta pay me to sit in the airport." Kindness is a type of exchange. Most people who demonstrate acts of kindness do it out of compassion and, in return, receive fulfillment. But, like art, if you give too much of it away, then it has little value and becomes unappreciated. I have learned that lesson both as an artist and as a human being.
Then there comes a time when you meet perfect strangers in unusual circumstances. On January 22 – 24, 2016, I had the opportunity to attend the very first BroadwayCon, a production of Mischief Management, LLC. Located at the Midtown Hilton in Manhattan, it was an opportunity for fans, performers, and creators of on- and off-Broadway shows to perform, discuss and debate. It included a series of concerts, festivals, and a marketplace. A portion of the proceeds benefited Broadway Cares/Equity Fights AIDS. Fans came together to celebrate the shows they love with the people who brought them to life.
Prior to attending, I paid for my weekend admission and applied for press privileges to report about the experience for Around Wellington Magazine. Initially, my press pass was denied, but, to keep this column to a minimum, I will simply say that through an act of kindness on the part of the BroadwayCon staff, I was granted press access when I arrived. As a result, I can now share my experience with you.
BroadwayCon began on Friday, January 22, 2016. "Day 1" panels and performances were phenomenal. Then it happened… SNOWZILLA! A nearly record-breaking blizzard that missed the history books by 1/10th of an inch. So, here we are, at least 3000 theater fans stuck in a hotel in a city that completely shut down. But, as they say, "the show must go on." The management and staff of BroadwayCon managed to improvise when panelists could not arrive and reprogrammed the event seamlessly. Local attendees who could not get into the city on Saturday were permitted to attend Sunday's events. Amazingly, thanks to 24/7 plowing, the city roads were cleared by then.
As you can imagine, experiencing a blizzard during a first-time event can cause tempers to flare. Not at BroadwayCon! What could be better than a bunch of theater fans stuck in a hotel with thousands of other theater fans? People burst into song in the hallway. Food lines were long in the small Herb' N' Kitchen buffet on the first floor. They even ran out of menu items. Can you imagine New York City without any restaurants open? Even worse… Broadway itself was shut down. Yes, people who took out a second mortgage to see Hamilton (or any show) on Saturday, January 23 did not get to see it.
What I did notice, in the midst of what could have been a tense situation, was that people went out of their way to be kind to one another. Attendees waited patiently on line for their food. A young man named Gregory saw that I was running from panel to panel shooting photos the entire weekend. He'd say to me, "Do you need a seat? The people in my aisle can all scoot over to make room for you." At the end of the weekend, Gregory and I exchanged email addresses. In his email to me he wrote, "I will always save a seat for you."
When BroadwayCon was over, I met up with my son Sam and his girlfriend Julie. They WALKED all the way from Greenpoint, Brooklyn to midtown Manhattan to see me. Admittedly, they're hikers and have the stamina – but it was very kind of them to take the trek. It was bitter cold, but my son convinced me to take the rare opportunity to walk through the beautiful snow and make snowballs in Central Park. On the way, we stopped into a bakery to grab a hot drink. Upon arrival, we were told, "Sorry we're closed, and the registers are shut down." Then, the young lady behind the counter said "but free muffins for everyone!" She also noted that they were delivering all of their leftover foods to a nearby homeless shelter.
The whole weekend was a mutual admiration society between fans and performers. Snowboots and all, panelists arrived to share their love of theater and behind the scenes stories. I could not think of a better place to be during the Snowzilla of 2016, other than *"The Great White Way."
Live…Go… Do!
*"The Great White Way" is a nickname for a section of Broadway in Midtown Manhattan, specifically the portion that encompasses the Theater District.
Re-live BroadwayCon 2016 (without the blizzard) from the comfort of your own home:

BroadwayCon Memories Produced by Playbill Video:
                                 Magical Musical Kickoff to BroadwayCon                                                                  Featuring Tommy Tune, Ben Vereen, and more:                                https://www.youtube.com/watch?v=eY-ZtuH6Ix4 
                         Here's my favorite "spontaneous" BroadwayCon Experience!           Sara Bareilles' Surprise Live Performance From "Waitress" at BroadwayCon  www.youtube.com/watch?v=SekfnQd0m_E 
                                         BroadwayCon Hamilton Panel:                                              www.youtube.com/watch?v=7NiypDnqBG8
                         BroadwayCon Presents Historic 20th Anniversary of Rent:               www.youtube.com/watch?v=W5shFqSU444
"Fiddler on the Roof" Cast Explores Heritage and "Tradition" at BroadwayCon www.youtube.com/watch?v=WvkJ-JcBeHE
                                                BroadwayCon Rehearsal                                                                                        www.youtube.com/watch?v=fDU2EJ70wbY
Spring Awakening Cast Talks Inclusion and Diversity at BroadwayCon www.youtube.com/watch?v=Qns_LyjauDw
                          Lisa Kron , Michael Cerveris, Judy Kuhn and Emily Skeggs Have                                                 Fun Talking "Fun Home" at BroadwayCon:                                                                         www.youtube.com/watch?v=LdltIKzwLUk
                         Interview with Melissa Anelli (Mischief Management):                                                    "The origin of Broadway Con" (produced by CBSNY)                                      www.youtube.com/watch?v=xlfK2bVlOlE
In addition to BroadwayCon, Mischief Management also produces GeekyCon, and LeakyCon (an immersive Harry Potter Event). For more information see: www.mischiefmanagement.com
BroadwayCon was an extraordinary experience! I will keep you up to date when tickets become available next year.
"Top 5" for March and April, 2016
1) Photography
Palm Beach Photographic Centre Presents
A HORSE OF A DIFFERENT COLOR
A Photographic Exhibition by Monica Stevenson
On view until March 26, 2016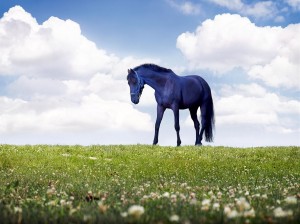 The pictures in this show were made during my travels to many parts of the globe—Switzerland, France, England, Germany, Canada, Argentina, Mexico, and all over the USA, says Stevenson, "At the end of the day, if I am able to create and share images as beautiful as the horses and their world, I feel I have done a good thing.
                                                                                                             – Monica Stevenson
For More information:
Palm Beach Photographic Centre
415 Clematis Street, West Palm Beach, FL 33401
561.253.2600
www.workshop.org
www.monicastevensonphotography.com
2) Jazz
Jane Monheit Debuts in The Royal Room at The Colony Hotel
March 22-26, 2016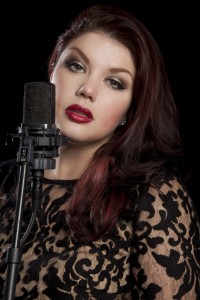 The Colony Hotel – which The Palm Beach Post has hailed as "probably the best place for cabaret on the planet" – is bringing this Manhattan headliner to the hotel's world famous Royal Room.
Jane Monheit has been one of my top 5 favorite jazz vocalists for over a decade. I have been watching her career since the Grammy-nominated singer emerged as a finalist in the Thelonious Monk Institute's 1998 jazz vocal competition. In addition to her own critically acclaimed recordings, she has collaborated with artists such as John Pizzarelli and Michael Bublé. Monheit has also been featured on TV shows including Letterman, The View and the Today Show. Please be aware that this is an expensive evening, yet, it's cheaper than a flight and hotel in Manhattan. For each guest there is a $75 cover charge on Tuesday, Wednesday and Thursday, a $95 cover charge on Friday and Saturday, plus a $50 minimum for food and beverage. If you have a special celebration in mind or just want to enjoy an elegant evening – it's well worth it.
For more information, call 561.655.5430 or visit www.thecolonypalmbeach.com.
3) The Norton Museum of Art
Features Njideka Akunyili Crosby as the 2016 RAW Artist
Annual Recognition of Art by Women (RAW) Exhibition Series
Celebrates the Work of Living Female Artists
Njideka Akunyili Crosby: I Refuse to be Invisible,
On View through April 24, 2016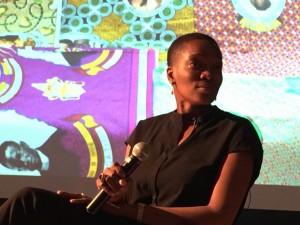 Crosby's art has to be seen in person to truly understand its beauty and complexity. Her intellect, insight and passion inspire the viewer. The work of this bright new artist can be enjoyed by all ages. Each piece tells a personal intricate story. I anticipate seeing her work in contemporary art museums all over the world in the years to come.
"In her large scale works that comprise both painting and collage Akunyili Crosby speaks of navigating life as an African in America. With an emphasis on the figure in familial, domestic settings, the artist creates compositions that appear as views into everyday life; yet, upon closer observation, are careful constructions that are subtly subversive. Akunyili Crosby received her BA with honors in 2004 from Swarthmore College before completing a Post-Baccalaureate at the Pennsylvania Academy of the Fine Arts in 2006. She earned her MFA in 2011 from Yale University. This presentation of 15 paintings will be Akunyili Crosby's premiere solo exhibition at a museum." – Norton Press Release
Still/Moving: Photographs and Video Art from the DeWoody Collection
On view until May 15, 2016
Beth Rudin DeWoody is a collector of contemporary art who is as voracious as she is thoughtful. Her tastes include classic imagery from photographers such as Irving Penn and Richard Avedon yet also embrace the more-nuanced risks taken by artists including Marco Brambilia and Eve Sussman. As complex and idiosyncratic as DeWoody herself, her collection of Photography and Video Art runs the gamut from sacred to profane, vernacular to celebrated, and cerebral to prurient. Yet across the breadth of her holdings, there are threads that bind the collection into a manageable and identifiable whole. Works that challenge the viewer on an intellectual, emotional, and visceral level populates the DeWoody collection; the works take risks and demand a bit of risk from the viewer. In all, these selections from DeWoody's collection trace the visual, intellectual, and conceptual underpinnings that have intrigued photographers and video artists for the past half-century.
4) Books and Discussions: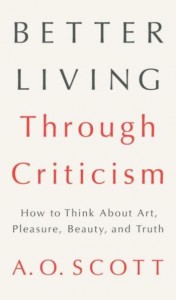 The time for criticism is always now, because the imperative to think clearly, to insist on the necessary balance of reason and passion, never goes away. – A.O. Scott
The New York Times film critic demonstrates why we need criticism now more than ever. A.O. Scott's Better Living Through Criticism examines that we are, in fact, all critics: because critical thinking informs almost every aspect of artistic creation, of civil action, of interpersonal life. With insight and warm humor, Scott shows that while individual critics, himself included, often make mistakes and find flaws where they shouldn't, criticism as a discipline is one of the noblest, most creative, and urgent activities of modern existence.
Drawing on the long tradition of criticism from Aristotle to Susan Sontag, Scott shows that real criticism was and always will be the breath of fresh air that allows true creativity to thrive. Better Living Through Criticism is available in both print and audio book formats.
Mounts Botanical Garden Book Discussion Series
Tuesday, March 8, 2016
7 pm to 8:30 pm
Clayton Hutcheson Complex – Conference Room – Admission: Free
In partnership with the Palm Beach County Library System, this new series provides an opportunity for book and garden enthusiasts to meet together to experience exciting fiction and non-fiction titles related to all aspects of gardening and horticulture. The featured book in March will be Silent Spring by Rachel Carson.
Stories in the Garden: Buzzy, Buzzy Bees
Friday, March 11, 2016
10 am to 11:30 am
Mounts – The Pavilion
Speaker: Stacey Burford, Youth Services Librarian Celebrate the 12th year of Stories in the Garden by bringing young ones (ages 2-6) to these FREE nature-themed programs co-sponsored by the Palm Beach Library System. They'll love the interactive stories, songs and learning activities in the Garden. Programs are held rain or shine in the sheltered Pavilion. No reservations required, except for parties of six or more. A craft activity to culminate each day will be reserved for the first 30 registrants.
For more information call 561.233.1757 or visit www.mounts.org.
5) Podcasts and Apps
Let's get with the program. Smartphones are here to stay. With all the hype these days about whether or not mobile apps are damaging or enlightening, I'd like to recommend some apps that can enrich your lives. I am a strong advocate for taking advantage of the best that technology has to offer. Check out the following educational and entertaining apps available at the iTunes store: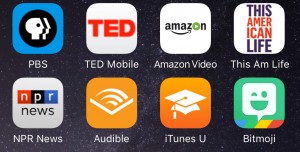 BONUS: Upcoming 2016 – 2017 Theater Season
Obviously, BroadwayCon is in New York. If you can't make it there in the near future, you must plan ahead in order to get good seats for the upcoming 2016 – 2017 theater season in Palm Beach County. The following venues have already announced their lineups. I must admit; we have a group of spectacular shows to look forward to. I am rather impressed how quickly these shows have jumped from Broadway to touring companies. It is exciting to note that so many are Tony Award winning musicals and plays that are still running on Broadway. This is the best seasonal offering that I have seen in years. Take advantage of the opportunity!
Kravis Center for the Performing Arts
Kravis On Broadway 2016-2017 Series
THE CURIOUS INCIDENT OF THE DOG IN THE NIGHT-TIME (November 15-20, 2016) AN AMERICAN IN PARIS (December 6-11, 2016) DIRTY DANCING – THE CLASSIC STORY ON STAGE (January 3-8, 2017) BEAUTIFUL – THE CAROLE KING MUSICAL (January 31-February 5, 2017) THE PHANTOM OF THE OPERA (March 23-April 1, 2017) KINKY BOOTS (April 18-23, 2017) THE SOUND OF MUSIC (May 9-14, 2017)
FOR AN EXCELLENT VIDEO PREVIEW OF THE 2016 – 2017 KRAVIS SHOWS GO TO: https://www.youtube.com/watch?v=IR9iF4WOu4g
For ticket information go to kravis.org
The Maltz Jupiter Theatre presents a fantastic blend of classics and award winning productions: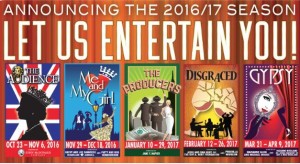 For tickets and information visit www.jupitertheater.org
The Lake Worth Playhouse
The Lake Worth Playhouse has been providing local theater talent for over 63 years. The 2016 – 2017 lineup has been announced with special pre-show dinner options at popular Lake Worth restaurants.
Rock Of Ages
July 7-24, 2016 – Tickets $23-$38
Dinner & A Show July 7 at Paradiso $72
Urinetown – The Musical
October 6-23, 2016 – Tickets $23-$38
Dinner & A Show October 6 at Paradiso $72
Death by Design
November 17- December 4, 2016 – Tickets $23-$38
Dinner & A Show November 17 at Brogues $60
Evita
January 19 – February 5, 2017 Tickets $23-$38
Dinner & A Show January 19 at Paradiso $72
The Sugar Bean Sisters
March 2-19, 2017 – Tickets $23-$38
Dinner & A Show March 2 at Brogues $60
They're Playing Our Song
April 13-30, 2017 – Tickets $23-$38
Dinner & A Show April 13 at Couco Pazzo $60
For tickets and information visit: lakeworthplayhouse.org