An Interview with Darrell Wilde, General Manager of Wycliffe Golf & Country Club
Interview and photos by Krista Martinelli
This month we were lucky enough to spend some time with the innovative thinker and terrific team leader Darrell Wilde (DW), the General Manager of Wycliffe Golf & Country Club.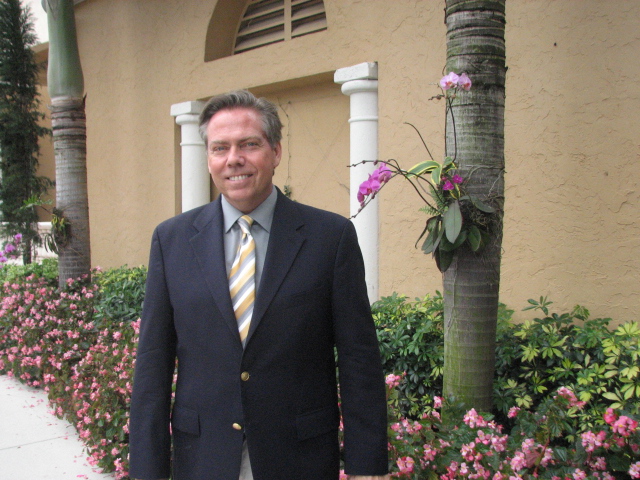 AW: When did you become GM of Wycliffe Golf & Country Club?  What is special about Wycliffe?
DW: I came to Wycliffe as the General Manager on July 1st of 2015. What I love about Wycliffe is the culture of the membership here.  The people are very unique.  Instead of cliques, like you might see at other country clubs, they are very inclusive.  They embrace me. I woke up this morning, thinking about how much I like to work here. Our members are very engaging.  And you see how engaged they are by how many of them attend our events.  They love our staff.
We have a great employee culture here as well, where we take care of and care about our employees.  The cornerstone to a good club is a positive culture among the members and among the staff.  Here at Wycliffe, we nailed them both!
AW: Tell us about your previous experience. 
DW: I worked at the Breakers for 18 years.  I was their Food & Beverage Director. I also was at PGA Resort & Spa as VP of Operations.  Then I moved onto St. Andrew's in Boca Raton as the Assistant GM. I personally oversaw their 22 million dollar renovation.  My friend Craig Martin at St. Andrews had originally invited me to join him in club management, when I began as Assistant General Manager there.  I realized that he was the best in the business, and this was a perfect opportunity to be involved in every aspect of a club.  I realized that I love doing this and truly enjoyed the renovation project.  Then I came to Wycliffe Golf and Country Club and realized what an amazing place this is.
AW: What else is new at Wycliffe right now?  Tell us about your chef, your golf pro, and your tennis pro.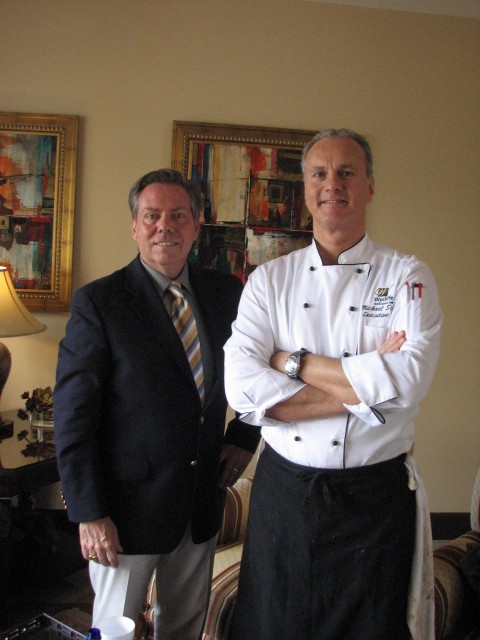 DW: Our new chef at Wycliffe is Michael Schenk, who came to us from the Polo Club about five months ago. He emphasizes the importance of working with local food producers and using locally grown produce and fresh fish.  He keeps everything fresh and changes the menu all the time.  He truly enjoys the members at Wycliffe and is always out talking with people at their tables and getting their input.  In fact, he is so friendly that he's never at his desk.  I never even try to call him in his office anymore because he's simply not there – he prefers to be with the people here.
Our Director of Golf is Darryl Jack – he has been a golf pro and instructor for many years.  He oversees a department of over 30 golf team members. Darryl is a member of the PGA and turned Pro in 1984. He has spent years playing in PGA tournaments,.
Darryl began playing golf as a teenager living in Dorado Beach, Puerto Rico. He is always out and about on our two golf courses at Wycliffe. He's a real teacher at heart.  He's also a people person, always interfacing with our golfers here.
Also new to Wycliffe is my right-hand man Rob Martin. He is the Clubhouse Manager, overseeing Food & Beverage, training staff, developing service, creating our new beer and wine lists, and managing other aspects of the club too.  Our nickname for him is 100% Rob because he always gives 100%.  He loves club management, and his uncle is Craig Martin (one of my mentors and the best in the business).  I worked with Rob Martin previously at PGA Resort.
I have to also mention our terrific Director of Tennis, even though he has been here since 2006.  We are lucky at Wycliffe to have a National Champion, Kam Kuchta, as our Tennis Director.  Kam has enhanced the Wycliffe Tennis Program with Pro exhibitions, fun Pro-Am tournaments and other new creative events like Masters' Tennis.
Kam is a phenomenal teacher and player. He won the 2014 USPTA National Clay Court Championship for the Men's 45 Singles.  Kam is also the current USTA Florida State Champion, Men's 45 with his recent win on May 17, 2014 held at Mirasol Country Club.
AW: How do you maintain the quality here?  (I have tasted the food, played golf and played tennis here – everything is high-quality). 
DW: Quality is one of those things you can feel when it's right or feel when it's wrong. We are constantly challenging ourselves in everything we do here.  We always ask, "How can we make it more exciting?" And "What's the best quality we can produce here?"  You don't always have to spend a lot to create quality.  You find it in how a server speaks to the people at a table, anticipating their needs.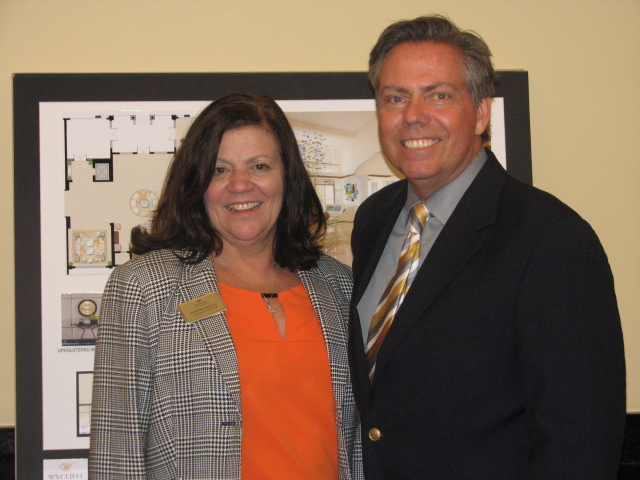 I have found that people want to be asked to do better every day. I walk this property every day and look at every single thing with scrutiny.  I don't do it to find fault. I'm just always looking to make it better.
Let's make sure there's curb appeal. Let's plant color where we can. Color and composition are very important. When people walk into a space, "Do they feel comfortable?"  On my first day here, I stopped by the entrance to the Clubhouse in a golf cart and just watched people enter for over an hour.  I watched their faces. I wanted to see if people feel comfortable as they enter.
So we are going to be renovating the entrance area of the clubhouse in the near future. The design will be improved and there will be staff upstairs greeting people, instead of hidden away in the downstairs area.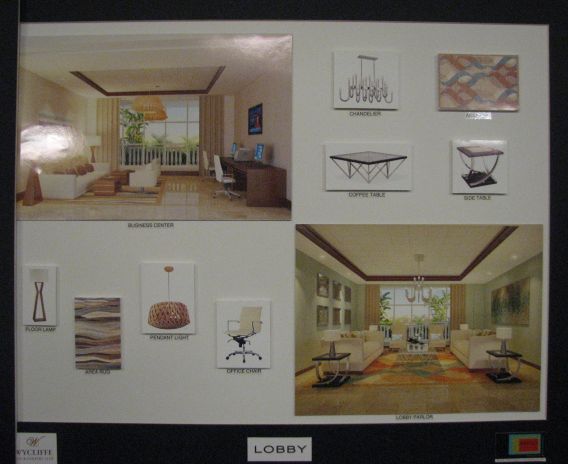 AW: What do you want people to think of when they think of Wycliffe?  What should it be known for?  
AW: Tell us about how Wycliffe gives back to the community through charity programs.
DW: This is the most charitable club I've ever seen. It's really amazing here. Last week the members came through with their Wycliffe charities with such gusto. There are nine main charities that we support here and Wycliffe charities is our signature charity. The response to our charity events is indicative of the people who live here.  They're givers.
AW: Tell us about the amenities / facilities here. 
DW: If you don't live in Wycliffe, you should. There are people in their 40's, 50's, 60's, 70's and 80's here, having equally fun times.  If you're a competitive tennis player, you can always find a good game, every day.  If you're a golfer, you'll love our two award-winning golf courses.
Last night we had a special event with a wonderful turnout.  We had approximately 600 people come to this event, and every seat was sold out.  We had a talented violinist play for about 40 minutes, followed by an excellent stand-up comedian.  We had dinner at the Grille inside Wycliffe, which was chicken and ribs, very popular.  There were some nice fish options on the menu too.  Some people came to the show before dinner, and some attended the show after dinner.  This is the kind of turnout we get here, terrific!
When you live at a country club, your whole life becomes centered around wellness, sports and entertainment. We offer the best in all of those categories.  This past year we were named one of America's Healthiest Clubs.  We offer wellness programs and facilities for members and staff. We have a state-of-the-art gym with aerobics classes, pilates classes and other classes.  We have sixteen clay tennis courts.  We have two golf courses.  Wycliffe has a beautiful pool.  So when people are here, they never want to leave.  I know we're doing something right!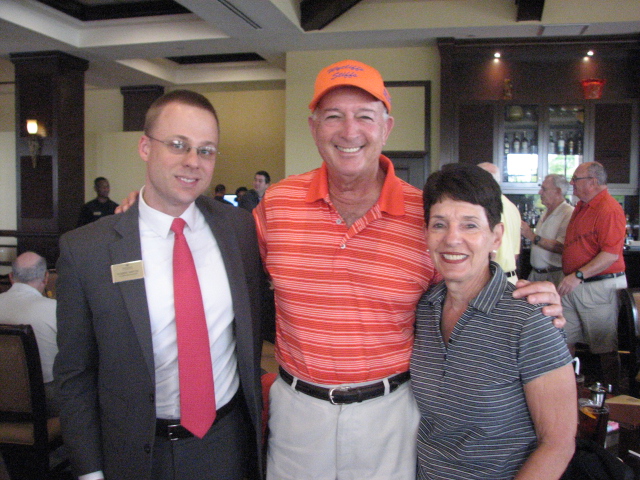 AW: What's the best thing about Wycliffe?  About being the General Manager of Wycliffe?
DW: We're all in, 100% on the things we do here.  All of our department managers are involved in promoting wellness.  When we have an event, we have consistently great turnouts. Recently Boardroom Magazine nominated us for the Distinguished Club Award. Meanwhile, they recognized our elected President Irwin Tepper as Club President of the Year.  This is a big distinction in the club industry.  They pick twenty Presidents out of 400, and then select the number one President.
As for being General Manager, it's really how great our members are. Everyone is so friendly here, including members and staff. My full-time focus is on today's needs and tomorrow's future plans.  This is what I love doing.
AW: Tell us about the food and beverage at Wycliffe.
AW: What, if anything, could be improved upon?
DW: Quality is a continual process. We need to make sure the Club stays fresh. Every year we freshen in different ways. We train more, decorate more, add more social programming, improve upon the golf, improve upon the tennis and continue to improve. We need to keep evolving.
What do you think about the Wycliffe Stiffs stickball league, still going strong? 
Stickball at Wycliffe has turned into one of our favorite activities and is played by many of our members. Marty Ross has brought this sport to Wycliffe and heads up the league. Our men play it with great enthusiasm, and it's a real point of differentiation and pride for Wycliffe. It's amazing how they re-connect and enjoy some of their favorite childhood things together – like egg creams.  The camaraderie is terrific!  (Editor's note: In a related article, check out the news about our Wycliffe Stiffs stickball video, which is being screened at the Palm Beach International Film Festival on April 9th and 12th. Originally sponsored by Rise & Sean Siegrist of Re/MAX and Brooklyn Water Bagels, this video was created by Monica Kallas and produced by AroundWellington.com).
AW: Tell us about your family. 
DW: I've been married for 28 years to Michelle.  My son Max is 23 and he is an independent film maker, living in New Orleans.  My daughter Gabrielle is 21 and she's going to FAU.
AW: Any hobbies?  
DW: Fishing.  And I'm obsessed with flowers.  I grow roses and love gardening.  I love cooking too.  I'm a "frustrated chef."  But I enjoy it!
***
For more information about Wycliffe Golf & Country Club, visit their website – WycliffeCC.com or call (561) 964-9200.  You can like Wycliffe on Facebook too.