Cultural Corner
A Woman of Art
By Angela Shaw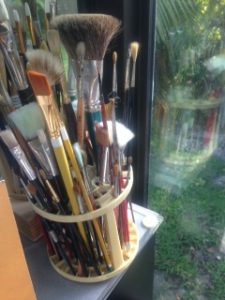 Corinne Ingerman, petite and lithe almost glides from room to room, wall to wall, expounding on the more than 30 paintings in her house. Every work has a story, a featured technique, an interesting subject.
She has been painting all her life.
"Ever since I can remember, I've had a pencil or paintbrush in my hand."
She grew up in Philadelphia. Married young, her degree in art wasn't realized until her kids entered school. She completed her bachelor's at Philadelphia College of Art.
In between explanations of paintings, she tells me about her life. The visit was part docent, part personal anecdote.
A snowbird for years, Corinne finally settled in Florida in 1980 and brought her brushes and pencils with her.
As an early resident of emergent Wellington, she began mingling with other artists, specifically, Tito Mangia. Their artistic relationship grew and they eventually formed the Wellington Arts Society.
Throughout her house every space and surface is decorated with framed art, even the bathrooms. The black and white Asian decor proves a good canvas for displaying her and others' work.
I learned Mrs. Ingerman strongly believes in experimentation. She encourages her students to branch out. "People get comfortable with one style or medium. They need to explore and venture into different media and techniques in order to develop and foster inspiration."
Practicing what she preaches, she's created on scratch board, painted on leather, used watercolor, oils, pastels, acrylics and clay. I asked how she decides which medium to use.
"The subject determines the medium I use," she said.
If the model is an Egyptian bride in her native gauzy gown, it's watercolor. If the subject is the red rock pinnacles of Sedona, Arizona, the medium is oil on leather; the rawhide texture underscoring a western theme. Streetscapes are of acrylic. Nude sketches are of charcoal.
One large oil painting hangs with a commanding aura above her couch. It is of two horses and riders.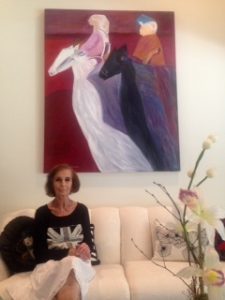 "I labored over that piece for more than two years," she recounts, "Changing this and that and never feeling it was finished.
Now, my husband knows nothing about art, but gives the best advice. He was a college basketball star, and the fine points of painting are foreign to him. Finally, in desperation I asked him what I should do next. Here's what he said."
"Hang it on the wall!"
"That's it?  Just hang it on the wall?"
"Yes," he said.
"So, I did.
And I cried."
The experience was a lesson in not overdoing a piece. It's a common trap, she explains, that many artists fall into.
This 'less is more' philosophy is reflected in her favorite technique called the 'limited palette.' Just 1 to 3 colors are utilized in varying intensities. It lends a unifying and cohesive feel.
My Sunday afternoon tour ended up in the bright westerly facing solarium that functions as a studio. It was filled with artist's supplies, works in progress and spilling with sunshine.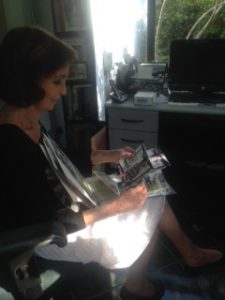 Mrs. Ingerman continues to devote significant time to her artists' community she founded 35 years ago. When I asked what the group's proudest accomplishment was, Corinne cited the decorating of Tiger Shark Cove, a community built playground. Arts Society members adorned the equipment with sea themed objects and murals.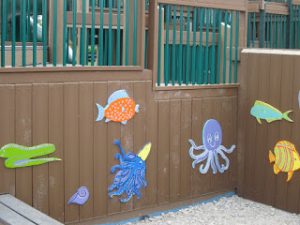 The Wellington Arts Society's mission is to educate and encourage originality among artists, to present and promote art, and advance culture in the western communities. The group's membership has grown from 2 to 100 and currently meets the 3rd Wednesday of each month at 7pm at Bootz Cultural Arts Center.
I think Corinne Ingerman has done quite well at fulfilling this mission. Newcomers, artists and enthusiasts alike, are welcome to join in.