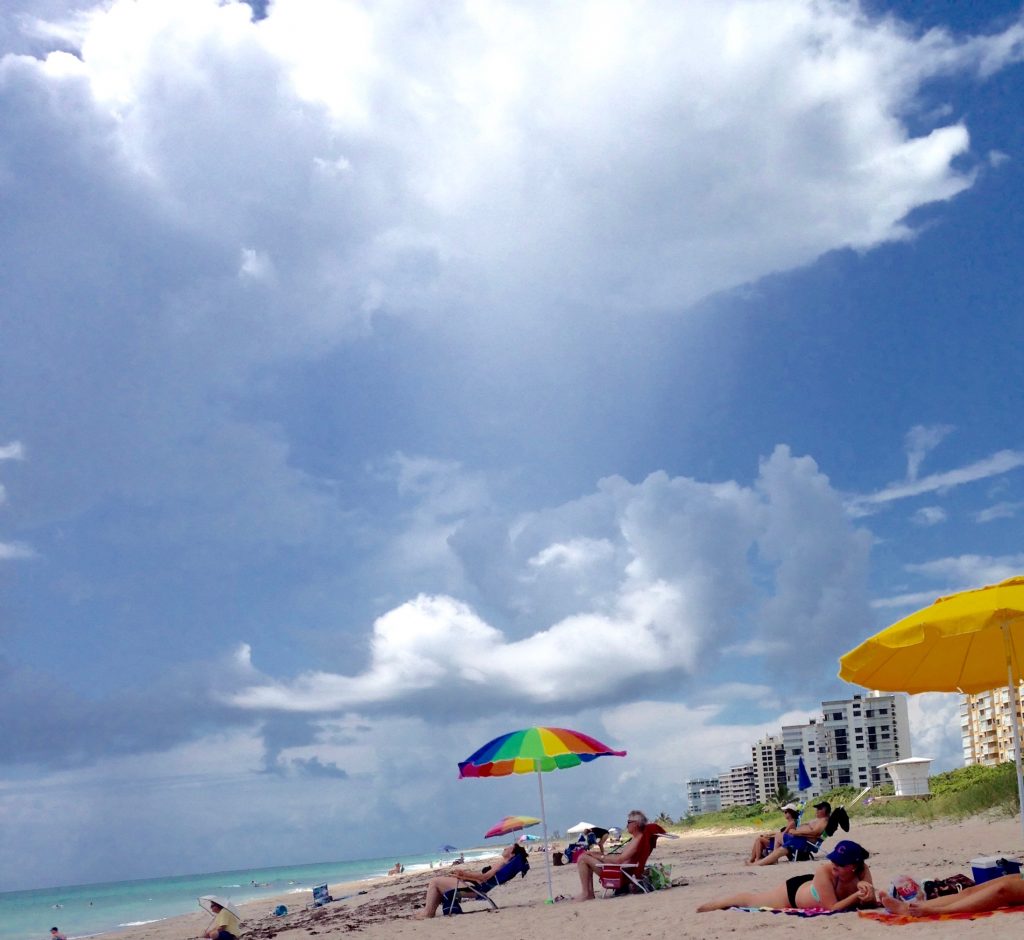 Enjoying Summer at the Mellon Patch Inn
By Sandy Axelrod
Ahhh! The lazy days of summer. Steve and I were looking for a quick getaway to relax and enjoy the scenery. Lucky for us we discovered the Mellon Patch Inn on North Hutchinson Island, about an hour and twenty minutes from our home. A short drive and we were at our destination.. Perfect. We pulled in to the parking lot and took in the view. Lush tropical landscaping and clear blue sky beckoned us to enter the Key West style inn. We were graciously welcomed by the Block family, Chris, Michelle and their daughter Cady.
Now in all fairness, I have to be honest, we have known Chris since he was about 16. He has been one of our son's best friends since he came here from England, he worked for us in our catering business for years and was even Best Man at Brian and Eve's wedding. Chris is like a second son to me so it was a very special visit to be able to spend quality time together.
The entire inn has a seaside vibe with fabulous artwork adorning the walls in every room. Mellon Patch is modern and filled with light and love. Our room was on the first floor and because it has direct access to the patio it is considered a pet friendly room. Our sliding glass doors led to the patio and back yard complete with dock. We found it a great place to chill with a glass of wine and watch the sunset over the water. The only quirk was that it was blue crab season which meant they were everywhere. We all managed to stay clear of them until the last day when Chris was in the garage and a crab grabbed his toe. Fortunately he had socks on! Funny, you think of crabs moving rather slowly, but not these critters. If we could have caught them we would have had an amazing meal but they were way too fast for any of us.
After unpacking Steve and I went exploring. We found a really cool Antiques Mall and did a little damage there. But there are many other attractions in the area. About twenty minutes north is the Vero Outlet Mall; there are airboat rides; Indian River Lagoon Wildlife Boat tours; and right across the street from Mellon Patch is the National Navy UDT-Seal Museum. When we returned to the inn the scent of smoked meat guided us directly to the garage where Chris was smoking a pork shoulder for our dinner that night. Now the Mellon Patch Inn is really a Bed and Breakfast but since we were like family, Chris made dinner of us. We had amazing smoked pork sandwiches complete with BBQ sauce and chips and got to catch up on lost time.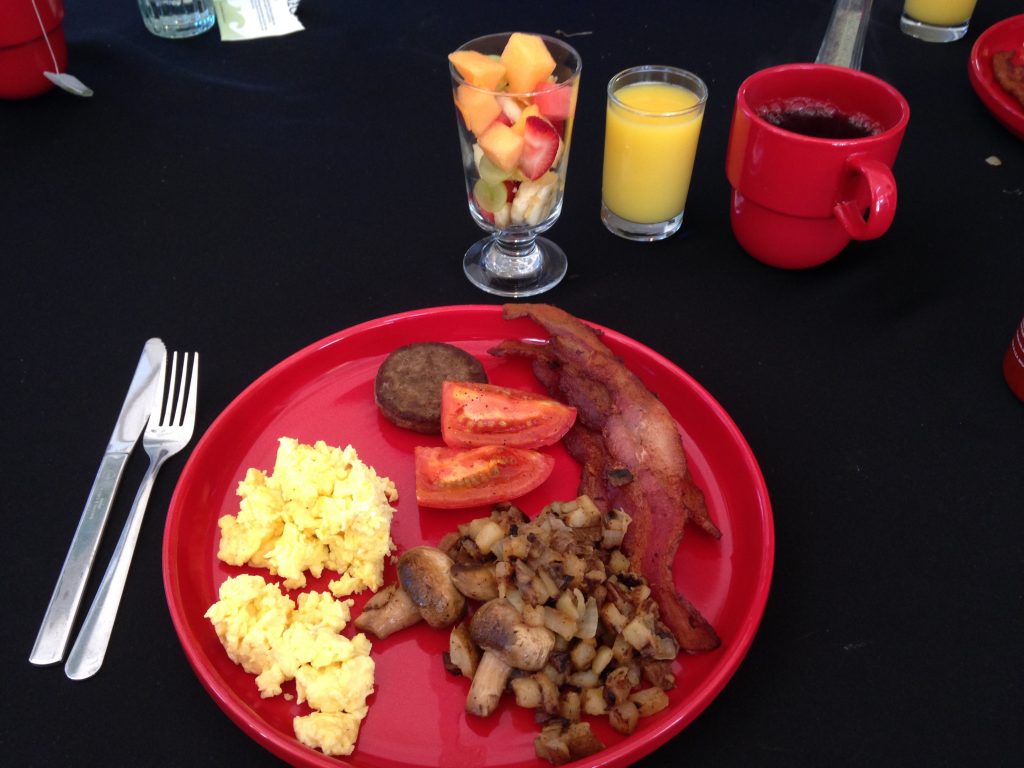 We awoke to the aroma of a real English breakfast wafting all the way to our room. We joined the other guests for a fantastic start to our day with fresh juice, fresh fruit salad, scrambled eggs, bacon, sausage, roasted tomatoes, sautéed mushrooms, hash browns and assorted breads. Utterly full and relaxed we headed just across the street to the beach. The inn even supplies beach chairs and towels to take with. We spent hours sunning, chilling in the ocean, shelling and sunning some more. A cool breeze kept us totally comfortable the entire time we were at the beach. As soon as we walked back toward the inn the heat became stifling. It's amazing what an ocean breeze can do for your soul and the sound of the waves just lulls you into total inner peace.
For dinner our second night we went to Chuck's Seafood which was established in 1961. We had the pleasure of dining outside overlooking the water and sunset. Our food was delicious and decadent. We started with a fresh salad, then Steve had fried shrimp, I had fried oysters and we both had crisp sweet potato fries.
We really hated to leaving our new found paradise but we had to get back to reality, though I don't know why! We enjoyed a fantastic breakfast of Eggs Benedict and spent a bit more time with the Block family before heading back home. This was a glorious couple of days and I really highly recommend a stay at the Mellon Patch Inn. It's the perfect place to regain your sanity.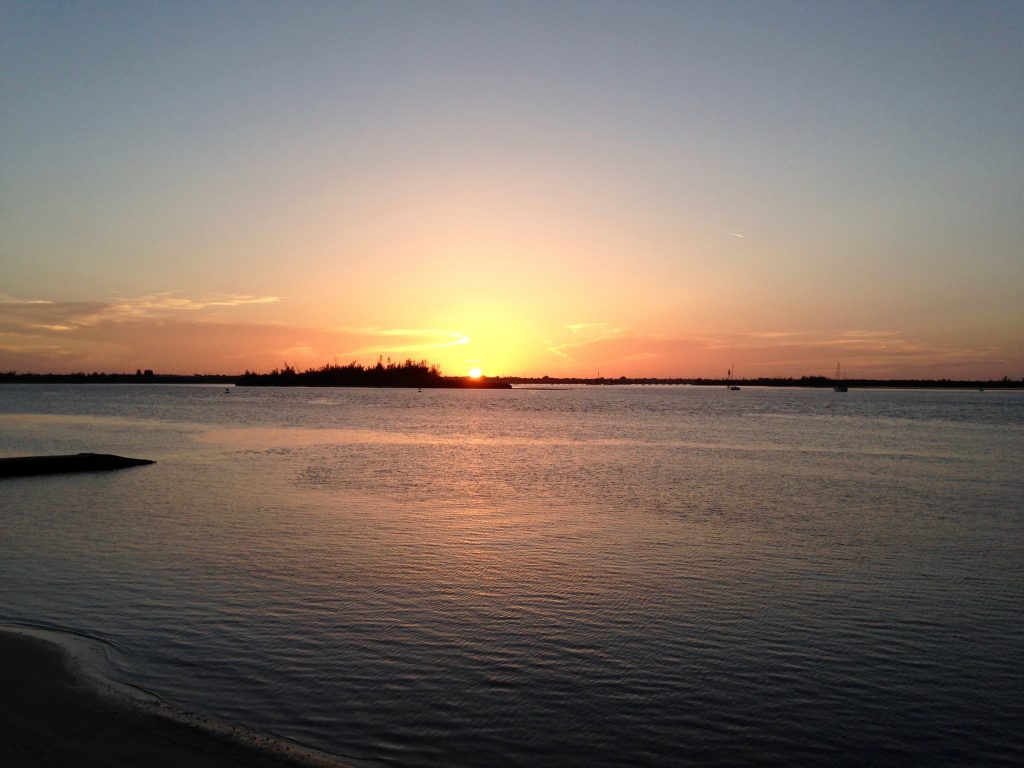 Mellon Patch Inn
Chef Chris Block, Proprietor
3601 North Highway A1A
Ft. Pierce, Florida
772-462-6699 and toll free 877-462-6699
Rates start at $119 for a Queen room