Clay Glass Metal Stone Gallery and
J Street Junction Presents
October on J Street Junction
Your Destination for
Halloween-Lake Worth
A Whole Month of October Fun and Games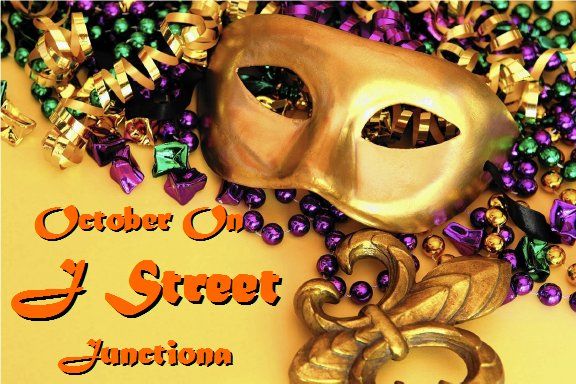 October on J Street in Downtown  Lake Worth will be a Freaky Family Festival of evenings of Fantasy, Fright and Fun.  The entire street will participate with candy, contests, concerts and costumes.  "J" Street will be  filled with hay and pumpkins and will be an epicenter of events.  Look for a month of  Costume Contests, Arts Exhibits,  Out-Door Festival Shows and Trick-or-Treating taking place throughout every venue on J Street.  The fun starts at the stoke of October Eve, and continues into November.  All events are free to the public. The entire street and windows will be decorated for the upcoming holidays.
Saturday, October 1:
Clay Glass Metal Stone Gallery is hosting a Judaica Arts Festival that continues until October 5.  Enjoy the specialty art works and food of the many artists celebrating Jewish tradition.
 The BXBeer Depot will be hosting a Brew Competition from 2-5 PM  with German Style Beers. They will be serving refreshments.
Common Grounds Coffee Bar presents International Coffee Day featuring activities, give-aways and games all day long.  They will be serving Pumpkin Pie Latte, Pumpkin Bread, Hot Spiced Cider, and more.  Live music from 7:30-9:30
Sunday, October 2, Clay Glass Metal Stone Gallery sponsors a Potato Latke Contest as part of its Judaica Arts Festival. First prize will be a Menorah, Second Prize a Mezuzah and Third prize a Dreidel.   The Judaic Arts Festival continues to Wednesday, September 5.
Wednesday, October 5 is Teacher's Appreciation Day at Common Grounds Coffee Bar. Bring you teacher ID for free treats, or 1/2 off specialty drinks, all day.
Friday, October 7:
 The Cat-O-Strophic Affair opens at Clay Glass Metal Stone Gallery. This is a show all about CATS of all kinds  and for Cat lovers everywhere.  (Look for the Cat Costume Contest next Friday Evening)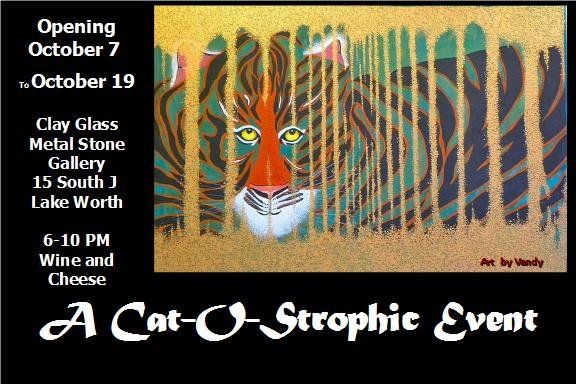 The Lake Worth Arts Market, a group of artists and culinary artists, will kick off a weekend of Cat-Like events outside of the gallery.  Maria Paz will hold a Cat-Painting Workshop. For $25 you will be taught how to paint and take home a cat on canvas (you will not be painting a live cat!)
The Bamboo Room holds its weekly Ballroom Dance Lessons and Party.  Hor d'oeuvres are served.  561-247-7621 for reservations.  Spend your Friday Evening dancing the night away.
BX Beer Depot is hosting  a Tap Takeover with DueSouth Brewery from 6-9PM
Saturday October 8 and Sunday October 9, J Street fills with art lovers for the annual  Art-Ober Fest sponsored each year by Propaganda.  Artists line the streets, food vendors tempt taste buds and music pours out from the stages all along J Street.  This event brings thousands of guests to town each year and is free to the public.
The Second Saturday Sidewalk Sale comes to J Street.  Along will everything else to see and do on J Street, your J Street Merchants will be setting up special sales, every Second Saturday in front of their shops.  J Street Junction is your destination for unique bargains and special events all day on these Saturdays.
BX Beer Depot opens the J Street Pumpkin Patch this weekend. The pumpkin patch will be filled with art, hay and pumpkins.  It is a wonderful photo opportunity for families, and a great place to buy your holiday pumpkins.  Some of the proceeds from the pumpkins with go to charity.  The depot will also be featuring Pumpkin Beers and Ciders.
The Bamboo Room will have a full schedule of live music for Art-Ober Fest both Saturday and Sunday with lots of great food and drink, as well.
Common Grounds Coffee Bar will feature Utterance Open Mic with local talent.  Sign-up is at 7PM.  Performances begin at 7:30.
Columbus Day at Common Grounds Coffee Bar Monday, October 10.  Discover New Drink Day.  Sail over to the Coffee Bar to try new Seasonal specialty drinks with a 10% Discount
Friday, October 14, Cat Costume Contest will be held at Clay Glass Metal Stone Gallery. (Part of Cat-0-Strophic Affair)- Cats cannot be herded into wearing a costume, so people must wear the cat costumes to win first, second or third place prizes.
Wear your Cat Costume (from the Cat-)-Strophic Affair) over the Common Grounds Coffee Bar and get 10% off on your order.  Participate in the Netflix Binge Night from 7-11.
Saturday, October 15, The Lake Worth Arts Market sponsors a Holiday Decorating session.  Paint your table decorations on Palm Fronds.  Pick up your holiday pumpkins at BX Beer Depot, for carving.     The Arts Markets will be on the parking lots of Clay Glass Metal Stone Gallery all day Saturdays and Sundays.  Painting session begins at 2 PM on Saturday afternoon. Head over the Common Grounds Coffee Bar with your decorations for you Orange Spice Latte.
Thursday, October 20 Poutine Dog is holding a food and beer pairing in partnership with CopperPoint at 6PM
Friday, October 21, Clay Glass Metal Stone Gallery opens the exhibit, Day(s) of the Dead. This annual event brings artists out of their bat caves and into their most ghoulish and skeletal depictions of holiday eeriness.
Common Grounds Coffee Bar holds its regular game night every Friday evening with tournaments and prizes.
Saturday, October 22, The BXBeer Depot joins forces with Poutine Dog in with its first annual Chili Cook-off Contest   Bring you best chili taste buds for a delicious treat. Artists will have homemade chili bowls for sale to take home as souvenirs.    City officials will judge this contest.
Friday, October 28:
Bamboo Room holds its First Annual Masquerade Costume Ball. The Festivities start at 8 PM.  Costs are $15 in advance and $20 at the door.  Don your formal wear, and don't forget a mask.  Hor D'oeuvres, Mock-Tails and Give-Aways.  Call 561-247-7621 for reservations.
Friday, October 28- Pie Baking Contest and  Face Painting at Clay Glass Metal Stone Gallery:  Back you best holiday pies and bring them to the gallery to be judged.  Top three winners get prizes.  Local celebrity judges.   Face Painting at the Lake Worth Art Market on the lot of the Clay Glass Metal Stone Gallery.  Have yourself or your children painted by some of the region's best artists.
Saturday October 28 & 29- The BX BEER Depot will be hosting a Halloween Costume contest  with fun games and prizes.  Guess the amount of candy corn in the jar, apple bobbing, pumpkin toss, seed spitting and lots more.  Let your inner child break loose, or bring a real child with you.
Common Grounds joins in the fun: Costumes and Coffee for the whole family.
Sunday  October 30  – Pumpkin Carving Contest and J Street Trick or Treat: Think of the BEST Halloween ever, and you will find it on Sunday at J Street Junction
The entire J Street Junction is open on Sunday for trick-or Treating. Bring the family down to J Street and every shop will have something fun for you to do.  If you are a Pumpkin Carver, head over to the BX Beer Depot Pumpkin Patch and pick your pumpkin for the contest.  Carve the best pumpkin and win the biggest prize. Look for special fun at the Lake Worth Art Market, at Clay Glass Metal Stone Gallery, Bamboo Room, Common Grounds, Poutine, and at the Pumpkin Patch at BX Beer Depot.
Coming up next: November on J street Junction
Clay Glass Metal Stone Gallery and J Street Junction are non-profit associations of Downtown J Street merchants and residents working together to make J Street a vibrant and welcoming destination of Art, Food, Gatherings and Fun Filled Evenings.  J Street Junction  schedules regular events throughout the year.
BX Beer Depot has been a key figure in the South Florida Craft Beer and Home Brew Community.  Their mission is to increase the appreciation of craft beer, wine and ciders through socialization and education.  They have classes , competitions, tastings and fund-raisers for charitable causes.
For additional information contact Clay Glass Metal Stone Gallery:     Joyce Brown – 605 Lake Avenue – 215-205-9441