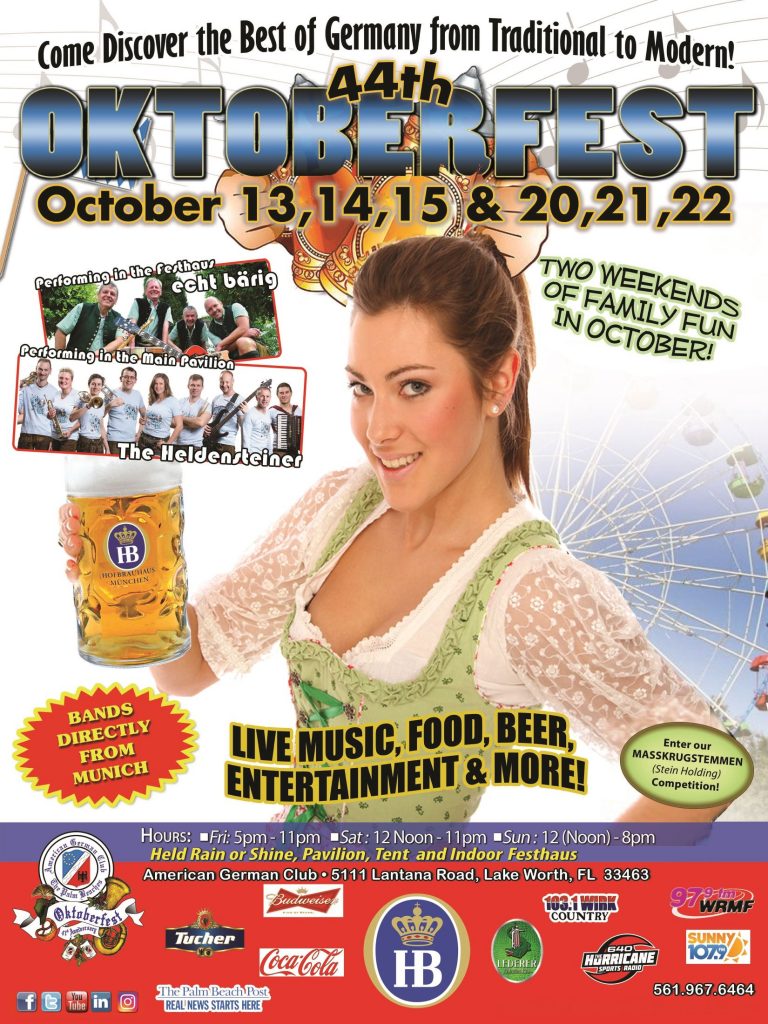 Tickets:
It's almost time for Oktoberfest in Palm Beach County, and this year marks the 44th celebration of the annual event held October 13, 14, 15 and 20, 21, 22, 2017. The American German Club's Oktoberfest is its largest single cultural event highlighting German culture, heritage and traditions, and is considered one of the largest, most authentic celebrations in the U.S.
The volunteer run festival is held the second and third weekends in October, rain or shine. Several publications tout the festival as the second largest and most authentic Oktoberfests in the U.S., with approximately 35,000 visitors over the two weekends.
Friday, October 13 and 20, from 5pm to 11pm

Saturday, October 14 and 21, from 12pm to 11pm

Sunday, October 15 and 22, from 12pm to 8pm
Adults, $10

Children, 12 years and under, are free and must be accompanied by an adult

Free Admission on Sundays to Active Military Personnel, Veterans and First Responders with appropriate ID.

Presale tickets are available at www.americangermanclub.org
For its tenth anniversary appearance, The Heldensteiner returns from Munich Germany, directly after performing in the Lowenbrau tent at the world famous Munich Oktoberfest. The Hobfrau Festhaus will host the band "Echt Baerig", also straight from Munich. Other culturally authentic entertainment will take place throughout festival grounds and inside the Festhaus. Children can enjoy the club's playground, plus a brand new, family-run carnival will take over part of the festival grounds, with double the rides of years past and exciting games for all ages. Unlimited ride wristbands and single ride tickets will be available for purchase.
Authentic Munich Oktoberfest foods such as sauerbraten, schnitzel, rotisserie checken, roast pork and smoked pork, sausages, bratwurst, bauernwurst, meterwurst, leberkase, currywurst, gourmet and traditional pretzels, giant pickles, potato pancakes, german desserts and much more will be available throughout the festival grounds, with the return of the beloved roast beef sandwich.
A variety of Hofbrau beers as well as Tucher, Lederer and many more plus domestic favorites will be on hand. German schnapps, wines and frozen drinks will be available, as well as plenty of soft drinks and water.