Four Young Stars at That's Dancing to Compete at Nationals
Highlighting Shari Mittenthal, Alec Mittenthal, Jillian Medero and Rachel Squire
By Krista Martinelli
It's remarkable when a dance company has one of their young dancers win the state competition and go on to compete for the national title at the Dance Masters of America convention. When it happens to four dance students from the same dance studio, "it's a once in a lifetime" event, according to co-owner of That's Dancing Andrea LaMaina. Andrea LaMaina runs the popular dance studio with her co-owner sister Michele Walsh. This July twins Shari and Alec Mittenthal, Jillian Medero and Rachel Squire will aim for capturing the national title at Gaylord Palms in Orlando.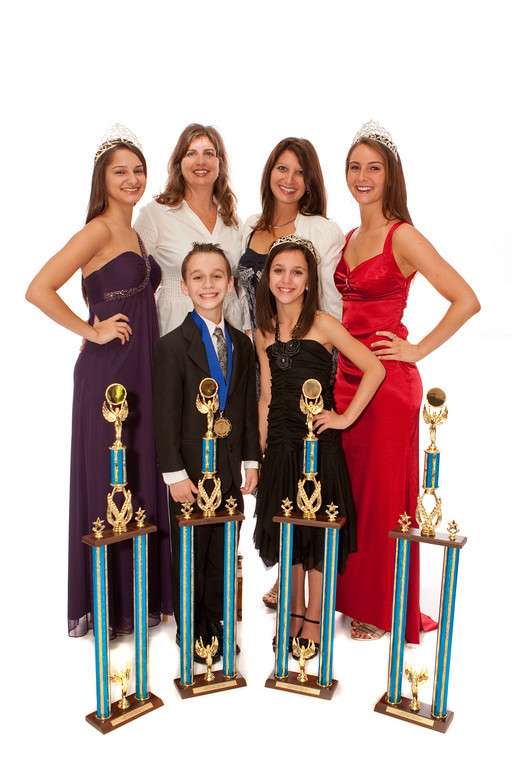 Training is already underway for July. "As of now, we're pretty thick into our competition season," says LaMaina. The students are constantly training in their various technique classes. They also add onto their group lessons with private lessons. All four students are also active in the dance company that rehearses at That's Dancing for three hours each Saturday afternoon, Fusion Force Dance Company. The four star students go to Nationals in July, and the action-packed competition will last an entire week. Dance Masters hires a choreographer to come in and rehearse a big grand opening number with all of the participants. The young dancers get exposure to many different nationally-renowned teachers and their different styles. To say the least, "it's a very busy week," explains LaMaina.
Shari Mittenthal, 9, was crowned Petite Miss Dance of Florida 2011, after impressing the judges with her lyrical dance solo.  Her brother Alec Mittenthal, 9, was awarded Petite Mister Dance of Florida 2011 after his terrific tap solo.  He also won a Junior Tap scholarship. Shari and Alec are twins who attend Sunset Palms Elementary School in Boynton Beach.  This year's state competition took place in Cape Coral. The dancers must submit a resume and also go through an interview, in which they are asked questions based on their resumes. Shari and Alec both scored the highest in their category for dancers twelve years old and under.
Jillian Medero was Mini Miss Dance of FL in 2005; now at fifteen she's Teen Miss Dance for FL.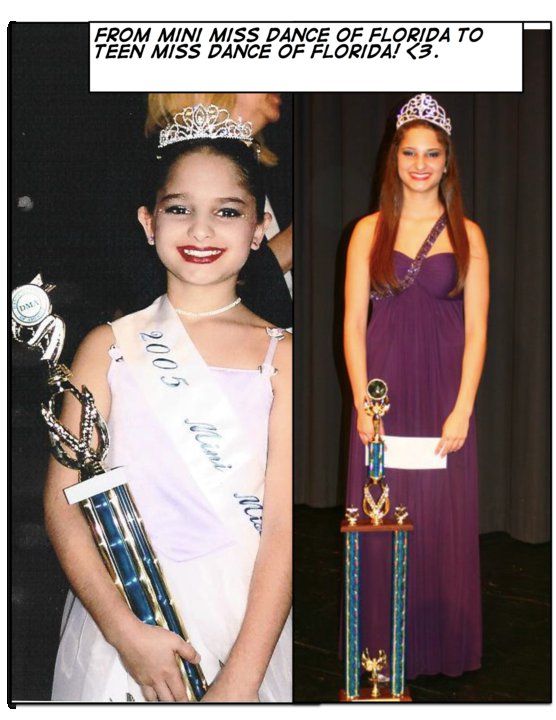 She found an old photo of herself from her days as "Mini Miss" and put it next to her recent Teen Miss photo on the That's Dancing Facebook page. She currently attends Dreyfoos School of the arts and performed a contemporary lyrical piece in the state competition. "She's been my student for 13 years.  She's the definition of dedication. She's young and talented," says Andrea LaMaina. Jillian won the overall scholarship for the senior division – in jazz, ballet tap and acrobatics class.
Rachel Squire, a senior at Dreyfoos, performed a contemporary lyrical piece to win the state championship title. "She's another dancer who's been with us forever and ever," says LaMaina. She was crowned Senior Miss Dance of Florida and was also awarded the overall ballet scholarship. She plans to attend Marymount Manhattan College in N.Y.C. on a dance scholarship.
Dance Masters of America, which is over 100 years old, is considered to be one of the best dance competitions in the country. It's a non-profit organization that truly gives back to students who excel. There's an entry fee at the state competitions, but those entry fees are used to pay the winning students' entry fees at Nationals. "They hire fantastic teachers at Dance Masters. At the end of the day, it's a learning experience. It's all about education – more so than winning," says LaMaina.
It's the same way at That's Dancing, which is located at Lantana and Jog Road in Lake Worth. The teachers strive to give their students the tools, confidence and encouragement they need. They push their young dancers to their potential. Andrea LaMaina, who happened to choreograph all four of the winning dance routines at the state competition this year, says "The bottom line is that it comes from within. You're not going to convince anyone else that you're good if you don't believe you're good." She jokes that she would love to take credit for her students' successes, but it ultimately comes from the dancers themselves. LaMaina, Walsh and the other dance instructors are just happy to be a part of each dancer's journey.
If you'd like to see these four rising dance stars perform, your best bet is this June at the That's Dancing gala at Royal Palm Beach High School. Call That's Dancing for showtimes and tickets at (561) 642-9677.