Annie Jr. Comes to the Wellington Children's Theatre
By Krista Martinelli
One of the most beloved musicals, among children and adults, is Annie. It has a little something for everyone – catchy songs, a fun cast of characters (including a dog), a protagonist, an antagonist, and – set among the backdrop of the Depression – a whole lot of hope for the future. When founder of the new Wellington Children's Theatre, Karen Braunstein, chose Annie Jr. for their spring production, it made perfect sense. Annie Jr., by the way, is an abbreviated version of Annie. "We have a diverse and talented group of kids," she says. "Some are very new, while others are like seasoned professionals. It's a real joy to direct them and see them grow."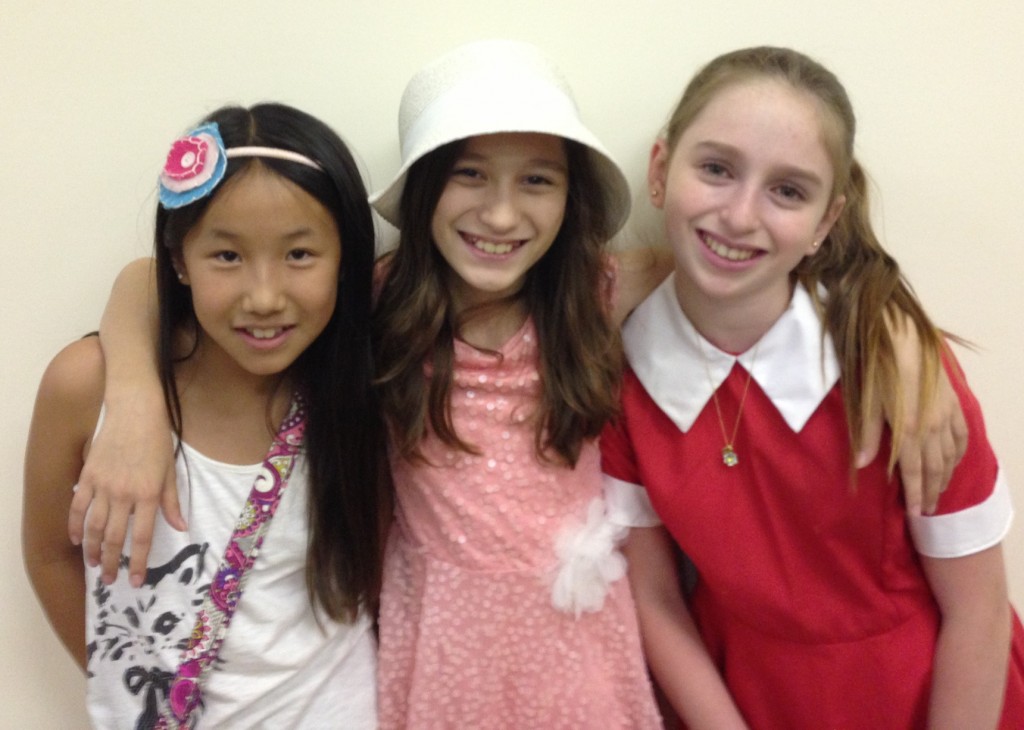 To best showcase three of their talented young actors, they have three different Annies – playing the role at different performance times. The show takes place at the Wellington High School auditorium on April 21, 26, 27 and 28 (see end of story for show times and box office number). "This group of children is impressively talented, which made casting the show very challenging. I wanted to give every child a lead role!" says Braunstein. "Each Annie is bringing something different to the role."  It's a great opportunity to shine, and rising stars Emily, Lily and Jade bring so much to the character.
About Emily Shecter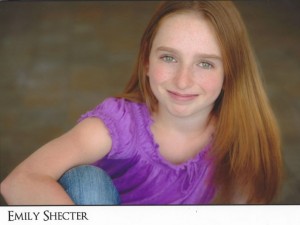 "Every time I rehearse in the role of Annie, it becomes more meaningful to me. I love the song 'Tomorrow.' To me, it means, 'Don't ever give up on today – because there's always tomorrow.' I like how I get to express myself when I'm acting. I feel so special when I'm on stage!" says Emily.
Emily is thrilled to be playing the role of Annie.  Annie is such a great role and Emily is very passionate about this part.  Emily is 12 years old and is in the 6th grade at EmeraldCoveMiddle School. She has been performing in community and professional theater since kindergarten. Emily's credits include: Annie in Annie Jr., the Little Girl in Ragtime and Lil' Rizzo in Grease.  Emily was most recently a Finalist in the Wellington Idol competition and sang in Starz of the Future at the South Florida Fair for the past 2 years, Dream Night at the BorlandCenter and the Wellington Talent Search. This is Emily's fourth year in the Young Singers of the Palm Beaches and she was chosen to sing in a talent showcase at the Harriet Himmel Theater last year. Emily will be attending Frenchwoods Festival of the Arts in New York for her second summer. She enjoys musical theater, singing, acting, dancing, competitive cheerleading and playing the piano.
About Jade Master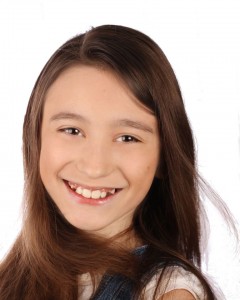 "It's an honor to be chosen as Annie and it makes me feel like all my hard work has paid off.  I love that Annie is spunky and she's a really fun role to play because she's tough, but also has a softer side.  It's really fun portraying the different emotions of the character," says Jade Evori Master. 
Jade is a Theater Major at BAKMiddle School of the Arts and has been performing publicly for about 4 years.  She started in a musical theater class at age 7 and since then has been studying dance, acting and vocals. Tap is Jade's favorite style of dance.  She also started taking piano a few months ago.  Jade sings in several different genres such as Broadway, Country, Pop, R& B, a little bit of opera and can also yodel.  Jade has had the opportunity to perform throughout South Florida for many different events and venues such as BB Kings, The Borland Theater and the Maltz Theater. She has also performed in Nashville, Las Vegas and New York at venues like the Hard Rock Cafe.   This fall Jade will be performing in Canada.  She is a songwriter and has several original songs in production. Jade released her very first original last December called "Country Christmas."  You can see more of Jade online at these sites too.
http://www.facebook.com/JadeEvoriMaster
http://www.JadeEvoriMaster.com/
http://www.youtube.com/JadeEvoriMaster 
http://instagram.com/jadeevorimaster/
http://www.reverbnation.com/jadeevorimaster
About Lily Marie 
"Up until now, I've always been in the ensemble and now I get to be a lead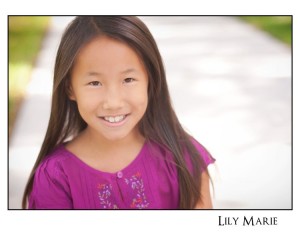 character and I really like it. Ever since I saw the movie a few years ago, I've wanted to play the role of Annie and now I have this chance and it's lots of fun!" says Lily Marie. 
Lily has been in CATS, Joseph and the Amazing Technicolor Dreamcoat, Aladdin Jr. and The Little Mermaid, Jr. She also placed in the top 12 at Wellington's Talent Show last summer. 
Why did Braunstein decide to start up the Wellington Children's Theatre last fall? "I saw a niche here. There's nothing really like this for children.  I wanted to offer a comprehensive experience of taking a play to full production." Braunstein has been working in the world of theatre since 1987, including musicals, operas and all kinds of theater productions. She's also served as cantor at various temples.
"I love working with kids," says Braunstein. "It's a joy to see how much they can grow as actors!" She wanted to be located in the heart of Wellington, so she found the perfect spot – in the original Wellington Mall, located behind Checker's on Forest Hill Boulevard in Wellington. She shares a space with a private school, called The Education Place. Their first production was Edwina, Jr. last fall.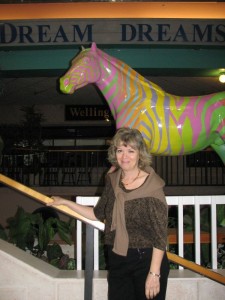 As a young child, Braunstein studied ballet and piano. "At thirteen, I knew I wanted to be an opera singer," she says. She went on to get her B.M. in vocal performance and her Master's Degree in Sacred Music. She's excited to be receiving an honorary doctorate degree next month for her 25 years of service as a cantor. Within the scope of her cantorial work, Braunstein had been directing and producing about two shows a year. She's also done a lot with theater at summer camps and continues to teach voice and piano. 
What benefits does theater bring to a child's personal development?  According to Braunstein, it stretches their imagination and allows them to be more confident overall. "Acting is all about focus. There's the concept of the fourth wall.  When an actor loses himself in a role and experiences 'being in the moment' onstage, it is a tremendously freeing experience. Acting is all about the relationships between the characters," she says. She also points to the rich genre of musical theater, a positive influence in the lives of children. "Hopefully they'll be bitten by the theater bug…and keep going!"
The biggest challenge when it comes to working with children's theater, according to Braunstein, is simply good diction. "I'm always teaching them to speak clearly and to project their voices." 
There are several choices of classes at the Wellington Children's Theatre available, depending on children's ages.  They have "Broadway Babies" for 3 to 4 year olds. They offer "Acting Out" for kids aged 5, 6 and 7, which involves putting on scenes and doing scripted reviews.  They offer "Got Drama?" for ages 8 to 12, which is a focused acting class (without the musical theater). The Wellington Children's Theatre is also proud to have Beverly Blanchette of the DreyfoosSchool for the Arts teaching acting for teens, audition workshops and monolog workshops. She offers private lessons. In the future, Braunstein would like to offer a cabaret ensemble type of class.
This summer the Wellington Children's Theatre will have Summer Camp from June 10 to 28th for ages 6 to 16, a program that runs from 9am to 3pm each day, with aftercare available.  This is an excellent outlet for your little drama queens and kings! 
Karen Braunstein is happy that her children seemed to have kept theater in their lives too. Her daughter is a sophomore at WellingtonHigh School, involved in concert chorus, dance and theater. Her son is in his junior year at MaryMountCollege in Manhattan, getting his B.F.A. in Theater. He's also a professional magician.
What's next for the Wellington Children's Theatre?  "My dream is to have my own black box theater. Wellington needs to invest in a performance space. This would not just be an outlet for kids, but a place for the whole Wellington community to see great productions!" 
Tickets for Annie Junior can be purchased on the Wellington Children's Theatre website.  Dates and times are:
Sunday, 4/21 at 4pm
Friday, 4/26 at 7pm
Saturday, 4/27 at 7pm
Sunday, 4/28 at 4pm
For more information about the Wellington Children's Theatre, Annie Jr., taking classes or signing up for summer camp, call (561) 223-1928.