Arts Garage in Delray Beach Announces
From Our HeARTS to Your Homes
New Virtual Arts Series Viewers Can Enjoy from Home
Perfect for Housebound Arts Aficionados of All Ages
(Delray Beach, FL – April 1, 2020) Marjorie Waldo, President & CEO of Arts Garage, today announced that the nonprofit organization is launching From Our HeARTS to Your Homes, a new virtual series that arts fans can enjoy from the comfort of their homes. The series will roll out over the next month, first to Arts Garage newsletter subscribers and then to the general public via Facebook, YouTube and Twitter.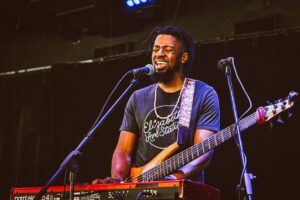 From Our HeARTS to Your Homes will include live musical performances, arts education classes, poetry and comedy, featuring some amazing young performers, such as Matt Brown, Brandii Edwards, Indigo Dreams, and Valerie White. Viewers will also have access to exclusive interviews, blogs, and more.
"This new series is our response to safety concerns surrounding the COVID-19 pandemic that has caused many businesses and arts institutions to temporarily close their doors, including Arts Garage," says Waldo. "But we refuse to let this virus stop the music and art, which can be truly transformative, giving us joy and hope and helping to heal all that is broken. If ever there has been a time for healing, it's right now.
"Best of all—this series is FREE. No ticket purchase is necessary to enjoy it," she adds. "Every artist has donated their time and talent working with Arts Garage to keep our patrons close and energized by the magic of the ARTs. This is our way to serve the community that has supported this venue for so long by connecting people to the world through the arts—even if it is from the comfort of their own couches—as Arts Garage brings them some of the biggest-heARTed performers ever."
To enjoy this new virtual series, just subscribe to the Arts Garage newsletter
(https://artsgarage.org/email-sign-up/).  Or follow us on YouTube (https://www.youtube.com/watch?v=r24F2zOkIZ0);
For more information or a preview, please visit:
https://www.youtube.com/watch?v=seIXafU1oJU&t=8s
or https://www.youtube.com/watch?v=cR1I6VvraB4&t=9s
or https://www.youtube.com/watch?v=7MGTZGlJz28.
About Arts Garage:
Arts Garage delivers innovative, diverse, meaningful and accessible visual and performing arts experiences to Delray Beach and South Florida. "Connecting our community to the world through the Arts"—this vision drives all decision-making at Arts Garage, which brings local, emerging artists and established global performers into the local multi-cultural community (students and adults, locals and tourists, people of all ages, income levels, backgrounds) who share a love of the arts.
Diversity is a hallmark of Arts Garage, which provides multicultural programming that promotes inclusion in the arts. #DiscoverDiversity isn't just a tagline—it is the cornerstone of our outreach programs, staffing, and marketing. Arts Garage is located at 94 NE 2nd Avenue in Delray Beach's popular Pineapple Grove (33483). For more information, please call 561.450.6357 or visit www.artsgarage.org.