AW Spotlight
Playmobil® and Lechuza® – Two Great Brands in One Location
By Krista Martinelli
If you happen to have a young child in your house, you might already know of this amazing indoor fun park, which costs only $1 for all-day admission and delivers hours of imaginative playtime. PLAYMOBIL® FunPark in Palm Beach Gardens, FL has been delighting children for fifteen years, giving them the chance to test out entire "cities" of toys and meet new friends in the process.
Playmobil, an innovative German toy company, has only one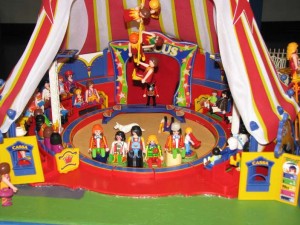 FunPark location in the United States. Luckily for our local residents, it's in Palm Beach Gardens. Playmobil FunPark in Palm Beach Gardens opened its doors in 1994 and has enjoyed a steady growth in customers ever since. Store Manager Lucy Gutierrez says that they will be celebrating their 16th anniversary this coming November and as always they will have their 25 % Anniversary Sale at the store.
Gutierrez designed the recent remodel of the entire FunPark, which nicely showcases both brands that are now sold at Playmobil FunPark – PLAYMOBIL® toys and LECHUZA® self-watering planters. "We increased the size of our Lechuza store and ungraded the FunPark playing area, also extending its length and adding new playing areas," explains Gutierrez. The Lechuza part of the FunPark is now streamlined into an inviting area, where a great variety of planters are sold. It's modeled after the Lechuza displays in Zindorf, Germany.  See the Grand Opening day photos in the Photo Galleries on our website.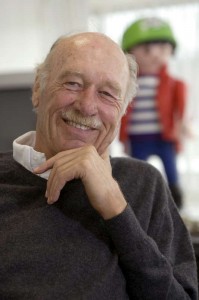 The inventor of Playmobil toys, Horst Brandstätter, had a clear vision from the start. These toys are ideal for children 18 months old and up. They "force imaginary play," helping kids to play out entire scenes in a hospital, Roman empire or princess castle, depending on a child's interests. There are so many "worlds" within the Playmobil toy line. The toys are created with great care, attention to detail and the imagination of a child in mind. Playmobil toys help children develop important school readiness skills in the following areas: cognitive, social, emotional and motor.
When they visit Playmobil FunPark, kids love the open areas, all of the exciting play areas and the many different themes.  Parents love the cool, indoor area, especially here in sunny South Florida. They are also quite pleased with the clean atmosphere at Playmobil FunPark. Instead of rushing to clean up at the end of each day, the staff is constantly cleaning different parts of the FunPark throughout the day, closing off one zone at a time for cleaning. As a result, you will find that it's one of the cleanest children's facilities you have ever stepped foot in.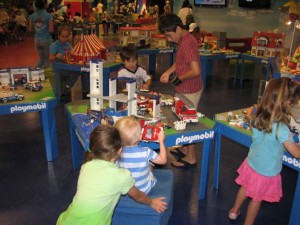 Playmobil FunPark also offers field trips and birthday parties. The birthday parties are always a huge hit with kids and parents. Playmobil birthday parties are 90 minutes long and tons of fun. Children can choose from different themes: Construction, Dinosaurs, Firefighter, Police, Knights, Pirates, Soccer, Pony, Princess, Fairytale, Mermaids and Trains. The birthday parties truly make the birthday child feel special, giving the birthday kid the spotlight on stage for a few minutes. The birthday parties include both unstructured time to play and a portion of the party for bringing the group together in song, dance and even a fun, obstacle course. The friendly Playmobil staff members decorate the special birthday area and help serve pizza, birthday cake, etc.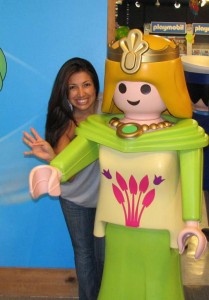 I asked Lucy Gutierrez how it feels to be Store Manager for both Playmobil FunPark and the Lechuza Factory Outlet, two brands that might not naturally fit together under the same roof. "Very well," she explains. "We have a very positive response from both moms and dads. They can shop and beautify their homes while children play and enjoy the FunPark."
Playmobil toy owner and founder Horst Brandstätter, created the Lechuza planter when he was looking for an ideal, indoor, self-watering planter to decorate his Playmobil FunParks. When he couldn't find what he was looking for, he used his knowledge of plastics and resourcefulness to make a terrific planter that can sustain a plant for up to three months without any maintenance. 
The Lechuza brand began in Europe about ten years ago and it has been in the United States for about five years. The easy-to-maintain benefits of Lechuza planters made them the planter of choice for many airports, malls and offices around the world. In Europe, it's the most popular brand of planter. For anyone who might not have a green thumb, the Lechuza planter is good news all around!  You can have a plant without killing it, and you can have it in a stylish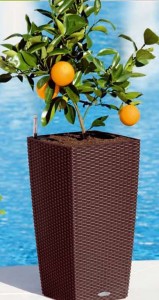 container, which comes in almost every color.  In most cases you can let the plant go for as long as three months without watering it, and it will live. It's ideal for those who travel or people with busy lifestyles.
How does the Lechuza self-watering system work?
Just fill up the Lechuza water reservoir and your plant will quickly become self sufficient! The integrated water level indicator will tell you reliably when it is time to refill the reservoir.
It's this simple.
1. Insert the Lechuza sub-irrigation set (separator, supply shaft and water level indicator) into the planter (or alternatively into the plant liner for the column planters) and place the included Lechuza-Pon drainage material onto the separator (about 1 inch deep).2. Add potting soil to the planter, insert plant with roots, and fill the planter with soil. Compact soil well. 3. For the next three months, continue to water the plants from above through the soil. After that (approximately three months), the plant will supply itself from the reservoir. After three months, your plant's roots will have grown far enough into the moist area that they will be able to obtain water from the reservoir without your assistance. Refill the water reservoir only after the water level indicator is at the minimum level.
In fact, Lechuza planters give the plants just the right amounts of water and nutrients they need for optimal growth.
Store Manager Lucy Gutierrez truly enjoys her job and seeing the joy that Playmobil toys bring to children every day. She also enjoys seeing the satisfaction of adults who find the perfect Lechuza planter for their home. She is a Wellington resident and mother of an eight-year-old boy and six-year-old girl. "Our children love Playmobil toys," she says, explaining that both have developed their fine motor skills and handwriting a bit more quickly, thanks to the small parts of Playmobil toys. Gutierrez and her husband are active in our local community and her husband is a busy soccer coach, among other activities. They are also fans of AroundWellington.com and Gutierrez provides a lovely testimonial for how her family uses AroundWellington.com calendar information for finding local activities.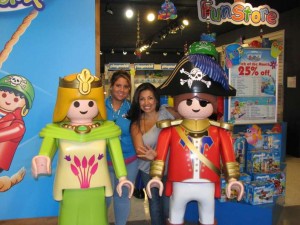 Playmobil FunPark is open to the public Monday through Saturday, from 10:00am to 5:30pm and on Sundays from 12:00pm to 4:30pm. The admission is 0.94 cents plus tax per person (which makes it just $1), for children ages 12 months up to adult. Playmobil FunPark visitors enjoy 25% OFF monthly specials for the Playmobil pick of the month. Visitors are welcome to stay all day and bring a picnic lunch or snacks to eat in the adjoining café. A gift shop of Playmobil toys is also located inside the FunPark building.
So come to the Playmobil castle and enjoy the truly affordable fun that your children will have as they "test drive" the Playmobil toys. And don't forget to pick up a Lechuza self-watering planter to beautify your home!
Playmobil FunPark
8031 North Military Trail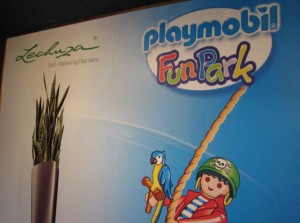 Palm Beach Gardens, FL 33410
Visit the Playmobil FunPark website!
Open Monday thru Sunday.
Phone: (561) 691-9880
Lechuza
8031 North Military Trail
Palm Beach Gardens, FL 33410
Visit the Lechuza website!
(877)Lechuza
609-395-5868