Wycliffe Stiffs Get Ready for 13th Season
The Wycliffe Stiffs Stickball League is getting ready for the Tuesday, Nov. 4th, opening of its 13th League Season on Stickball Blvd. in Wellington Village Park, Pierson Rd.
Games are played weekly on Tuesdays at 1PM and 2:45PM, except for holiday weeks.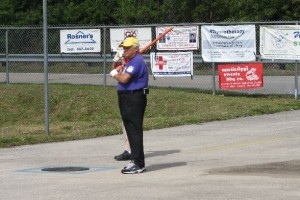 Marty Ross, Commish and Harry Klaff Dir.of Operations, reports new team names, new uniforms along with captains and assisting captains.. Their mission is to "Keep Stickball a Tradition and Not Just a Game".
Team Names-
Bronx Clippers , Capt. Steve Wechsler, Assistant Captain Doug Lipman
Brooklyn Bums  Capt. Mike Schweiger,  Assist. Capt.  Elliott Tuckel
Long Island Whalers Capt. Harvey Glicker   Assist. Capt. Ross Ginsberg
New York Egg Creams   Capt/ Bob Male    Assist. Capt. Glen Bogdonoff
Big Apple Boys   Capt. Bill Arnone  Assist  Happy Wilans
We hope to see all of our leagues friends plus anyone who would like to know about the mystique "Stickball " will join us in our stands or along side our field.
For additional information contact -Wycliffestiffs@aol.com