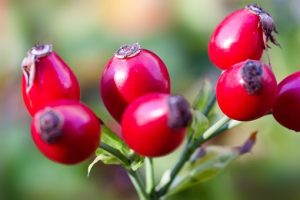 Natural Insight
Buoy Your Immune System
By Sabeen Faquir
The CDC estimates that flu activity peaks from December to February. So, maybe it's that time before a sore throat or cold when you're tired. There are a few things you can take to help bolster your immune system. My go-to is always vitamin C. You can also try rose hips, or Echinacea.
In fact, vitamin C drives a mechanism that some antibiotics use to help destroy bacteria. In particular, the bacteria that causes Tuberculosis is very susceptible to destruction by vitamin C (Vilcheze, et al). But, other gram positive and gram negative bacteria may not be susceptible. Some researchers claim that low vitamin C levels may be associated with increased duration and severity of the cold. In a double-blind placebo controlled study, it was found that physical activity increased in subjects given 1000mg of vitamin C daily. And in the vitamin C group, severity of the cold and incidence of the cold were reportedly decreased. The adults participating in the study had low to adequate vitamin C status, measured as plasma concentrations less than 28 micromoles per liter (Johnston et al). Rose hips and rose hips supplements are also widely used because of their vitamin C content.
Although vitamin C does not interact with most antibiotics, there are contraindications for NSAIDs, statins, beta-blockers, as well as some other classes of medication. To see a complete list of interactions, see WebMD's page on vitamin C interactions. It is always advisable to speak with your doctor. It is never advisable to take a vitamin or supplement at the same time as a prescription medication. You should know that a common rule of thumb is to take anything like a vitamin or supplement two hours apart from a medication. This means you should take it two hours before or two hours after taking a prescription medication. Whenever I'm at the start of a mild sickness, I take 1000mg of vitamin C one day and then 500mg of vitamin C everyday thereafter. The NIH suggests that taking vitamin C can reduce the severity and duration of a cold. The NIH also recommends 250mg of vitamin C for runners, skiers, and soldiers exposed to extreme physical exercise to reduce the incidence of cold.
Echinacea is another way to go to support your immune system. Though, studies performed on its effects for the common cold yielded mixed results. I did find studies supporting its synergistic effects with other herbs like Sambucus nigra. In one study, a lower concentration of Echinacea roots (0.0005%) and Sambucus (0.02%) compared to higher concentrations (0.006% and 0.41%, respectively) resulted in a 50% inhibition of H1N1 replication. This means it prevented the proliferation of the virus. Echinacea reportedly works by inhibiting hemagglutinin activity (Vimalanathan et al). Hemagglutinin binds influenza cells to cells in the body. It's important to know that there are many contraindications for Echinacea including caffeine, medications changed by the body or broken down by the liver like Biaxin and Flexeril, medications that reduce the immune system like CellCept, and the sedative midazolam. And if you're on an antibiotic, it's a good idea to ask your doctor about taking probiotics as many antibiotics interfere with your intestinal flora.
***
Disclaimer: The content of this article is not intended to diagnose, treat, prevent, or cure disease.
Sources
Catherine Vilchèze, Travis Hartman, Brian Weinrick & William R. Jacobs Jr. Mycobacterium tuberculosis is extraordinarily sensitive to killing by a vitamin C-induced Fenton reaction. Nature Communications. 4, Article number: 1881. 2013.
Carol Johnston, Gillean Barkyoumb and Sara Schumacher. Vitamin C supplementation (1000 mg/d) increased physical activity and reduced cold symptoms in young men with adequate-to-low vitamin C status. The FASEB Journal. vol. 28 no. 1 Supplement 828.3. April 2014.
National Institutes of Health. Office of Dietary Supplements. Vitamin C Fact Sheet for Health Professionals. https://ods.od.nih.gov/factsheets/VitaminC-HealthProfessional/#h2. Updated: February 11, 2016
S Vimalanathan, R Schoop, S Pleschka, J Hudson. Synergistic inhibition of Influenza replication cycle with Echinacea purpurea and Sambucus nigra. Planta Medica. 2013; 79 – PN115