CaptiveOne sponsors the Vinceremos Special Olympics Team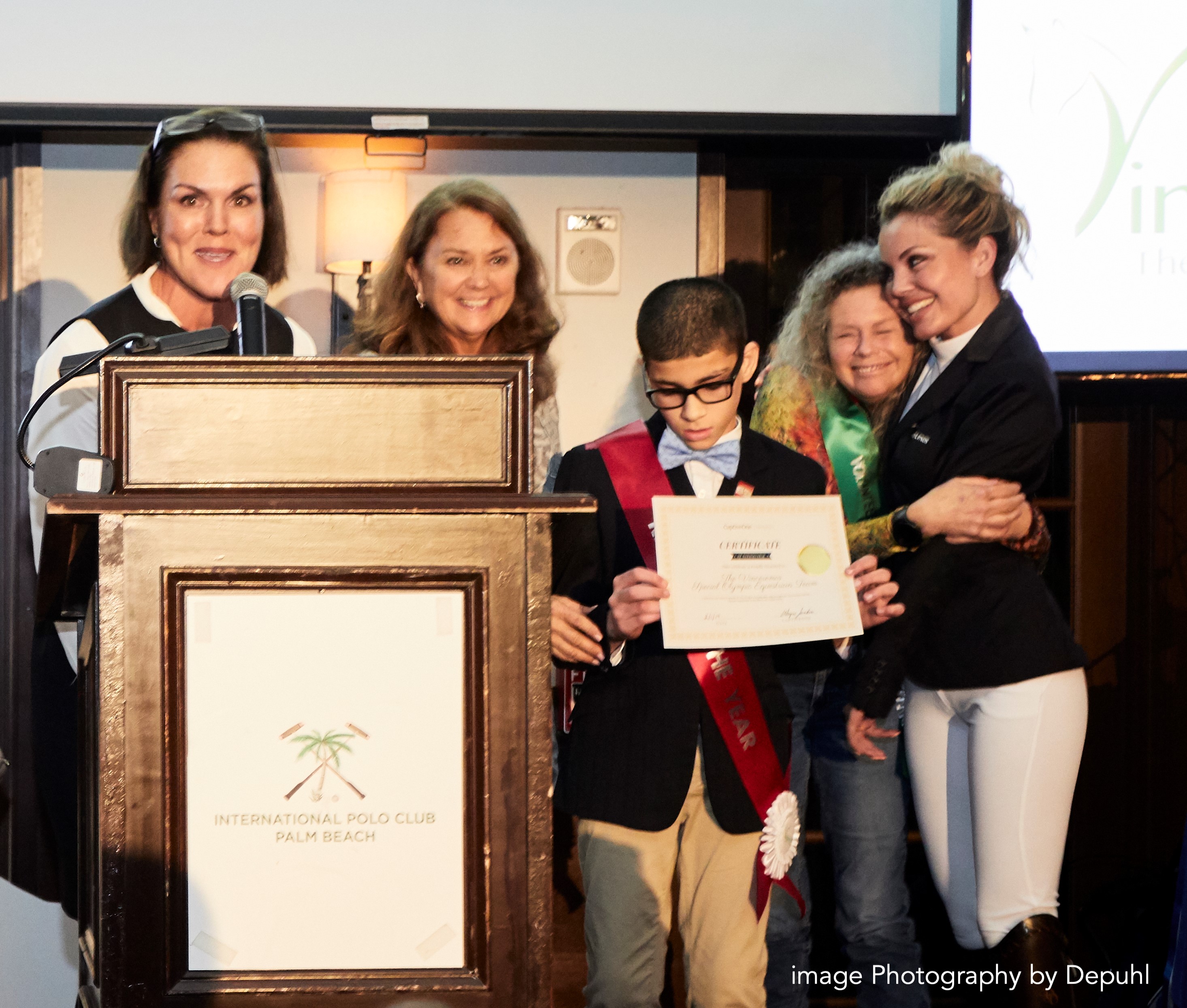 [Wellington, FL, February 1st, 2019] "CaptiveOne is proud to announce that it is providing complete riding outfits for the 15 riders of the Vinceremos Special Olympics team," Laura Southard, CaptiveOne's Brand Ambassador, announced at Friday's 32nd annual Vinceremos Dinner and Benefit Auction.
Ruth Menor, the founder of Vinceremos and coach of their Special Olympics team, was elated to receive the "Competition Scholarships." CaptiveOne is teaming up with EC Pro (@echicpro), an equestrian fashion store, to supply the team with branded team show jackets, competition shirts, and breeches.
"This is the most creative and meaningful donation any one of our sponsors has ever come up with," Menor told the 440 gathered supporters at the pavilion of the International Polo Club.
"In the past, our Special Olympics team has competed in outfits that didn't match," explained Susan Guinan, Chief Operating Officer at the Vinceremos Therapeutic Riding Center. Of course, Vinceremos is infinitely grateful for each and every contribution. "Special Olympians are often seen as individuals with disabilities trying to compete in a sport. But they are athletes; they practice and prepare for competition with the same heart and discipline as all Olympians."
"Being a part of a team builds pride in each member, each other and those that support them, they have a responsibility to each other," explained Guinan.
"The uniform serves as a visual reminder to all of that dedication and respect. Vinceremos is grateful that CaptiveOne recognizes the commitment of these special equestrians through the generous donation of team jackets."
Vinceremos serves children and veterans with developmental, physical and psychological disabilities in its dynamic stable environment. In 2018, the charity taught 5,900 lessons, and their volunteers spent 21,000 hours serving their community.
Wayne Jenkins, the founder of CaptiveOne Advisors and a longtime Wellington resident, told Guinan "I am thrilled to support Vinceremos. You are doing such amazing work right in my hometown community."
CaptiveOne's partner, EC Pro, will host "Vinceremos Days" at the Adequan Global Dressage Festival on February 8th and the Winter Equestrian Festival on March 23rd with a portion of net profits going to Vinceremos.