Filled with twinkling lights, busy shoppers, indulgent treats and magical moments, the holiday season greets us once again. Some of my most memorable holiday moments have come to me through my excursions. Last Christmas brought me one of the most magical experiences of any holiday season—an Emerald Waterways Christmas market river cruise along the Danube River. I've been waiting all year to share this story with you! Come along and experience the magic.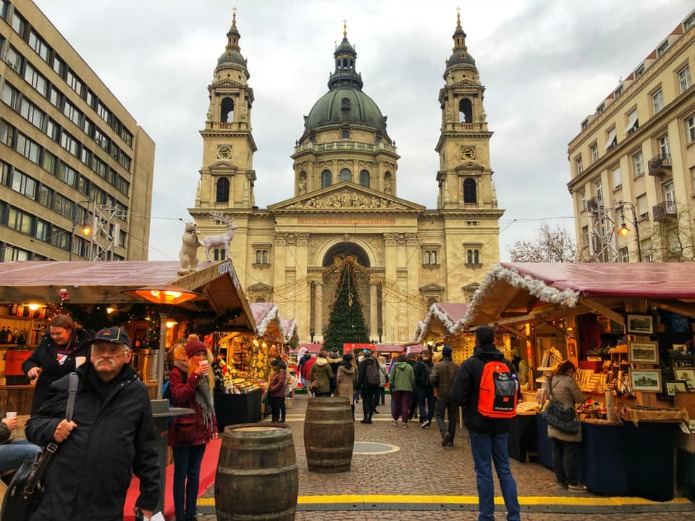 Day 1: Budapest, Hungary
Arriving in Budapest early, I set out to find the city's Christmas markets. Although there are several sprinkled through the neighborhoods, I chose the market in St. Stephen's Square. Located in the city center, the architecturally stunning St. Stephen's Basilica provided the backdrop to a little piece of holiday heaven. Decorated wooden stalls displayed hand-made ornaments, artisan jewelry, fabulous food and more. With incredibly low prices, I made a big dent in my shopping list within minutes.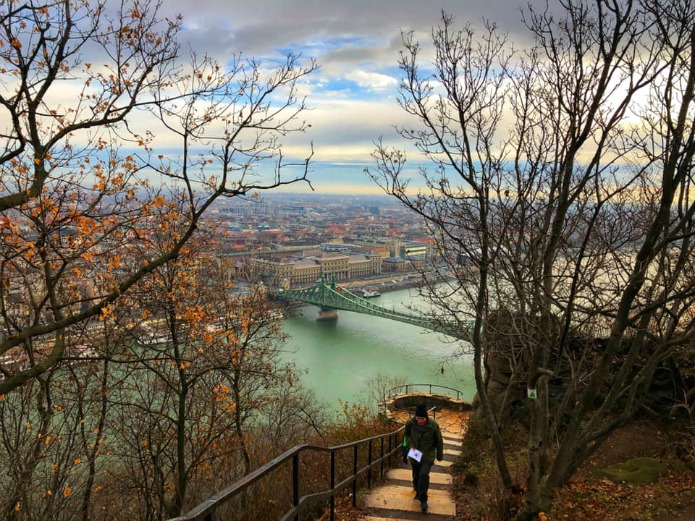 Emerald Waterways offers a varied itinerary which allows guests to customize the cruise experience. Exploring on your own is always an option, but there are also guided tours available in some locations. Emerald Active options give you the chance to burn off a few extra calories. Having just indulged in a calorie-laden sour cream topped potato pancake at the market, I returned to the ship in time to join a guided hike up Buda Hill. Highlights of the 4-hour hike included the Hungarian Statue of Liberty, the Virgin Mary standing watch over the city and a live Nativity scene. Beautiful views of the city and the Danube rewarded our climb to the top.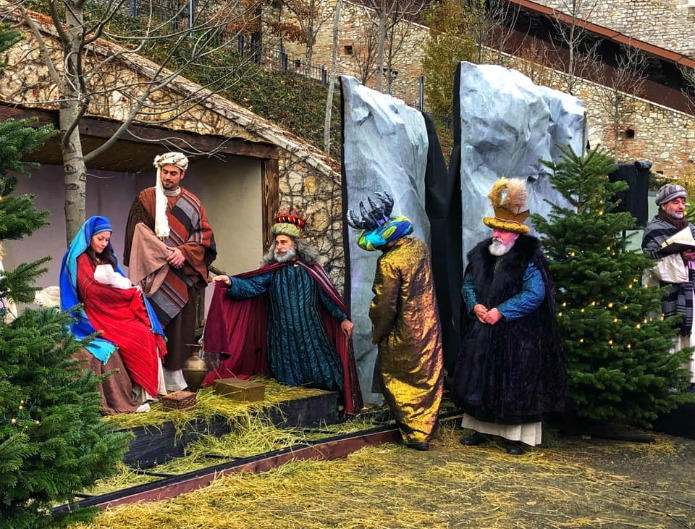 At nightfall, our ship set sail on the Danube River but not before we indulged in a feast for our eyes. Gathering on the ship's top deck, we gazed in wonder at Budapest's most enduring landmark. Sitting on the banks of the Danube, the neo-gothic Hungarian Parliament was illuminated with a golden glow—the first of many magical moments to come.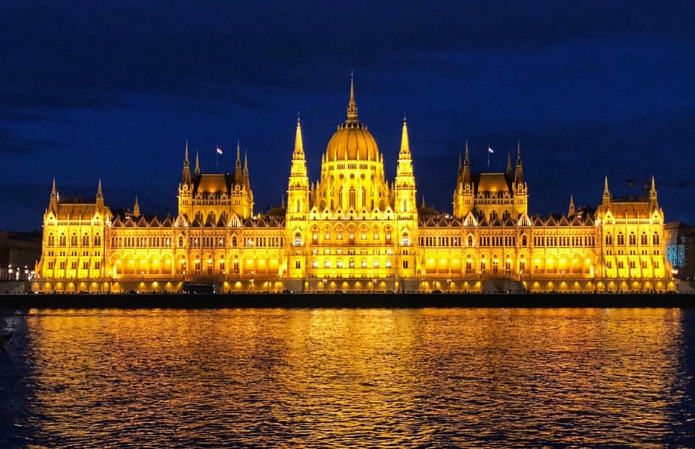 Day 2: Bratislava, Slovakia
A complicated history, resilient residents, a language with far too many nuances, architectural treasures, a Holocaust Memorial, a "peeping Tom" sculpture, a torture well, holiday spirit and an abundance of sausages…welcome to the capital of Slovakia! A guided tour introduced me to this intriguing city. And I followed that up with a stroll around the Christmas market once again indulging in the culinary delights. Walking through the festive stalls, the aroma of grilled sausages filled the air. Settling in with a mug of Glühwein and an expertly grilled sausage sandwich, my morning was complete.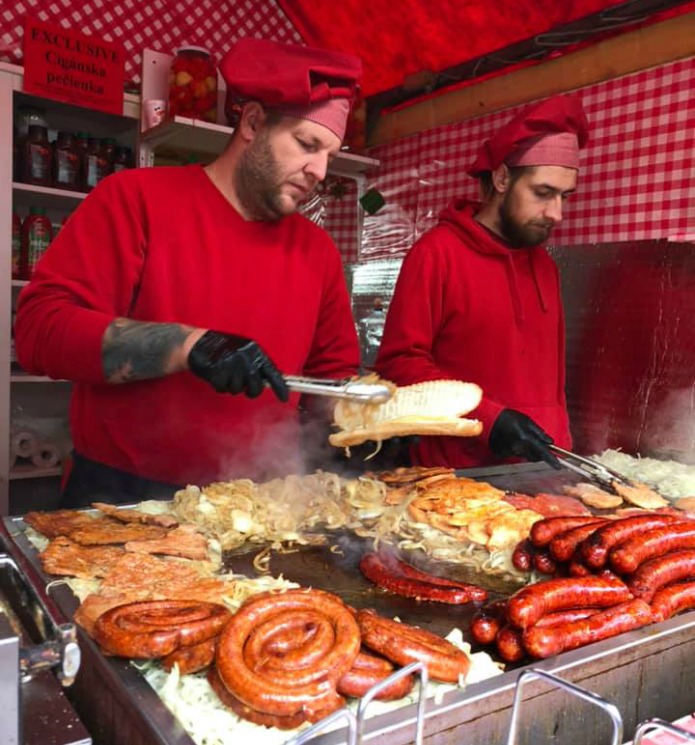 Taking advantage of the Emerald Plus offer to connect with local culture, my afternoon was spent with travel companions in the home of a lovely Slovakian seamstress. Known for sewing detailed traditional national costumes, she shared her collection with us along with delicious cake, coffee and wine–the best kind of hospitality!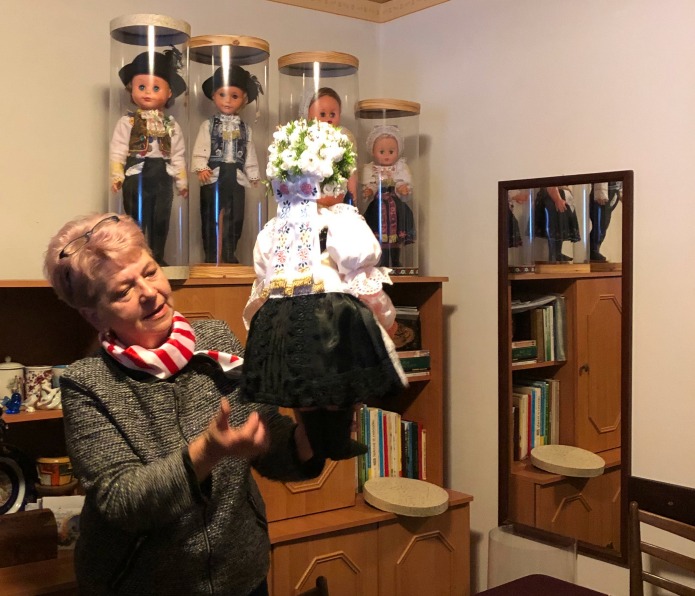 Day 3: Vienna, Austria
Waking up on day 3, I gazed out my cabin window to find a light dusting of snow on the Austrian landscape. Docking just outside Vienna, our day began with a drive along Ringstrasse past world-famous attractions such as the Opera House, Burgtheater, Town Hall, St. Stephen's Cathedral and the Hofburg Imperial Palace. The entire day was magically filled with spectacular architecture, Christmas Markets at every turn and even a glimpse of the renowned white stallions.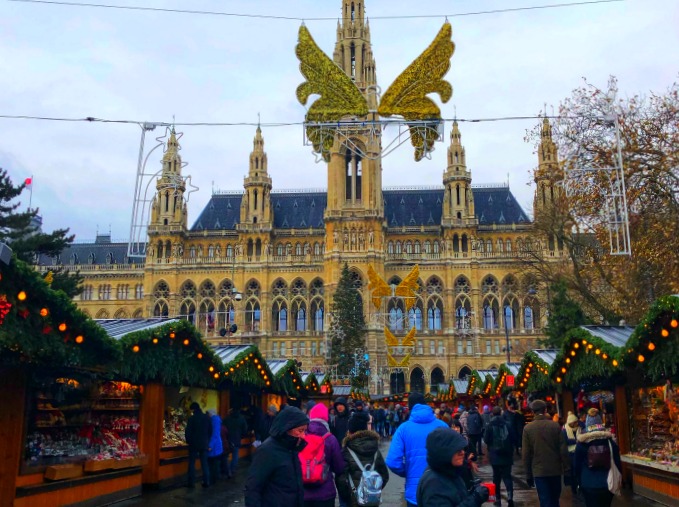 Continuing the fairytale theme of the day, the evening brought a private concert in the Liechtenstein City Palace—the venue where Beethoven debuted his 3rd Symphony. A truly remarkable performance by the Vienna Imperial Orchestra filled the intimate hall adorned with Baroque stucco ceilings, opulent neo-Rococo interiors and original furnishings. Yes, again I say, magical.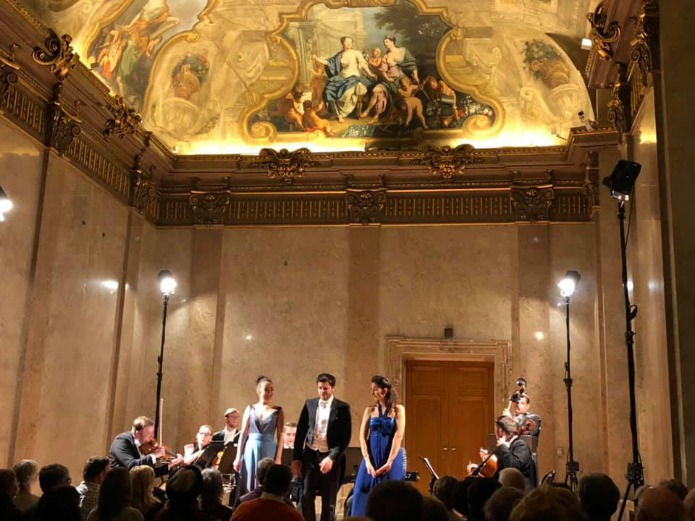 Day 4: Dürnstein to Melk
As morning dawned, we cruised through the heart of Austria's Wachau Valley to the enchanting village of Dürnstein. Best known for its wines, vineyards cling to the hillsides and the ruins of the 12th-century Dürnstein Castle stands watch over it all. The medieval castle once served as the prison for Richard the Lionheart after he returned from the Crusades. Today it's a peaceful little piece of the world. Did I mention wine?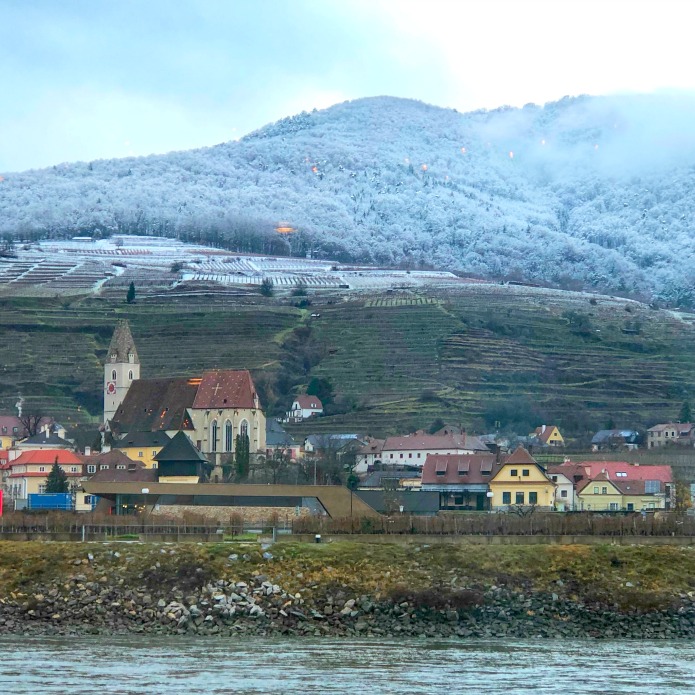 Arriving in Melk after an afternoon of cruising, we began with a tour of the stunning Melk Abbey. A UNESCO World Heritage Site, the longest continuously running Benedictine abbey in the world survived occupation by Napoleon and Hitler. Its library houses one of the world's greatest collections of medieval literature. Perched atop a rocky outcrop crowned with a golden halo, the Melk Abbey silently keeps watch.
Descending back into the town, we were greeted by Christmas carolers on this cool winter's night. Yet another magical moment.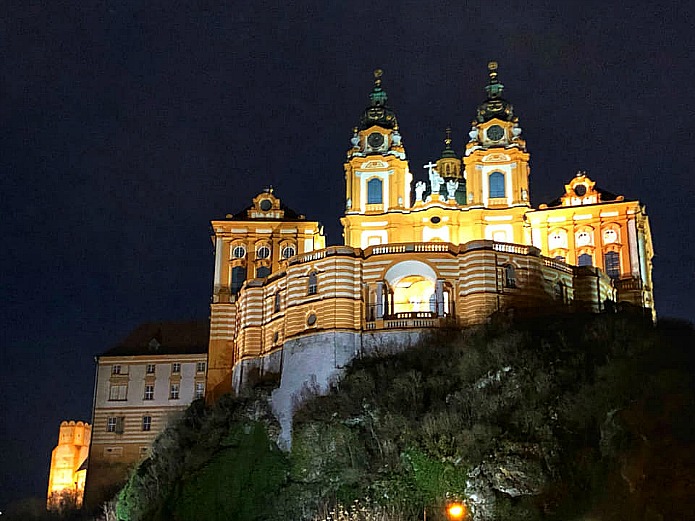 Day 5: Passau, Germany
A morning of cruising brought peaceful landscape views along with a dramatic series of locks on the Danube as we crossed from Austria into Germany. Cobblestone streets, ancient narrow alleyways and the Oberhaus Fortress perched above the town were among the highlights of our walking tour of Passau. At the center of it all, the Baroque St. Stephen's Cathedral houses the largest cathedral pipe organ in the world with 17,974 pipes.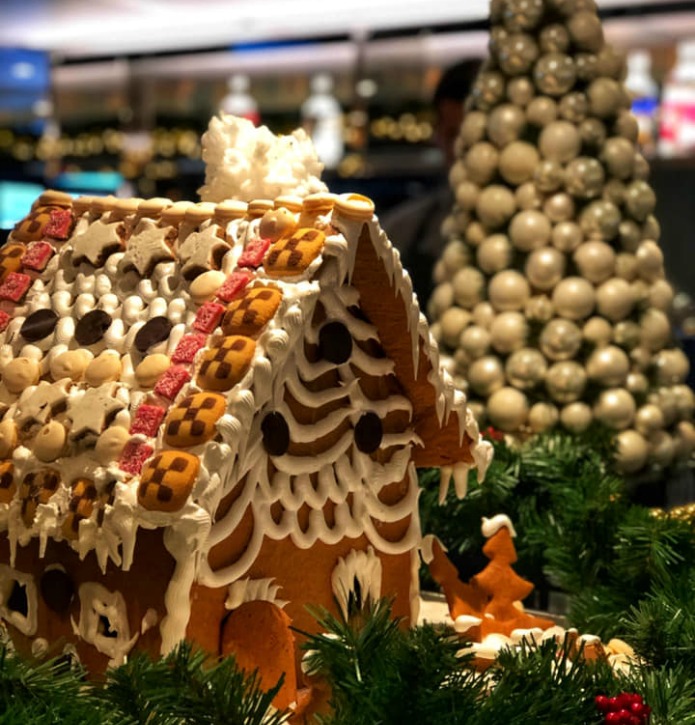 The cathedral serves as a backdrop to Passau's Christkindlmarkt where gingerbread-like stalls adorned with twinkling lights sell festive souvenirs, handmade gifts and decadent treats. Captivated by the tempting aromas, I ordered a steamy mug of Glühwein and a decadent serving of raclette. Settling at a table alone to take in the enchanting sights, I was joined by three 8th grade boys. In near-flawless English, they started a conversation. Full of questions for this American stranger, they rattled them off in succession. Why are you in Passau? How long are you staying? Where do you live? Can I finish your raclette? What do you think of Trump? As we talked, more friends gathered around until I was surrounded by eight curious German 8th graders. It was priceless and I can't believe I didn't take a selfie with them!
Day 6: Regensburg
Our final excursion day brought us to Regensburg. A UNESCO World Heritage-listed city, Regensburg displays a remarkably well-preserved collection of medieval buildings including the Old Town Hall. Narrow cobblestone streets and passageways lead to quaint shops while the medieval bridge entertains with a naked man statute. Set amid the enchanting architecture are several Christmas markets—each offering its share of enchanting treats. But it was Historische Wurstkuchl that won my heart.
Grilling sausages since 1135, Historische Wurstkuchl lays claim to being the oldest sausage kitchen in the world. These irresistible finger-sized delights grilled over beechwood and dished up with house-made sauerkraut and sweet grainy mustard were absolutely delicious!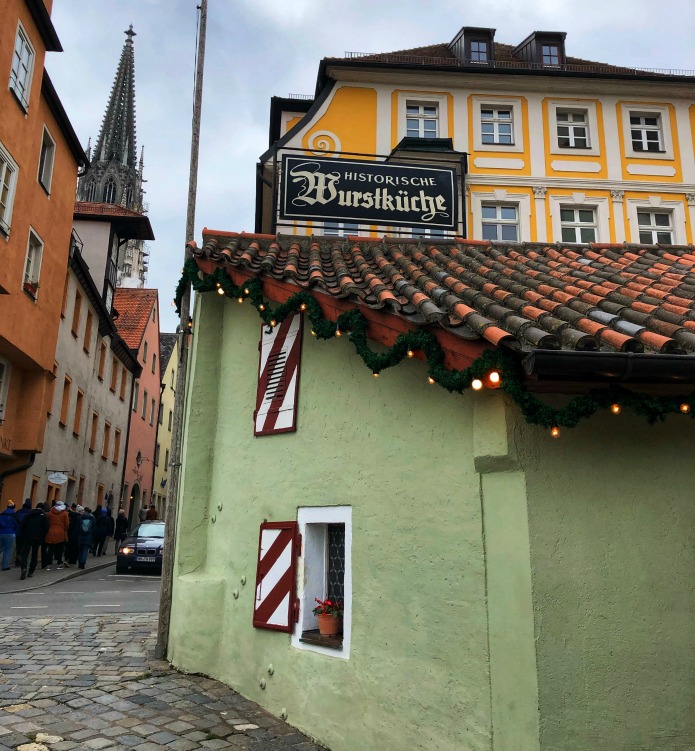 Day 7: Nuremberg to New York
Leaving the markets (and sausage) behind, we cruised to our final port to disembark and return to our respective homes. But I have to believe the magic I experienced will carry me through many more holiday seasons—or perhaps the Glühwein!
Wishing you and yours a magical holiday season!
Note: Book your own magic for next Christmas at www.emeraldwaterways.com.