CLEMATIS BY NIGHT
Free Weekly Concert Series
Every Thursday
6 – 9 p.m. FREE | West Palm Beach Waterfront, 100 Clematis Street, West Palm Beach, FL 33401
West Palm's favorite Thursday night tradition proves why it has been the "hot spot to chill" for more than 20 years. During Clematis by Night, guests will enjoy live music, food and drink specials and the hottest local social scene, creating an unmatched seaside happy hour setting. For more information, please visit Wpb.org/events or follow the City of West Palm Beach on Facebook @CityofWPB, on Twitter @westpalmbch or on Instagram @westpalmbch.
• Thursday, September 6: Samantha Russell Band (Country) | www.samantharussell.com
The moment Clematis by Night guests hear the Samantha Russell Band, they will know they are in for a great evening of some of the best country music. Voted the #1 top live country band in South Florida, the band performs original songs, occasional current pop tunes and covers hits from many of today's top country music stars and rock artists. Samantha's influences include Miranda Lambert, Reba, Jo Dee Messina, Patsy Cline and Shania Twain. Coupled with a unique vocal style of her own, the Samantha Russell Band will surely attract more than one new fan.
• Thursday, September 13: Slip and The Spinouts (Swing/Rockabilly/Roots) | http://www.slipandthespinouts.com/
Formed more than 15 years ago, Slip and the Spinouts are a vintage American three-piece band that performs an eclectic blend of rockabilly, western swing, surf, old country, blues and roots music. With an upright bass, a hollow-body guitar and a small combo drum kit, this old school band has performed throughout Florida, the East Coast and Las Vegas, and will now be coming to West Palm Beach to deliver a rocking show.
• Thursday, September 20: Spred the Dub (Reggae) | http://www.spredthedub.com/
Spred the Dub is a six-member group that came to life in 2008 and has been methodically paving its way in the music scene, building a huge local and national fan base alike. West Palm Beach's "good time reggae" band combines their incredible talents as singers, songwriters and instrumentalists to create an original sound and unforgettable live performance. Guests will sway, sing and dance to their tunes, which feature a unique blend of ska, reggae and soul.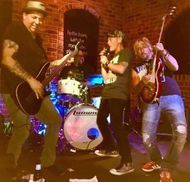 • Thursday, September 27: Mighty Quinn (Rock-N-Roll) | http://www.themightyquinnband.com/
Waterfront guests will experience the phenomenon of "The Mightiest Band in the Land" when Mighty Quinn performs their favorite rock and roll classics at Clematis by Night. This South Florida-based, high-energy, interactive band is guaranteed to bring a recommended daily allowance of great rock and roll from yesterday and today – from Guns N' Roses to Green Day.