Clematis by Night
Free Weekly Concert Series
Every Thursday;
6-9 p.m. FREE | West Palm Beach Waterfront, 100 Clematis Street, West Palm Beach, FL 33401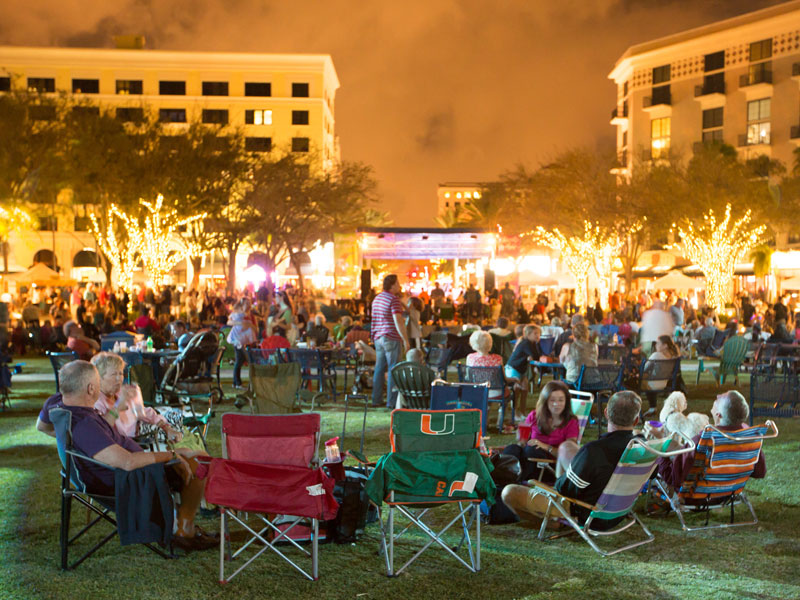 West Palm's favorite Thursday night tradition proves why it has been the "hot spot to chill" for more than 20 years. During Clematis by Night, guests will enjoy live music, food and drink specials and the hottest local social scene, creating an unmatched seaside happy hour setting. For more information, please visit Wpb.org/events or follow the City of West Palm Beach on Facebook @CityofWPB, on Twitter @westpalmbch or on Instagram @westpalmbch.
• Thursday, October 4: Big Al & the Heavyweights (Gumbo, Blues, Zydeco) | www.bigal.net
From Cajun to zydeco to blues to rock and everything in between, Big Al & the Heavyweights offer a musical gumbo sure to please all! Formed in 1996 as the Unknown Blues Band, with founding members Big Al Lauro, Warren Haynes and Rick Gergen, this New Orleans group has been featured at festivals and venues throughout the U.S. and will now be coming to the West Palm Beach Waterfront to deliver a family-friendly, energetic, and most of all fun, live performance.
• Thursday, October 11: Luis Manuel & The Charambo Band (Latin) | https://www.facebook.com/pg/Luis-Manuel-The-Charambo-Band-164521750229436/about/?ref=page_internal
Established in 1999, Luis Manuel & The Charambo Band performs classic salsa with a touch of cuban son, Latin jazz, cha-cha-cha, cumbia and merengue. With members from Cuba, Puerto Rico and Venezuela, this 7-piece band delivers a high-energy performance with the blend of piano, bass, conga, timbal, two trombones and lead singer Luis Manuel. Manuel's vocal style and talent are evident in the way he passionately sings from the heart. Dancing shoes are a must for this Clematis by Night!
• Thursday, October 18: Jason K & Signal Fire (Rock) | https://www.facebook.com/pages/Jason-k-and-signal-fire/289504664562502?sk=info
Jason K and Signal Fire is an exciting and dynamic project conceived out of 5 other top local bands. Offering more than the typical guitar, bass and drum format, the band features a killer keyboardist and brings to the stage a big-concert feeling. In addition to performing their own compositions, the group performs cover songs with unmatched energy and expert precision.
• Thursday, October 25: CLEMATIS BY FRIGHT
Creep, crawl or float down to Clematis by Fright for a FREE frightfully fantastic time! Thousands of dollars in prizes will be awarded in the annual costume contest in categories for kids, adults, families and pets. Lots of spookily, spectacular family fun awaits you at the best place to celebrate Halloween in West Palm Beach!
Enjoy live music all night long by Professor Pennygoode's Mighty Flea Circus (Jump, Rockabilly, Swing) | www.mightyfleacircus.com
Hailing from South Florida, Professor Pennygoode's Mighty Flea Circus is a non-stop, good-time 'swingabilly' band with one mission: to get Clematis by Nights guests moving! This five-piece group blends together their original material with a unique take on music from the 40s and 50s, rockabilly, jump and swing artists of today. With a repertoire of familiar tunes from artists like Louis Jordan, Wanda Jackson, Brian Setzer, Keely Smith, Louis Prima, and an ever-growing list of new artists and original music, this band is sure to keep the audience jumping.