CLEMATIS BY NIGHT
Free Weekly Concert Series
Every Thursday
6 – 9 p.m. FREE | Great Lawn on the West Palm Beach Waterfront, 100 Clematis Street, West Palm Beach, FL 33401 (N. Clematis, just west of Flagler Drive)
West Palm's favorite Thursday night tradition proves why it has been the "Hot Spot to Chill" for more than 20 years. During Clematis by Night, guests will enjoy live music, food and drink specials and the hottest local social scene, creating an unmatched seaside happy hour setting.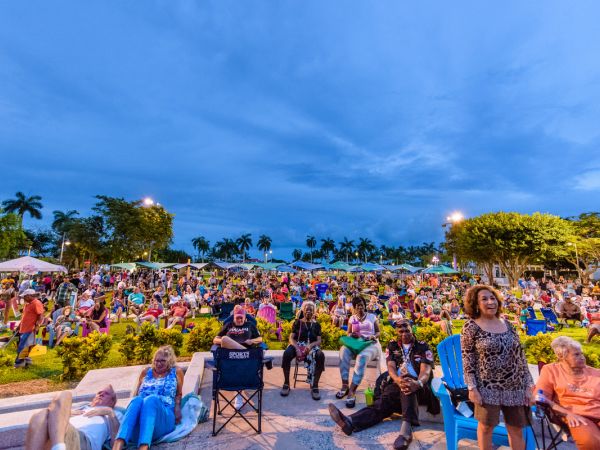 In addition, Clematis by Night is not only the "Hot Spot to Chill," but it is now also the "Hot Spot to Shop." The "Antique and Flea Market at Clematis by Night," debuted in August and concert goers now have a one stop to shop and chill. The market is an addition to the Saturday staple that has been downtown for more than 8 years and it features a variety of antiques and unique finds. The market is set up under the trellises along South Clematis Street and stationed under the shaded treetops. Vendors sell a variety of antiques and crafts, including, jewelry, clothes and decorative items. The flea market will take place and keep the same hours as Clematis by Night, 6 – 9 p.m. with the exception of special Clematis by Night events, such as Clematis by Fright and the Holiday Tree Lighting. The Antique and Flea Market at Clematis by Night is run by First Choice Antiques who also runs the well-known seasonal Saturday market.
For more information, please visit Wpb.org/events or follow the City of West Palm Beach on Facebook @CityofWPB, on Twitter @westpalmbch or on Instagram @westpalmbch.
Thursday, November 1: Roots Shakedown (Reggae)
Get down with the Roots Shakedown! Formed in 2009, the Roots Shakedown creates original music with a variety of influences, including rock, reggae and dub. The local band has captured listeners from all over the globe with the release of its first EP, Mash Up The Sound, in 2010 – and never looked back. While the band's full-length album is in production, fans should plan to get their fill at this rockin' Clematis by Night.
Thursday, November 8: The Groove (Funk/Dance)
Clematis by Night concert goers better plan to move with The Groove! Known as one of South Florida's premiere funk and dance bands, The Groove's five-person band carefully selects the best funk and dance tunes to keep people on their feet and dancing. In addition to a memorable audio experience, The Groove is also known for its equally appealing visual performance. Plan to hear hit after hit from Stevie Wonder, Rick James, Bobby Brown, James Brown, and many, many more. And don't forget your dancing shoes!
Thursday, November 15: Terry Hanck (Soul Rockin' Blues)
Terry Hanck proves that sax and soul are still the rage, most recently winning the 2017 Blues Music Award for "Best Horn." Known for writing songs that "you think you've heard for years," the South-Florida based musician takes inspiration from Fats Domino, Ray Charles, B. B. King, Lee Allen and King Curtis. Hanck's topnotch band also includes "Johnny Cat" Soubrand on guitar, Tim Wagner on bass and Butch Cousins on drums. Guests should plan to relax to the sounds of the sax during this nostalgic-inducing Clematis by Night.