AW Spotlight
Climate Control Services
An interview with Tom Edwards by Sabeen Faquir
1) How long has Climate Control Services (CCS) been open in Palm Beach County?
Since 1973, so 44 years.
2) Tell us the story about how and why CCS was founded?
Dean Ellis is our founder. He started the business in 1973 in order to create a better service company. A company that focused on customer service and skilled technicians. CCS started out in new construction but that was eventually phased out to begin a new type of service in service contracts.
3) What types of changes have come to CCS since its inception?
After new construction was phased out, Dean became a pioneer in the service contract business. Service contracts for homes was a new concept back then. No one had thought of this and Dean was one of the first to start it and he even helped with the creation of the legislation to get it started. Companies have to be licensed to sell service contracts and are regulated by the state of Florida. This is to keep fraud out of this industry.
4) What is your most popular service?
Service contracts are our most popular service. Customers prefer a one call does it all company instead of a separate plumber, appliance technician and A/C repairman for each problem. We strive to provide the highest quality service. We deliver high end customer service and strive to maintain this with each and every customer. Our main office is located in Boynton Beach but we service all of Palm Beach County.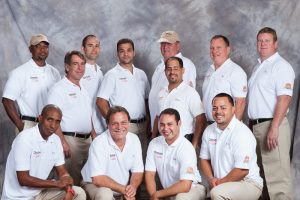 5) What are the benefits of going with CCS over a competitor?
Satisfaction is guaranteed. We bend over backward for customers and provide the best solution for each individual. We are menu-driven. A customer can ask "What's good for me?" There is no one size fits all. We custom-tailor contracts or maintenance so customers can choose the options and coverage that best fits their home.
6) Why is the CCS perfect for Wellington residents?
We sell all major brands because not just one brand fits everywhere. A round peg for a square hole is not good for the customer.
7) Tell us about some positive feedback you have gotten.
We send surveys on each service call and installation. Here are some quotes from customers.
"If your service stays as it is, there is no way you can improve. Your service is excellent."
"Response was great, services was great, job well done!"
"You're doing a great job, I was thoroughly impressed!"
"Keep sending these skilled technicians to us and keep up the good work."
8) What are some ways that the organization gives back to the community?
We support a charity during the holidays. Employees donate money or objects, like for toys for tots. Sometimes, for money drives, the company matches the amount raised, doubling donations.
9) Do you offer specials?
Yes, a customer who elects to get a service contract gets 10% off anything that is not covered. We also include an energy saving tune-up FREE upon renewal of their contract. In addition, we offer manufacturer discounts and in Spring/Fall other manufacturer discounts. For example, a family with a service contract who now wants an A/C installation will get special consideration.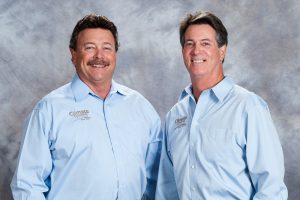 10) Is there anything you'd like to mention?
I have been with CCS since 1986. If ever there came a time I had to leave and seek employment elsewhere, I don't know if I can. The ownership learned a long time ago that if it takes care of its employees the employees take care of its customers.