AW Spotlight
Leeta Clark at ULTA Beauty Salon
Finding the Perfect Hairstyle for You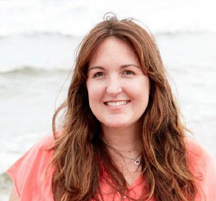 The first time I had master stylist Leeta Clark cut my hair I noticed that she asked more questions than anyone else had ever asked about my hair.  I found it very helpful, especially as she presented me with different ideal hairstyles that I might like – whipping through pages of magazines and carefully looking at celebrity hairstyles together with me.  Since I am not well-versed in hair style lingo, this was really a good way to start out.  All I had to do was point to what I wanted, narrow it down and voila!  She did the rest and it came out beautifully.
Leeta Clark, manager of The Salon at ULTA Beauty (which is located on 441 just north of Forest Hill), explains that finding out what someone wants for their hair is one of her favorite parts of the job.  "I can adapt it to their lifestyle, after a thorough consultation," she says. At The Salon at ULTA, they also specialize in corrective color, able to fix even really bad hair mistakes.
If you haven't yet stepped into ULTA Beauty, it's a unique shopping experience.  Inside the very large, very well-organized store, you will find a huge selection of beauty products from discount to high-end. In the back of the store, you will find the salon, where you can get a variety of hair care and skin care services.  New, as of this month, you can also receive an OPI Gel Polish service (which lasts up to two weeks).
The salon offers virtually everything you could look for in color services, using Redken for their color products – glaze, color, highlights, corrective color and dimensional highlights. See the Salon Menu. They also provide formal hair services along with make-up, make-up lessons, facials featuring Dermalogica ® professional skin care products, waxing services, all texturizing services including relaxers, perms and Kerastraight® smoothing treatment. Their hair cutting services are designed to suit your whole family. Extras include feathers and "glam strands."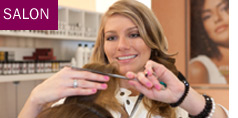 Salon Manager Leeta Clark brings a great deal of experience to the salon, including 25 years in the hair business. She owned a popular salon in Miami Beach. She also spent a couple of years doing celebrity hair on Fisher Island. She did hair for Demi Moore, Meg Ryan, Anne Bancroft, Beth Burdine (of Burdine's), various political people and sports figures. It's terrific to have such a pro hairstylist right here, located in our Wellington/ Royal Palm Beach area!
All of the hair designers at The Salon at ULTA are well-skilled – they go through a rigorous initial training and must demonstrate their ability by doing color on a model. They update their knowledge and skills seasonally, learning the latest trends and techniques from Redken ® professionals.
I asked Leeta what the biggest challenge is in the world of hair styling today. "Right now, it's the economy," she replied without hesitation. "People feel that they cannot have the services that they want, but we can work with them without breaking the bank. People want celebrity hair. We can provide less expensive techniques like spotlighting certain areas, using highlights and lowlights, instead of doing the whole head, for example. At ULTA, we provide creative solutions, able to take it down a notch, if needed, for financial reasons."
Customers really seem to appreciate this. They know, ahead of time, what services they are going to need to maintain their hairstyle and the cost impact in the long run. They love getting individualized hair care and finding a unique look that fits them personally.
Leeta explains that using the right products for your hair type at home is key. "Don't overuse hot tools – like curling irons and flat irons," she says. She also recommends that women with long hair remember to get their hair trimmed regularly, even if growing out their hair. "It keeps the ends fresh and keeps the style going."
ULTA Beauty and Cosmetics is an international company of beauty product stores with many benefits to its members. You can become an ULTA Beauty member for free and receive their weekly circular with all of the specials. ULTA Beauty Club members also receive 20% off one salon service on their first visit.
They also offer a great referral program at ULTA.  Send a friend to The Salon at ULTA and they get $20 OFF one salon service – and also the referring customer gets $20 off of one $50 service for every new customer they refer.  Check it out!
When it comes to giving back, ULTA strives to make a difference in impactful ways to all who we serve – our guests, our employees and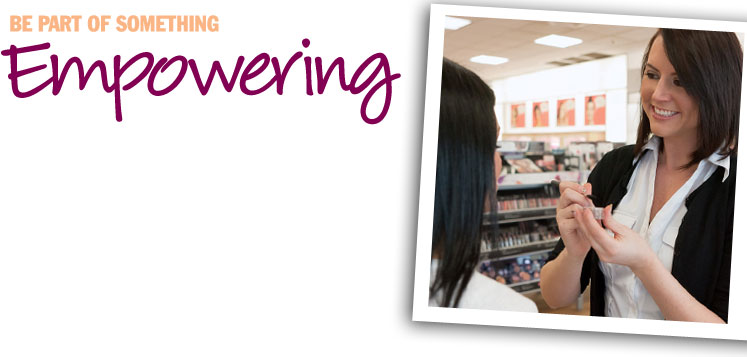 our communities. ULTA's key initiative in 2011 is its commitment to The Breast Cancer Research Foundation® (BCRF).  ULTA's efforts fund research related to the causes, treatment and possible prevention of breast cancer in our lifetime. Read more about ULTA's social responsibility.  In October, they had a Cut-a-Thon in the salon and did 62 haircuts and styles. The minimum donation was $10 and 100% of the proceeds went to the BCRF!
ULTA Beauty Store and The Salon are open Sundays from noon to 6pm and Monday thru Saturday from 10am to 9pm. Stop by and say hi to Leeta Clark and the salon staff.  You will enjoy the high quality of hair care they provide, as well as the ULTA Beauty shopping experience!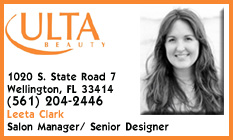 ULTA Beauty
Leeta Clark
Salon Manager
1020 S. State Road 7
Wellington, FL 33414
(561) 204-2446