Travel with Terri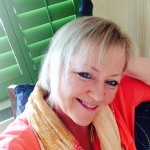 Eat, Drink and Be Merry in New Orleans
Story and Photos by Terri Marshall
If there were ever a time of year to eat, drink and be merry it's now.  And there is no place that embraces this concept better than New Orleans.  All year long New Orleans brings us legendary music, creole traditions, delicious cuisine, and plenty of reasons to celebrate.  When the holiday season rolls around you can count on New Orleans to up the joy quotient.  Let's head down to New Orleans this month to join the party.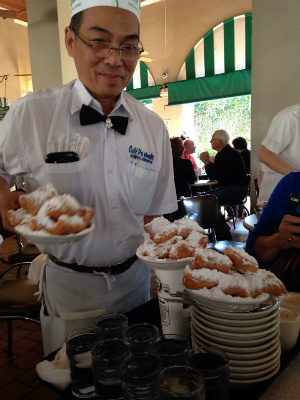 Eating
It is virtually impossible to walk around New Orleans hungry.   Food is literally everywhere.  Start the day with Beignets and Chicory coffee at the ever popular Café Du Monde.  Established in 1862, Café Du Monde serves the square French-style doughnuts lavishly covered with powdered sugar three at a time for triple the goodness.  Warning, these things are addictive!
At lunch, head over to Central Grocery – the birthplace of the Muffuletta.  The Po-boy might be New Orleans most famous sandwich, but the Muffuletta is a sandwich to be reckoned with.  Invented in the early 20th century to feed hungry Sicilian farmers selling their wares in the French Market, these Italian sandwiches are stuffed with cured meats and cheeses on dense round Sicilian bread that is generously slathered with spicy olive salad.  Central Grocery's Muffulettas can be ordered by quarter, half, or whole because these sandwiches are approximately the size of a tire.  Keep that in mind when ordering because you will want to save some of your appetite for a traditional feast at a Reveillon dinner.
Started in the early 1800s by the Creoles, the Reveillon dinner was a big family meal served after returning home from midnight mass.  In French, New Orleans' original language, the word "reveillon" means "awakening" and the dinners were a way of breaking the daylong religious fast leading up to Christmas Eve.   Although it had largely died out by World War II, restaurateurs in New Orleans revived it in the 1990s and today several restaurants around town offer their own versions of the Reveillon dinner.  Meals are typically four or five courses and offered as a prix fix menu and feature each restaurant's specialties like turtle soup, oyster gumbo and lavish desserts. The Reveillon tradition is most commonly enjoyed by local families and friends gathered around a large table in an old French Quarter restaurant or reserving one of the small private dining rooms they offer.   And when you're in town, you can join the locals to experience this delicious tradition.   And if I were you, I would be sure to order white chocolate bread pudding for dessert.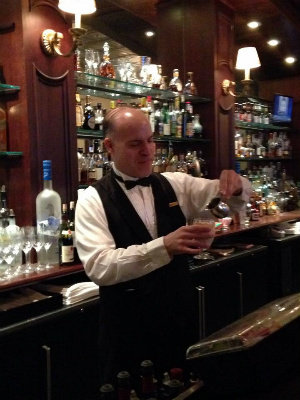 Drinking
What better way to give your holiday spirit a boost than with a holiday libation or two?  There's no question New Orleans can deliver a great cocktail any time of year, but for a special reveillon drinks menu, Galatoire's 33 is the place to go. Master mixologists deliver holiday classics along with cocktails like the St. Nick's Shandy and the Peppermint Patty.  Not to miss is the Brandy Milk Punch with a touch of nutmeg to boosts its holiday appeal.
For a special experiential cocktail hour Bourbon O is the place to visit. Master mixologist Cheryl Charming has invented a drinks program that reflects a sense of whimsy and creativity and her holiday specials deliver the goods. Not to miss is Rachel's Naughty Can Be Nice Nog, a made from scratch Egg Nog infused with Milagro tequila and Amontillado sherry.  That should take you right to merry!
Making Merry
Eating and drinking in New Orleans certainly makes things merry, but I think we need to add a little music and fire to the mix.  Who can imagine a holiday season without music?  Whether it be traditional Christmas carols or silly tunes about grandmas getting run over by reindeer, music is an integral part of the holiday season.  And New Orleans delivers plenty of fantastic music experiences.  On Jackson Square in the heart of the French Quarter, the historic St. Louis Cathedral is host to a holiday concert series.  The city offers up some of its best jazz, gospel, pop and classical music in hour long concerts.  Performances are free and open to the public.   There have been as many as fifteen individual concerts between the beginning of December and Christmas in recent years.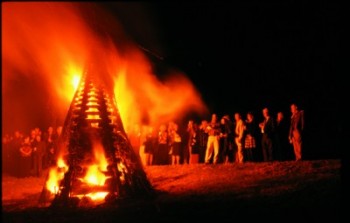 And for the fire, head out to Oak Alley Plantation for a bonfire on the levee.  A local tradition dating long before the levees were built, bonfires guided family and friends coming off the river as they looked for the inlet or slip belonging to their loved-one's home. Local folklore also tells of additional bonfires lit on Christmas Eve to help guide Papa Noel.
At Oak Alley, a brass quintet leads the traditional parade up the mansion's illuminated alley to the levee for the lighting of the bonfire and caroling right on the banks of the Mississippi River.  Afterwards, the party continues at the mansion with dining, cocktails and dancing.
Follow your joy to New Orleans this holiday season – eat, drink and be very merry!
For more information on New Orleans Holiday Traditions visit http://holiday.neworleansonline.com
***
Terri is a New York City based writer who is happiest when she's globetrotting and loves bringing stories of her adventures to her readers.  She is the Globetrotting Grandmom for TravelingMom.com, the National Chocolate Examiner for Examiner.com, Special Projects Editor for TravelSquire.com, and a contributor to several other publications.  You can learn more about Terri and her work at www.trippingwithterri.com.   Connect with Terri on Facebook at https://www.facebook.com/TrippingwithTerri or on Twitter @trippingwterri .