Mayor's Column
December
By Mayor Anne Gerwig
This is one of my favorite times of the year. As we prepare for the holiday season, I look forward to the many family and community events ahead.
One of the best parts of living in Wellington is enjoying our family focused holiday events. This year Winterfest celebrates 21 years, on Friday, December 8th, from 6:00 p.m. to 10:00 p.m., at the Wellington Amphitheater (12100 Forest Hill Boulevard). Hosted by the Wellington Chamber of Commerce, in conjunction with the Village of Wellington, the event will begin with the annual Tree Lighting, and will feature musical and dance performances by local talent, exhibitors, food and retail vendors, a blizzard beach with snow, zip lining, obstacle courses, and more, and special guest Vanilla Ice!
Marching in on the heels of this event, join me and the rest of Council at the 34th Annual Holiday Parade on December 10th. Enjoy this free day of fun and festivities, including a holiday park at the Wellington Amphitheater, from 11:00 a.m. to 4:00 p.m., and a judged parade filled with imaginative floats, marching bands, characters, dance troupes, and more! The parade begins at 1:30 p.m. and winds its way down Forest Hill Boulevard, from Wellington Trace to Ken Adams Way. Vendors will be on-site with goodies available for purchase. Grab your family and your sneakers and come on out for this fantastic holiday event! The route begins at Wellington Trace and continues down Forest Hill Boulevard, ending at the Wellington Amphitheater.
Grab your fishing tackle and get ready to reel in "the big one" at the 27th Annual Children's Holiday Fishing Classic on Saturday, December 16th. This year's classic will be held at Lake Wellington, behind the Wellington Community Center (12150 Forest Hill Boulevard). This free fishing tournament is presented by the Village of Wellington, in conjunction with the Florida Fish and Wildlife Conservation Commission. The tournament is open to all local children, ages 15 and younger. Register in advance by downloading the form at www.wellingtonfl.gov. Registration on the day of opens at 8:00 a.m., and the tournament runs from 9:00 a.m. to 11:00 a.m.
It is easy to see why Wellington is named "The Winter Equestrian Capital of the World." The holiday season heralds the return of our winter residents, both people and horses. There are more cars on our roads and more horses everywhere. It is a time for increased caution, especially as we get closer to the Holidays, and the beginning of the winter equestrian season.
Winter break for our schools begins Friday, December 22, 2017. That means more children out enjoying our Great Hometown. Remember to watch out for our youngest residents and take a little extra time to be aware of your surroundings on the road.
Safety doesn't stop at your driveway. Christmas tree fires are responsible for untold damages, injuries and even deaths every year. If you're using a live tree water it daily to keep it moist and remember to keep it away from open flames and heat sources. The greatest gift you can give our local firefighters is a day off.
Let's not forget that the Holidays are a time of giving as well as receiving. By all means, visit Wellington's fine shops and find that perfect gift for your loved ones. But remember to take some time to help our neighbors in need. This year, you can make a child's holiday brighter by participating in the Hometown Holiday Toy Drive. Drop off your unwrapped toys by Wednesday, December 19th at Village Hall, the Wellington Community Center, Village Park, the Lake Wellington Professional Centre, and any Fire Rescue station.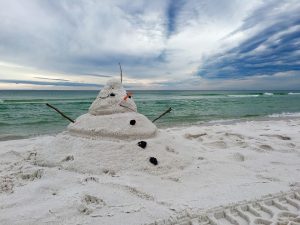 Writing this column and sharing a few of the ways that we can gather and give as a community this holiday season is one more blessing I can count in my own life. I am very grateful for the privilege of serving as your Mayor. The past year has been filled with many accomplishments. I want to personally thank the volunteers, members of our boards and commissions, Village staff, and Council members for their dedication.
I want to wish you and yours a Happy Hanukkah, Merry Christmas, Happy Holidays, and many blessings in the year to come.