First Annual Candy Cane Hunt at Downtown at the Gardens December 2, 2017, 11am-1pm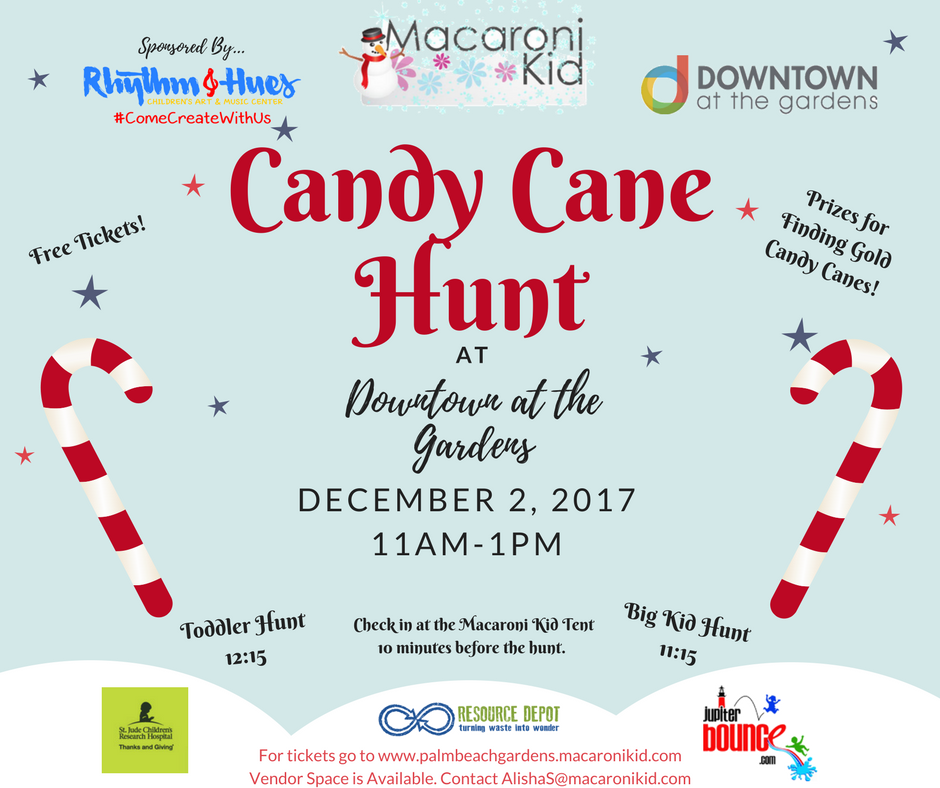 Palm Beach Gardens, FL – You are invited to help us kick off the holidays with the first annual Candy Cane Hunt at Downtown at The Gardens sponsored by Rhythm & Hues. This unique, first of its kind (in our area) event will be held at Downtown at the Gardens on Saturday December 2, 2017 from 11-1. Local children will have the opportunity to participate in an Easter egg style hunt for candy canes, find golden candy canes for prizes, play games, make holiday crafts, bounce in bounce houses from Jupiter Bounce and much more! *This is a free event, but each child must RSVP by reserving tickets at Eventbrite here: https://www.eventbrite.com/e/first-annual-candy-cane-hunt-tickets-39619656459 (Tickets are per child). We will select one winner chosen from all tickets to win a prize basket, so get your tickets while they last! Be sure to check in at the Macaroni Kid tent 10 minutes before the hunt to get your holiday bag to use for the hunt (limited to the first 1000 children with tickets). The Big Kid Hunt will begin at 11:15 AM and the Toddler Hunt will begin at 12:15 PM.
The event will take place on December 2, 2017 at Downtown at the Gardens, 1701 Lake Victoria Gardens, Palm Beach Gardens, FL 33410 from 11-1pm. This is a free event and open to the public.
Media inquiries can be directed to Ashley Morse at 561-301- 7845 or ashleymorse@macaronikid.com.  Vendor and sponsorship inquiries can be directed to Alisha Sands at AlishaS@macaronikid.com
About Downtown at the Gardens
Downtown at the Gardens is a coastal in-fill shopping center anchored by Whole Foods, Cheesecake Factory, Cobb Theaters, and Urban Outfitters.  The center draws from one of the most affluent and fast-growing communities in the Palm Beach, Florida area and provides premiere retail options to area residents and visitors. The center is over 335,000 square feet with a diverse roster of national retailers and independent boutiques and restaurants. For more information on Downton at the Gardens visit www.madisonmarquette.com/portfolio/property-listings/downtown-at-the-gardens/
About Macaroni Kid
Macaroni Kid of Palm Beach Gardens-Jupiter, West Palm Beach and Wellington, established in 2010, has produced many successful community events including Summer Playtime Events at Downtown at the Gardens and Harbourside, the Macaroni Kid School Show and Share event series, the monthly Gardens Mall /Macaroni Kid Kids Club event and more. Owner, Ashley Morse has served as co-chair of the ArtiGras ArtiKids Committee for the last six years. Learn more about Palm Beach Gardens-Jupiter Macaroni Kid at www.palmbeachgardens.macaronikid.com.
About Resource Depot
Resource Depot believes in education through imagination. They collect items that are clean, safe and reusable, that would have otherwise gone to a landfill or straight to a recycling center, and distribute them freely through membership to local teachers, organizations and individual for use in creative projects. They do this through Memberships. But they do more than just collect and distribute upcycled items, they also teach amazing ways to put all these items to use at home, in the classroom or in a business. They do this through field trips, summer camp, in-house workshops, and outreach programs. Learn more about Resource Depot at www.resourcedepot.net.