The So-Flo Tap Fest, a Whole Lotta Tapping
Interview by Krista Martinelli
I had the chance to ask co-owner of That's Dancing Andrea La Maina about the annual So-Flo Tap Festival, which she founded.  This is a two-day event that brings together several of the most accomplished tap dancers in the country to celebrate the art of tap dancing and sharing its rich American history in a studio setting with a new generation.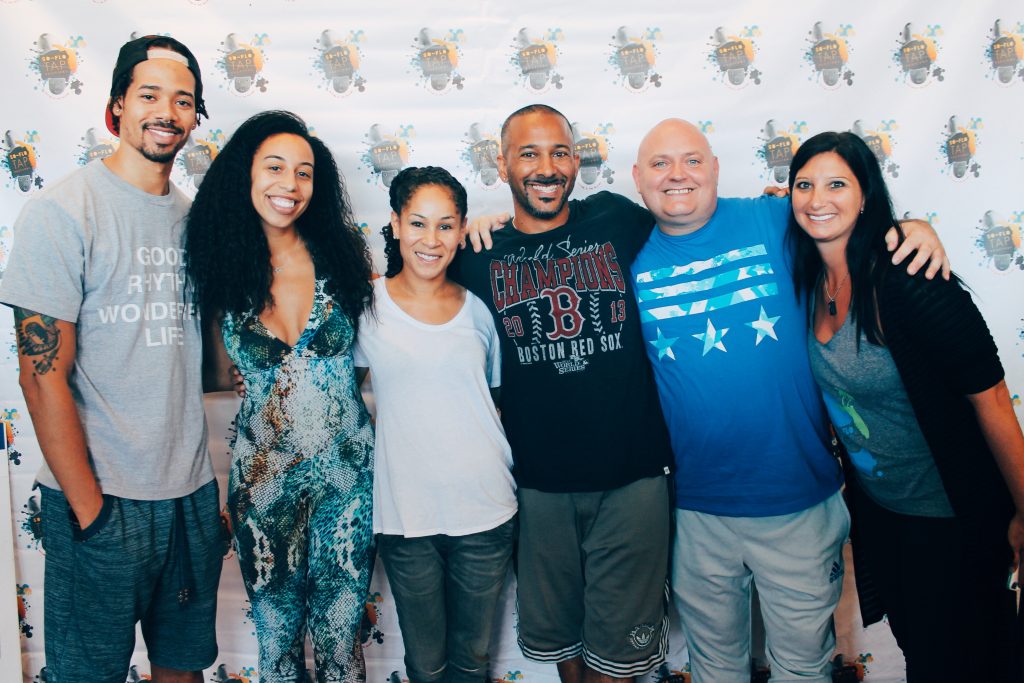 AW: Why did you decide to start the So-Flo Tap Festival? 
I had been talking about doing this for years.  Our future generations can learn about America's art form without traveling to NY or LA.  In a studio setting, the classes are intimate…it is like getting a boutique tap experience!  I felt it was something that was needed in our community, and it's my passion.
AW: How many years has it been happening?
This will be the 3rd Annual So-Flo Tap Festival.  We also have had some smaller tap events happen throughout the season.  The big event is in August every year.  This year it will be August 19 and 20.
Check out this short video from last year's tap festival, held at That's Dancing in Lake Worth.
AW: Is tap your favorite kind of dance?  What makes tap dancing special, in your eyes?
Each genre of dance is extraordinary, but tap holds a special place in my heart.  The fusion of the movement and rhythm is magical when your feet hit the floor.  It's exciting and invigorating for me.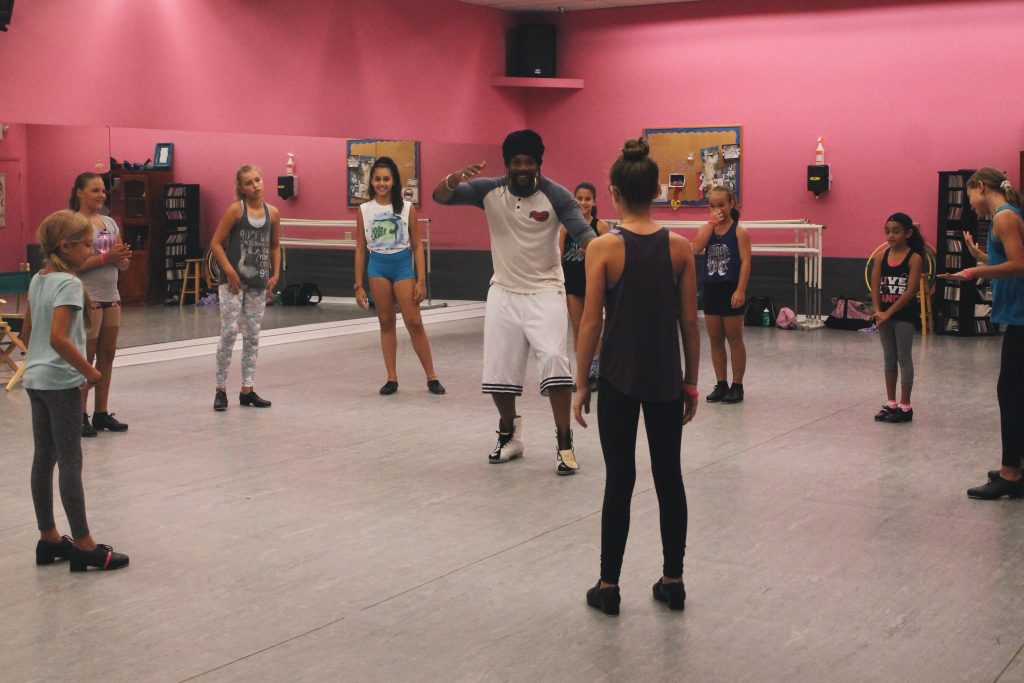 AW: Are there any other tap festivals in Florida?  How can people register?
There's one other small festival on the West Coast, the Tampa Bay Tap Festival, a one-day event in June.  People can register for our 2-day event online at Register.ThatsDancing.com and use the keyword:  "So Flo". Those who are interested should act quickly because it will sell out.
AW: Tell us about the instructors.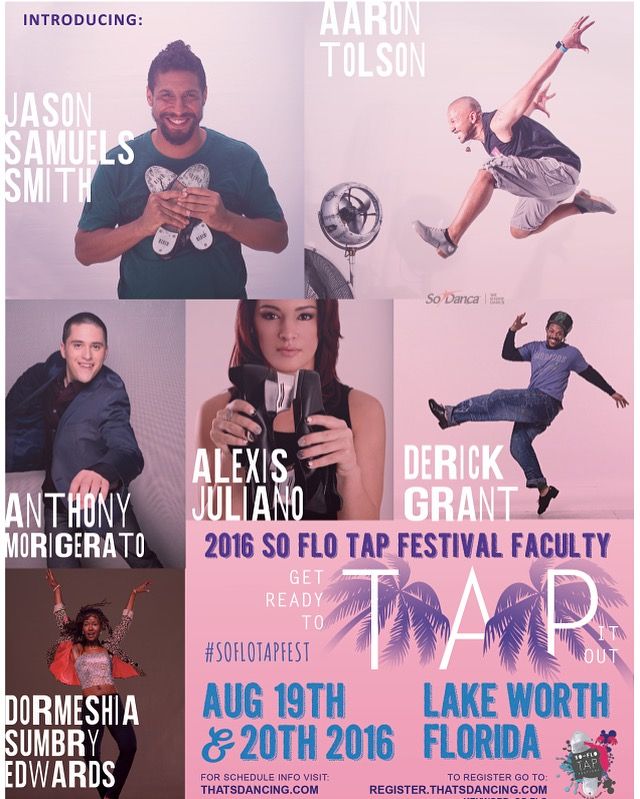 The faculty line-up for this 2016 event is super-exciting.  All of them are extremely active in the tap dance community.  Their resumes are all outstanding.  These instructors provide a plethora of information and they really embody that link to the history of tap, bringing it to this future generation.
Dormishia Sumbry Edwards – She has been a part of every tap dance routine in major movies since the 80's.  She was also the private tap instructor to Michael Jackson for over 11 years.  Her experience includes acclaimed runs on Broadway and off-Broadway shows.  Most recently, she was part of a performance at Jacob's Pillow, a dance festival – "And Still You Must Swing," along with Derick Grant and Jason Samuels Smith (who are both also on the 2016 So-Flo Roster!)
Derick Grant – He was an original company member of Bring in Da Noise and Bring in Da Funk.  Derick recently recorded a new hip hop single that meshes the rhythms of hip hop music and tap dancing.  He raps to tap sounds using his rhythms as inspiration.  He is one of the So Danca sponsors (based in Florida), and So Danca is a sponsor of the 2016 event.
Alexis Juliano – She is best-known as a finalist on So You Think You Can Dance in season 10. Alexis is local and grew up training in South Florida.  She won three gold medals at the Tap Olympics.  Most recently, Alexis toured with STOMP and performed on "Grease Live".   She has also done an internet release of tap dance choreography to the  Chainsmokers.
Anthony Morigerato – Most recently he was nominated for an Emmy for his choreography on So You Think You Can Dance. He is the current Guinness Book of World Records holder for the most tap sounds in one minute – 1,163 taps.  He serves as faculty with NUVO Dance Conventions and is the founder of the online tap experience OPERATION TAP.
Jason Samuels Smith – He's a performer, choreographer, director and has emerged as a multi-talented leader in the art form of tap.  He received the Dance Magazine award, won an Emmy and choreography award for outstanding choreography, a tribute to the late Gregory Hines.  He is the founder of the L.A. Tap Festival.  He's been on So You Think You Can Dance as a choreographer, and as an associate choreographer for Dancing with the Stars.  He designed a tap shoe made by Bloch Dancewear, Bloch is a 2016 sponsor of our event.
Aaron Tolson – He is a national spokesperson for So Danca.  He is a consultant and writer for Dance Spirit Magazine.  He performed with River Dance for 6 years and was featured as a soloist and dance captain. He is the creator of "Sole Power Fitness" which combines tap dancing and fitness and was featured on LIVE with Kelly and Michael promoting his brand.  He teaches at Broadway Dance Center and for several tap festivals around the country and abroad.
AW: Describe the classes that will be offered.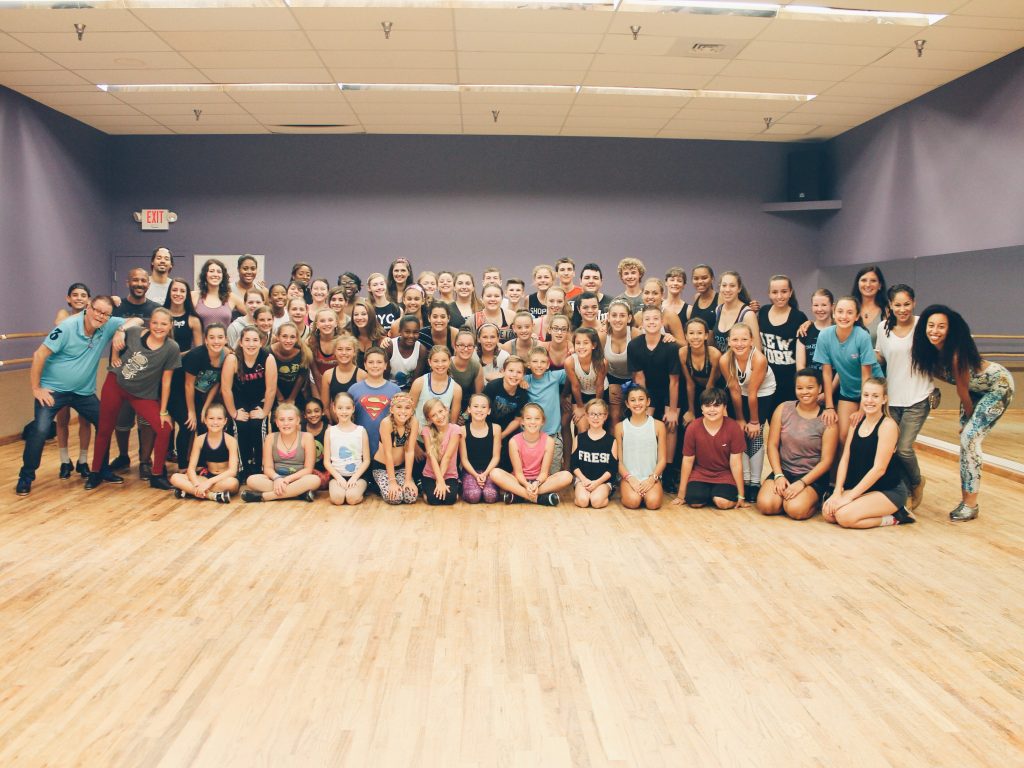 The great thing about this festival is there are 3 different levels of classes to enroll in.  Intermediate/Advanced (7 and up) is for our "Aspiring Rhythm Makers".  Advanced (recommended for 10 and up) is for our "Breakthrough Rhythm Technicians". And Pre/Professional is for our "Dedicated Professional Rhythm Track," specially designed for professionals and teachers. Younger dancers get to be surrounded by tap dancers with a lot of experience – it's one big tap community.  Classes start Friday, August 19th with three offerings for each level.  On Saturday, August 20th, we are offering 4 more classes per level from 10am to 5pm.  This is immediately followed by a Rhythm Jam for all students and faculty.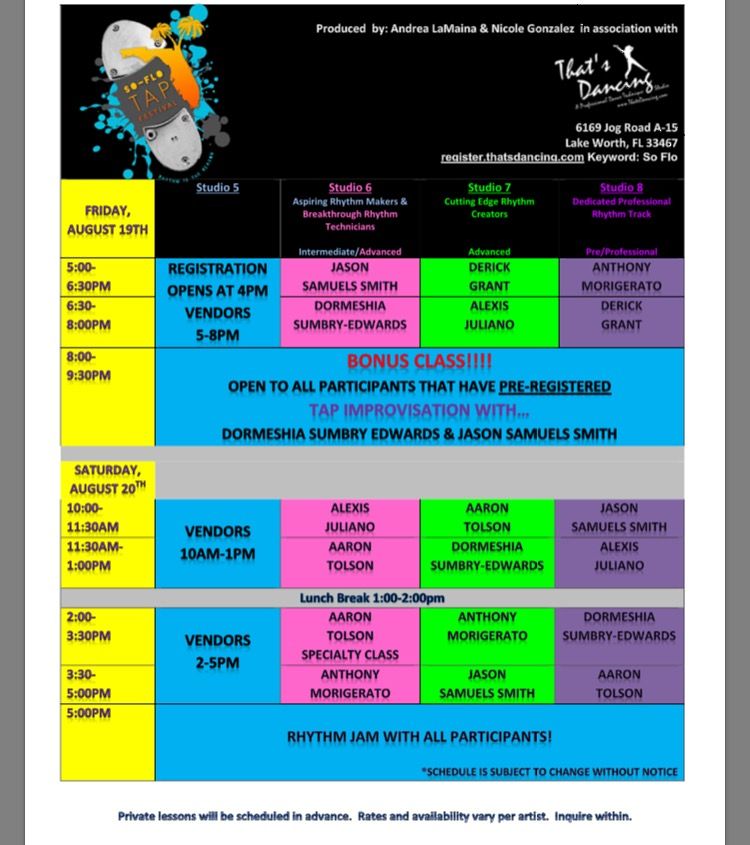 AW: Yes, I heard from one of the participants last year that the final "Tap Jam" is a lot of fun!  Tell us about that.
The Tap Jam is an amazing way for all the tap dancers come together and do just that – "jam".  It is awesome!  It's done in such a fun way – it's not intimidating, it's exciting.
AW: You run a busy dance studio, That's Dancing.  How many students come through your classes in a year?  How do you juggle motherhood with the dance life? 
About 850 dancers pass through our hallway each season.  I have an incredible support system, the faculty and staff treats this business as their own.  They take pride in our mission.  I feel honestly blessed to be surrounded by so many positive hard working people.  They believe in That's Dancing.  It's like having a puzzle that fits perfectly together.  It works.  And that is precisely what allows me to continue balancing the life as a Mama, a successful business owner, a dance teacher and a choreographer.
AW: When do the fall classes begin at That's Dancing? 
August 29th.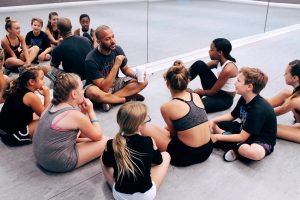 AW: What's the best thing about the So-Flo Tap Festival? 
The best thing is that a whole community of tap dancers come together.  This year we have tappers from all over Florida and coming as far as New Hampshire.  We are coming together to share the love of the great American art form of tap dancing.  That is just so cool.  And knowing that I have created an environment with this festival where dancers from all over the state and the country feel welcome is an amazing feeling.
AW: Anything else? 
I have to note that I couldn't have put this together without the help of the incredible faculty member Nicole Gonzalez.  She started with us as a student, then joined our Fusion Force dance company.  She received her B.A. from University of Central Florida. She went on to perform with several theme parks and production companies.  She toured as Elmo with Sesame Street Live.  She returned back "home" (at our studio) and became faculty.  She helped me to produce the 2016 So-Flo Tap Festival.  She's been integral in securing many sponsors for our event, as well as planning and organizing the festival.  Seeing Nicole go from a student to a faculty member and now a co-producer of a national event has been rewarding in itself.  She remembers me talking about how I wanted to start this festival back when she was 13!  I know she believes in the worth of this festival just as much as I do.  We have the same passion.
I want to thank So Danca – in addition to being a sponsor, they are housing two tap artists and provided two full tuition scholarships.   They also provide a sling bag for each participant. Bloch Dancewear is donating two pairs of the Jason Samuels Smith tap shoes for an auction/ raffle.
The sponsorships from local businesses are what allow us to continue to get the high-quality faculty to instruct at our tap festival.  We are grateful for the support of Dancewear Corner from Orlando, Dancers Haul and Fastfoot Portable Tap Floors for their contributions to the event.  If your local business wants to find a way to be part of the 2016 So Flo Tap Fest or future events, contact Andrea at thatsdancn@aol.com  It is going to be an incredible event!