EARTH DAY ACTIVITIES AT ANSG SPOTLIGHT MISSIONS OF LOCAL ORGANIZATIONS
FREE admission to Gardens for presentations to unveil new ANSG Field Guide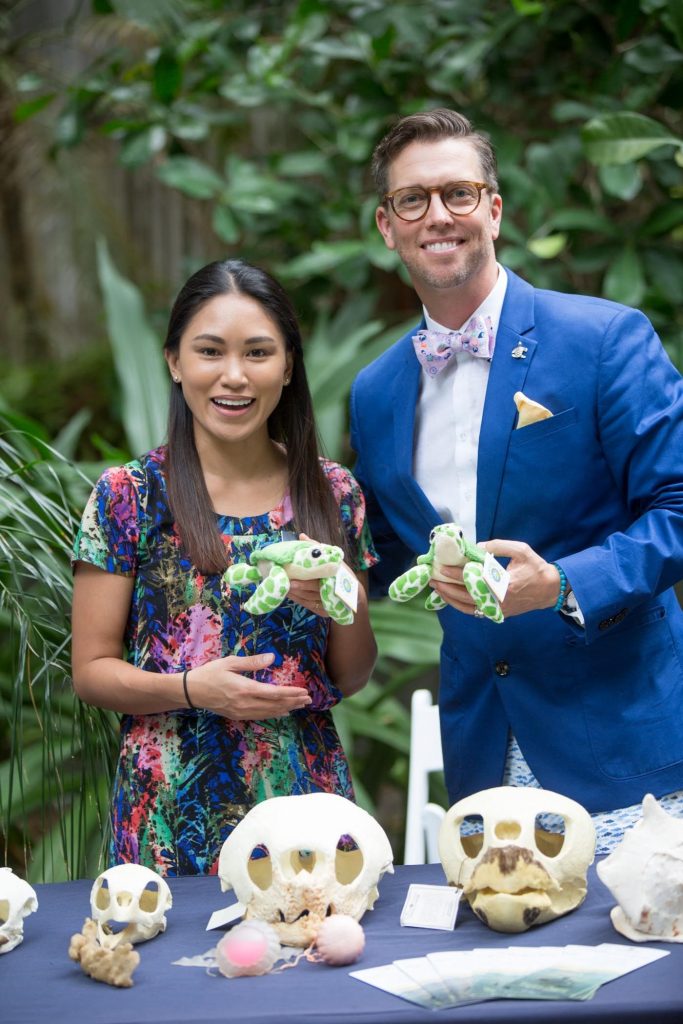 (WEST PALM BEACH, Fla.) – The Ann Norton Sculpture Gardens will host a free community day for the public in honor of Earth Day on April 22. The event will convene several local organizations who have formed an alliance to call attention to the day's significance and educate the community on actions they can take to protect our earth.
Designed to embrace Ann Norton's vision for maintaining an urban preserve that supports the coexistence of art and nature, Earth Day at the Ann Norton Sculpture Gardens will spotlight the missions of ANSG, Audubon Florida, Everglades Foundation, Loggerhead Marinelife Center, Manatee Lagoon – An FPL Eco-Discovery CenterTM, Pine Jog Environmental Education Center and the South Florida Science Center and Aquarium, among others, with interactive learning stations, garden and exhibit tours and a fun discovery hunt through the Gardens with prizes for participating families.
"Ann Norton described the Gardens as her legacy to the community − encompassing an environmental showplace intended to display her nine monumental sculptures and the work of visiting artists amidst her collection of over 250 native plants, rare palms and cycads," said Roger Ward, president and CEO of ANSG. "She defined its purpose as an educational museum and urban sanctuary for the public's enjoyment of art, gardens and natural history. She would love the idea of this celebration and we are grateful to our partners for their collaboration."
Participants in the discovery hunt will be invited to sign a #earthdayeveryday pledge – taking action over the next year to participate in sustainable activities in an effort to protect the planet. Families will use the Gardens' new Field Guide, Guide to the Gardens, to debut during the Earth Day activities, to lead their discovery hunt exploration through the interactive learning stations and the Gardens' two-acre sanctuary.
An initiative of the ANSG Gardens Conservancy, the Guide to the Gardens offers visitors a guide to Ann Norton's gardens and artwork, with a history of the location and a pictorial guide to its sculptures, and rare palms and cycads. The new guide is presented in partnership with FPL, The Gentlemen of the Gardens, Manatee Lagoon, The Gardens Conservancy, Cultural Council of Palm Beach County and Discover the Palm Beaches.
"The Gardens Conservancy gratefully dedicates this Guide to the vision of Ann Weaver Norton," said Frances Fisher, ANSG board chairman and founder of the ANSG Gardens Conservancy. "The unique educational opportunities offered by the Gardens have inspired many thousands of nature lovers, art enthusiasts, environmentalists, families and students. We are grateful to our partners for embracing the Ann Norton Sculpture Gardens and for the opportunity to inspire generations to come to experience its magic and beauty."
The Ann Norton Sculpture Gardens is located at 253 Barcelona Road in West Palm Beach. Parking for the event is available on neighborhood streets or the adjoining lot at Palm Beach Day Academy. For more information, please visit www.ansg.org or call 561-832-5328.
ABOUT THE PARTICIPANTS:
Ann Norton Sculpture Gardens:
The historic Ann Norton Sculpture Gardens, Inc. is a nonprofit foundation established in 1977 by the prominent sculptor Ann Weaver Norton (1905-1982). The two-acre sanctuary is comprised of rare palm and sculpture gardens, Ann Norton's historic home and exhibition galleries, and Norton's own Wyeth-designed artist studio. Located at 253 Barcelona Road in the historic El Cid neighborhood of West Palm Beach, the Ann Norton Sculpture Gardens are open Wednesday through Sunday, 10 a.m. to 4 p.m. Gallery and garden exhibition talks are available on Wednesdays at 11 a.m. and Sundays at 2 p.m. For information, please visit www.ansg.org or call 561-832-5328.
Audubon Florida:
For more than a century, Audubon has encouraged people to take care of the places that make Florida special. Using science to guide our work and birdlife to measure ecosystem health, Audubon works to protect land, water, and wildlife. Today, Audubon is Florida's most influential conservation organization and leads efforts to preserve the Everglades, coastal bird habitats, and other special places. Audubon manages sanctuaries that cover thousands of acres along with two popular nature centers. Audubon also promotes stewardship and appreciation of public land and water so people experience and cherish Florida's natural beauty. For more information visit Fl.Audubon.Org or call 305-371-6399.
Everglades Foundation:
The Everglades Foundation is a 501(c)(3) non-profit dedicated to leading efforts to restore and protect the greater Everglades ecosystem. Since its founding in 1993 by a group of local outdoor enthusiasts, the Foundation has become a respected and important advocate for the sustainability of one of the world's most unique ecosystems. For more information, please visit EvergladesFoundation.org.
Loggerhead Marinelife Center:
Loggerhead Marinelife Center is a non-profit sea turtle hospital that promotes conservation of ocean ecosystems with a focus on threatened and endangered sea turtles. The center features an on-site campus hospital, research laboratory, educational exhibits and aquariums, and also operates the Juno Beach Pier, a pier that hosts world-class fishing and sightseeing. Situated on one of the world's most important sea turtle nesting beaches, Loggerhead Marinelife Center is open daily and hosts over 300,000 visitors each year. For more information, visit www.marinelife.org or call (561) 627-8280.
Manatee Lagoon – An FPL Eco-Discovery CenterTM
Manatee Lagoon – An FPL Eco-Discovery Center™ offers visitors engaging opportunities to learn about the threatened and unique Florida manatee and the Lake Worth Lagoon ecosystem it inhabits. The center hosts field trips for science programs, offering site-based enrichment and educational activities. Visitors will also understand the role power plants play in supporting the species. The warm-water outflows from the adjacent FPL Riviera Beach Next Generation Clean Energy Center attract hundreds of manatees each year during cold winter months. The waterfront facility provides opportunities for the public to learn more about these marine mammals and what is needed to protect their environment. The 16,000-sq.-ft. center offers free admission, two levels of exhibit and meeting space, a boardwalk to observe manatees in the Lagoon, picnic area, pavilion and gift shop. Manatee Lagoon hosts myriad educational and recreational activities from yoga and art classes to a Junior Aqua Lab and an environmental lecture series. For more information, go to VisitManateeLagoon.com.
Pine Jog Environmental Education Center
As one of the first environmental education centers in Florida, Florida Atlantic University's Pine Jog Environmental Education Center (FAU PINE JOG) is also among the oldest in the nation. Established in 1960 to provide a natural habitat to teach children about the environment, Pine Jog Environmental Education Center entered into partnership with FAU in 1970 and is now a self-supporting unit of the College of Education. FAU PINE JOG's mission is to research, develop and disseminate environmental education programs and services aimed at creating environmentally knowledgeable and responsible citizens of all ages. For over 50 years, FAU PINE JOG has been teaching people how to conserve and protect the earth. FAU PINE JOG provides direct and indirect services such as Everglades Literacy workshops, H2O to Go Summer Institute for high school students and the Green School Recognition Program to more than 40,000 people.
South Florida Science Center and Aquarium:
The mission of the South Florida Science Center and Aquarium is to "open every mind to science" and the indoor/outdoor venue features more than 50 hands-on educational exhibits, a 10,000-gallon fresh and salt water aquarium- featuring both local and exotic marine life, a digital planetarium, conservation research station, Florida exhibit hall, Pre-K focused "Discovery Center," an interactive Everglades exhibit and an 18-hole Conservation Course – an outdoor putting course with science-focused education stations. Located at 4801 Dreher Trail North in West Palm Beach, the SFSCA is open Monday – Friday from 9 a.m. to 5 p.m., and on Saturday and Sunday from 10 a.m. to 6 p.m. For more information, call 561-832-1988 or visit www.sfsciencecenter.org.
#earthdayeveryday
I pledge to protect our earth by including at least 3 of the sustainability tips below into my daily routine in order to make a positive impact on our environment:
Ditch the plastic: Forgo single-use bottled water; buy a fun reusable water-bottle and BYOW (bring your own water.)
Pick it up: On your morning walk, consider picking up litter or beach trash, recycle it when possible, or consider making a found art piece.
Bring the bag: Reduce plastic or paper bag consumption when shopping by bringing reusable bags to the grocery and convenience stores. Leave the bags tucked into your car so you don't forget them.
Say no to straws: One of the top 10 items found on the beach is the single-use plastic straw. Skip the straw or ask for paper straws the next time you order a beverage.
What goes up must come down: Forgo balloon and sky lantern releases as these items are very often mistaken by wildlife as food, causing significant harm to the environment and wildlife.
Which endangered species or habitat is your favorite? Learn about them and find ways to preserve them, because when they're gone, they're gone.
Collect rain water and use to water your plants.
Plant the Planet, but don't use pesticides which may endanger plants, birds, animals and other wildlife. Carefully read the label before you buy.
Recycle and repurpose as much stuff as possible! Don't toss furniture, sports equipment, household items or clothing you don't need anymore. Donate it!
Create a garden based on the native flora and fauna of South Florida. Your garden can replicate a coastal community and consist of sea grape, sea oak, cabbage palm, sea lavender, Florida rosemary, and other endemic species. This garden will attract local wildlife – including bees and butterflies.