FREE VIRTUAL WORKSHOP ON "FINDING MEANINGFUL AND GAINFUL  FOR PERSONS WITH A DISABILITY EMPLOYMENT" FROM MELVIN J. & CLAIRE LEVINE LIFEPLANNINGTM PROGRAM ON OCTOBER 14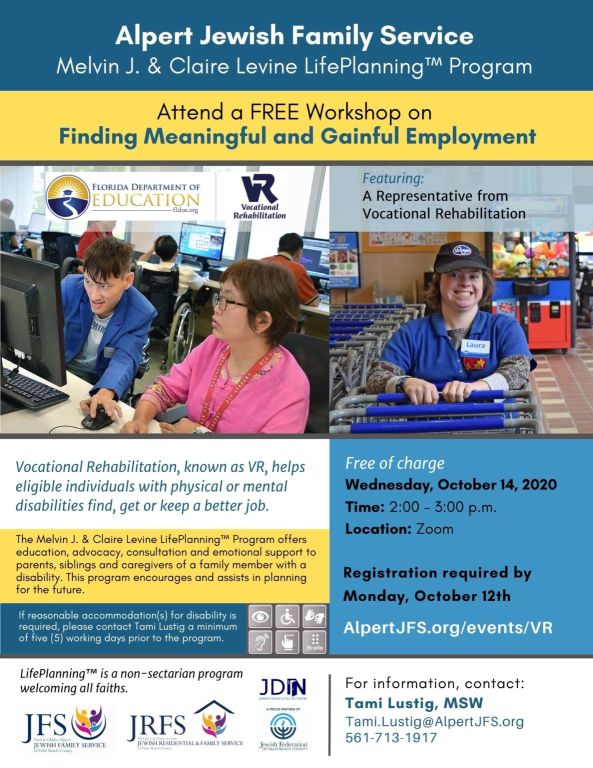 WEST PALM BEACH, FL – September 21, 2020 – Ferd & Gladys Alpert Jewish Family Service (Alpert JFS) invites community members to attend a virtual workshop about the meaningful and gainful employment opportunities that are available for persons with disabilities on Wednesday, October 14, 2020 at 2:00 p.m. The free Zoom presentation is sponsored by Alpert JFS' Melvin J. & Claire Levine LifePlanningTM program.
A representative from Vocational Rehabilitation (VR), the agency that helps eligible individuals with physical or mental disabilities find, get, or keep a better job, will be featured.
Register for "Finding Meaningful and Gainful Employment" at https://www.alpertjfs.org/events/vr/ by Monday, October 12, 2020.
Phone 561-713-1917 or email Tami.Lustig@AlpertJFS.org with questions, for more information, or to request reasonable accommodation for a disability at least five (5) days prior to the Zoom session.
Visit www.Alpertjfs.org/LifePlanning/ to learn about the education, advocacy, confidential consultation, and emotional support offered to people of all faiths and ethnicities who are caring for a loved one with a disability. Free workshops encourage and assist with planning for the future, providing information on education, recreation, building independence skills and vocational opportunities.
Established in 1974, Ferd & Gladys Alpert Jewish Family Service is a nationally accredited service provider for children, adults, seniors, and Holocaust survivors. The non-profit, non-sectarian organization is a trusted leader, with a team of nearly 200 highly skilled professionals delivering high-quality care to community members. Alpert JFS works to ensure the well-being of children and families, independence of older adults and quality-of-life for individuals with disabilities. For more information, visit www.AlpertJFS.org or phone 561-684-1991.