Travel with Terri

Story and Photos by Terri Marshall
As summer comes to a close and the temperatures start to drop a bit—well, maybe 5 degrees—it's a good time to try something new for your weekends. How about a camping trip? Don't worry, I'm not suggesting you pitch a tent and sleep on the hard ground surrounded by all types of creepy crawly critters—unless that's your thing, of course. I'm talking about glamping as in glamour camping.
If you're unfamiliar, glamping elevates camping to a level that's civilized. It comes with a real bed, real furniture, real toilets, real showers and air conditioning. Isn't that the best news you've heard today? Or ever? It was for me. As a grandmom I'm expected to do cool things with the grandkids. They think camping is cool. Glamping makes it work.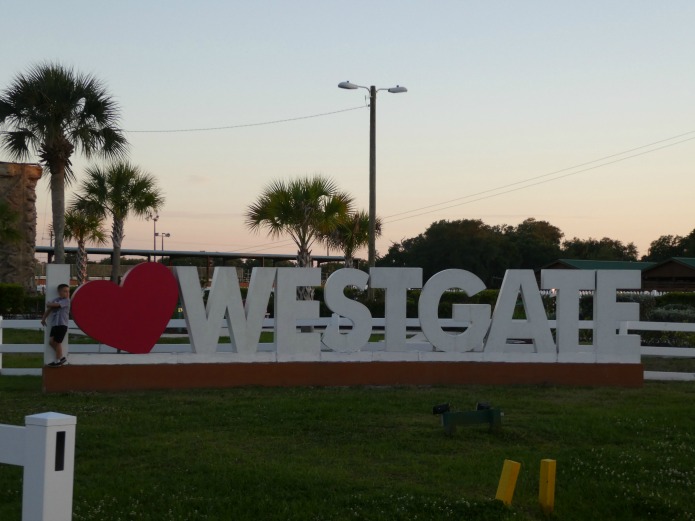 I recently had the opportunity to experience glamping with my six-year-old grandson, Benjamin. Our destination: the Westgate River Ranch in Central Florida. Located along Highway 60 in the heart of Florida, the Westgate River Ranch has been a place filled with family fun since the 1960s. It's evolved into the largest dude ranch east of the Mississippi River. Situated on 1700 acres and surrounded by over 400 acres of protected wetlands, the ranch is an oasis of moss draped trees, pastures of grazing livestock and serene waterways. And at its center, the answer to my camping dilemma—glampsites!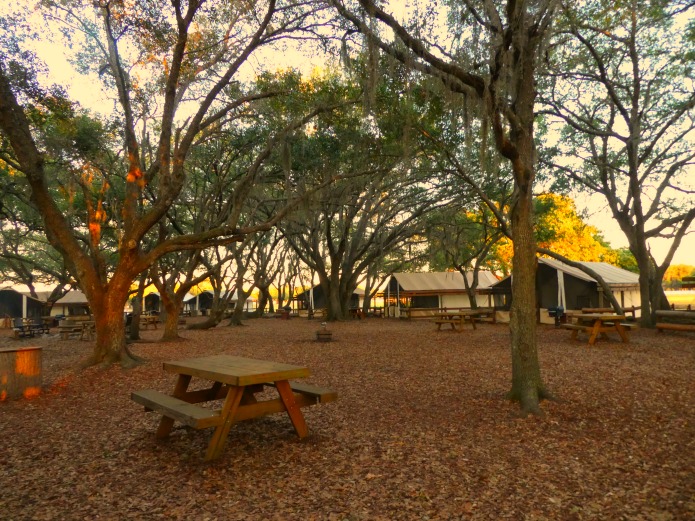 Glamping Tents are Nice…Really Nice!
We arrived at the Westgate River Ranch on a sunny afternoon. After checking in and picking up our golf cart, we set out to find our home for the night—and we liked what we found. The glampsite is comprised of 20 canvas safari tents set on platforms amid trees with branches just low enough for climbing. Each tent has a picnic table along with a charcoal grill.
Benjamin was delighted at the real canvas tent complete with zippers and tie-backs. I was THRILLED with the king-size bed, two additional twin-size beds and two chest of drawers. And I was even more thrilled with the air conditioning.
Each unit has a private bathroom with a REAL sink, shower and toilet. It's a miracle really. Bathrooms are located in a brightly lit and secure bathhouse just across the path. Soft fluffy towels are provided as well as amenities: soap, shampoo and conditioner. And, each individual bathroom is locked for privacy.
Oh, did I mention we had our own Personal Glamping Concierge? Yes, that's right. Our concierge was there to make any reservations we needed for activities and handle special requests. You don't get that when you're sleeping on the ground—or at home for that matter.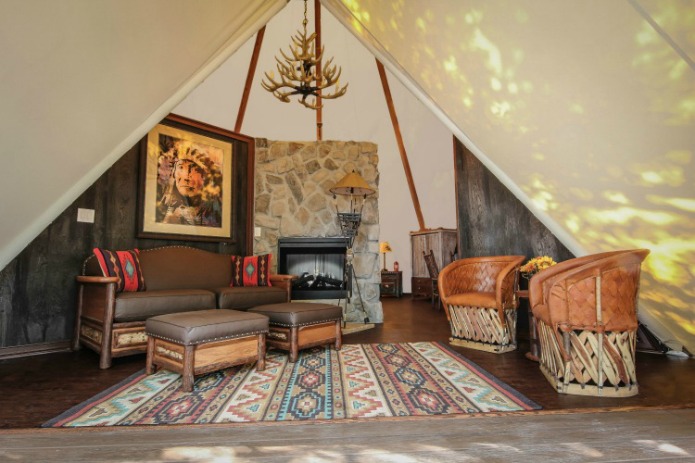 Want More Luxury? You Can Have That too!
If you want to amp up the luxury quotient, check out Westgate River Ranch's latest addition: Takoda Village. Located in an exclusive section of the ranch amid 100-year-old oak trees, Takoda Village is comprised of 10 651-square-foot Native American themed Luxe TeePees. Each TeePee is outfitted with a double-sided stone rock hearth fireplace, screened private patio deck, leather chairs, a king bed, full sleeper sofa, air conditioning and heating. And each Luxe Teepee has its own private ensuite bathroom with vanity and porcelain cast iron claw bathtub and shower.
With either glamping option, you may actually forget you're in the woods, at least until you step outside and take in that night sky with all those stars!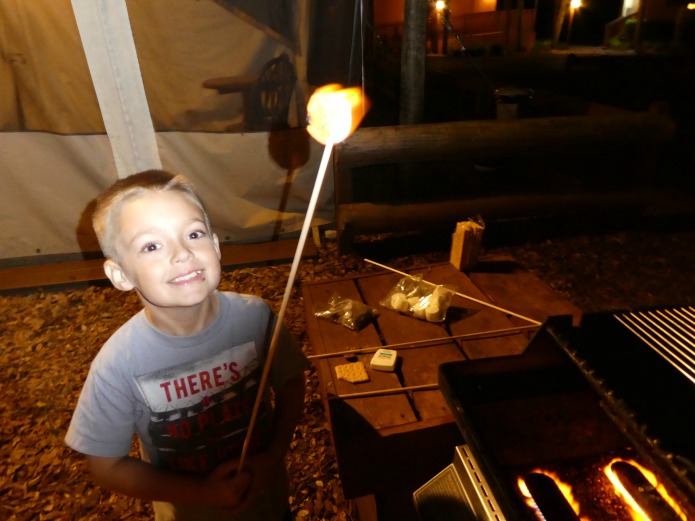 Adventures By Day
After a fun night of exploring, making s'mores, and chatting with our glamping neighbors, Benjamin and I settled in for a good night's sleep. When morning arrive—and it arrived very early with an excited little boy in the tent—we unzipped our tent and found a lovely surprise. On the porch was a pot of coffee and a large basket filled with fruit and sinfully delicious cinnamon rolls.
We had a full day ahead, starting with a lesson in archery which Benjamin passed and I failed miserably. Apparently your arrows are supposed to go forward not backwards when you release the bow. Who knew?
Up next was a visit to the petting farm where peacocks strutted about, their iridescent blue and green plumage on full display. And baby goats wandered freely about hoping to pick up a little extra food. There was even a mama-to-be goat waddling around—bless her heart.
The ranch also offers horseback riding, swimming, golf, trap and skeet shooting, hayrides, swamp buggy rides and a full service marina. On Saturday nights, the championship rodeo takes center stage with trick riding, bull riding, calf roping and barrel racing. There's even a saloon—which I didn't take my grandson to, just so we're clear.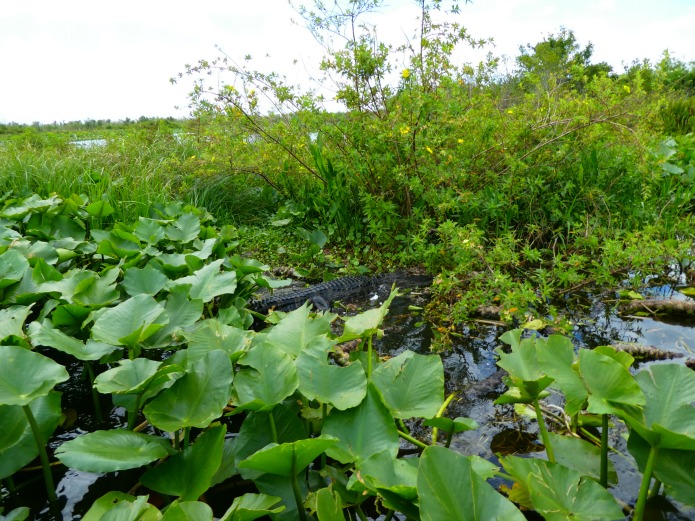 Taking it to the River
Before arriving at Westgate River Ranch I had never ridden on an airboat despite having lived in Florida for 35 years before I moved to New York. And while it was never a big bucket list item, it was something I had always wanted to do. So Benjamin and I climbed aboard for an airboat ride on the Kissimmee River for our own little swamp safari.
Along the way the captain pointed out wildlife along the way. We spotted baby alligators with mama gators nearby keeping a watchful eye. Egrets, herons, hawks and bald eagles also made appearances as we sped through the murky waters. At one point we were under the close observation of a herd of cattle grazing near the riverbank.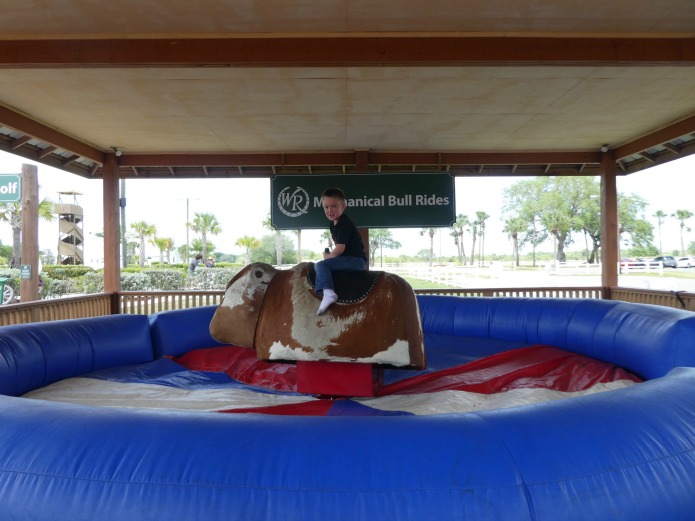 Adventures Benjamin Style
We ended our day at the adventure park—a kid's dream come true. With miniature golf, a bungee jump, rock-climbing wall and a mechanical bull—Benjamin thought he had hit the adventure jackpot. He tried it all and was especially proud of himself when he made it to the top of the rock climbing wall.
What You Need to Know
Traditional glamping accommodations are priced around $199 for double occupancy and include lodging, linens, toiletries, breakfast basket and a Personal Glamping Concierge. Additional fees apply for certain ranch activities. Luxe Teepees in Takoda Village start at $450 per night with a two night minimum. Rates are all-inclusive. For more information and to book your glamping reservations visit www.westgateresorts.com.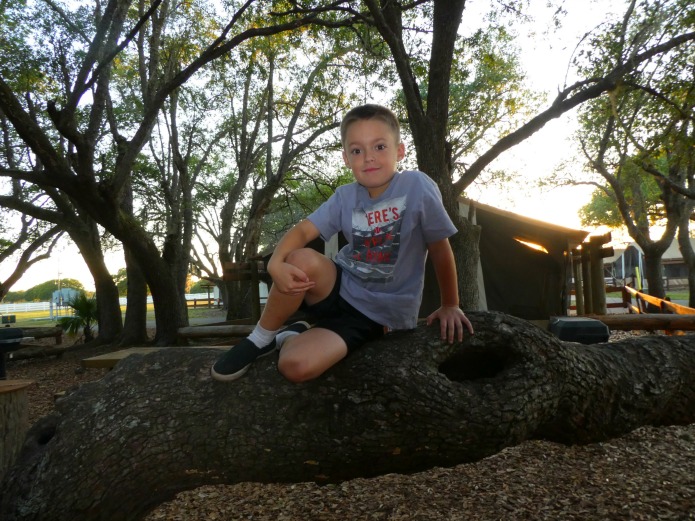 Elsewhere in Central Florida
It took some convincing to get Benjamin to leave the adventure park. I coaxed him into it with tickets to Cirque du Soleil La Nouba at Disney Springs where I assured him the performers could show him some new climbing techniques for future rock climbing ventures. This fantastic show runs through December 31st, so carve out a little extra time to check it out if you haven't been. It's incredible. Benjamin actually sat still to watch the full show—and that in itself is no minor miracle. Get more information here.