WEST PALM BEACH, FL – May 21, 2020 – Palm Beach Zoo & Conservation Society animals have missed the public so much, they are now ready to enhance your virtual meetings. Palm Beach Zoo's Call of the Wild program is a new way to enliven your multi-person meetings, connect with nature and create a lasting memory with your team.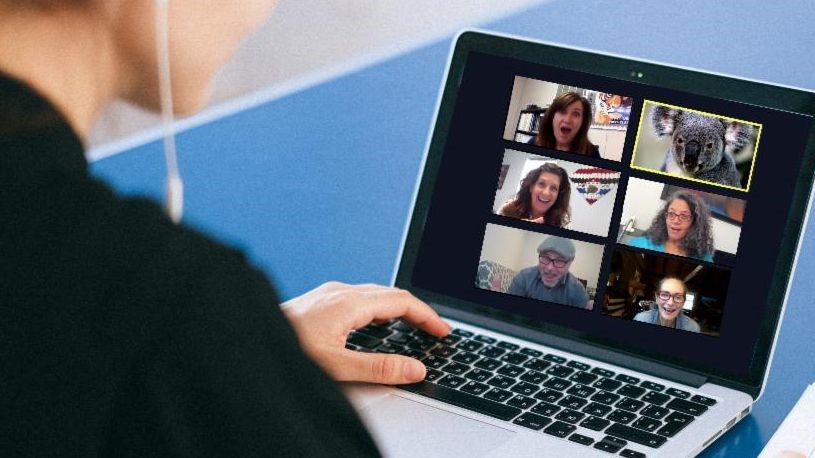 "Human health is inextricably linked to nature and the company of animals. With our temporary closure to the public, the next best thing is to bring wildlife virtually to you," said Margo McKnight, president and CEO of Palm Beach Zoo. "We have teamed up with our partners at Palm Beach Tech to create epic meeting interruptions. Surprise your team on a routine video call with a Call of the Wild from a giant tortoise or Queensland koala in one of the participant boxes!"
Palm Beach Zoo and Palm Beach Tech worked together to bring the animals to meetings. The Zoo is offering 10-minute Animal Cameos and 20-minute Wild Webinars.
"These last few months have forced our community away from the places we love," said Monica Rojas of Palm Beach Tech. "Palm Beach Zoo has been deeply impacted, and we saw an opportunity to share our tech strategies to bring the Zoo wildlife to the community that misses them."
Call of the Wild host is Palm Beach Zoo General Curator Mike Terrell, who has a vast knowledge of each animal at the Zoo.
"The animals adore interacting with our visitors as it provides entertainment and enriching experiences. Many of them are missing the attention of visitors. Call of the Wild meetings are a big hit among animals and people. The animals love interacting with the camera, and just like humans, they enjoy snacks during meetings as well," said Terrell.
The Zoo offers these sessions with several of the Zoo's celebrity animal residents, or a Zoologist's Choice, which gives Terrell the option of picking the best animal for the time of your call. As with all Zoo activities, the animals are given the choice to participate, and Terrell will choose another willing participant if the selected animal is camera-shy in that moment.
"After seeing the smiles and uncontrollable laughs that the Zoo animals brought to our Virtual Happy Hour, we realized these animals are helping us a lot more than we know," said Michelle Bakels of Florida Power & Light Company.
Answer the Call of the Wild! Additional information and scheduling can be found on the Zoo's website: www.palmbeachzoo.org/callofthewild.
Palm Beach Zoo is a 501(c)(3) nonprofit organization, and all Call of the Wild proceeds go toward animal wellness, care and conservation.
***
About Palm Beach Zoo:
For more than 50 years, Palm Beach Zoo & Conservation Society has provided visitors with up-close and personal animal encounters that connect people to wildlife. Palm Beach Zoo guests explore a WILD ecosystem thriving on 23 lush, tropical acres while discovering hundreds of exotic animals. Visitors enjoy interactive animal experiences, nature and water play, a lakeside cafe and daily Zoologist-led educational programs. The Zoo offers camp, overnights, field trips, outreach to underserved communities and proudly hosts highly-attended annual events. Palm Beach Zoo participates in AZA Species Survival Plan® programs, ensuring healthy animal populations for rare and endangered species. One dollar from every ticket purchased at the Zoo goes directly to support conservation initiatives. The impact of a visit to Palm Beach Zoo extends beyond the gates, inspiring people to take action and save wildlife in wild places. For more information, visit www.palmbeachzoo.org.
About Palm Beach Tech: 
The Palm Beach Tech Association is a non-profit 501(c)6 membership association building the software, engineering, digital, and information technology industry verticals in South Florida. Our purpose is fostering a community of technology, innovation, & creativity in South Florida.
As a regional trade association, Palm Beach Tech promotes industry growth by working with educational institutions, government entities, and business groups to support the goals of member companies. Our core focus is fixed on producing long-term economic impact by attracting new business, supporting startups, and building the talent pool.
With a scope of services that meets the needs of a wide range of industry professionals, from corporate CEO's to freelancers, we believe in fostering the industry through a unified and holistic approach.