South Florida Fair's golf tournament raises money for educational scholarships
WEST PALM BEACH, Fla. — The South Florida Fair's annual John Picano, Jr. Memorial Golf Tournament recently raised $42,064 to benefit its South Florida Fair Scholarship & Educational Fund. The tournament took place at Mayacoo Lakes Country Club.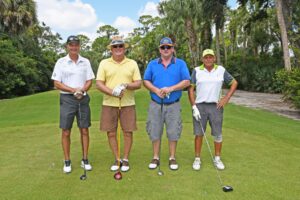 Golfers competed for prizes and received gifts, including a pair of Footjoy golf shoes and two admission tickets to the 2021 South Florida Fair. The day ended with a buffet awards luncheon.
All proceeds benefited the South Florida Fair Scholarship & Education Fund, which has raised more than $650,000 in college scholarships for local youth since 1981.
The golf tournament is named in memory of John Picano, Jr., who served as the South Florida Fair's public relations director for almost two decades. Prior to his passing in 2012, he was an avid golfer and was instrumental in the growth and success of the fair's golf tournament.
Wade Shows, Inc. was the presenting sponsor and additional sponsors were Coca-Cola, Foster & Fuchs, P.A., Laz Parking, Burns & Severson, P.A, BKS Partners and Debon Air Mechanical.
The South Florida Fair is produced by the South Florida Fair & Palm Beach County Expositions, Inc., a 501(c)3 nonprofit organization, and has a longstanding tradition of raising funds for educational and charitable purposes.
Located at 9067 Southern Boulevard in West Palm Beach, the 2021 South Florida Fair will be held January 15-31. For more information, call 561-793-0333 or visit the website, http://www.southfloridafair.com.