Great Charity Challenge presented by Fidelity Investments®
Promoting Community Collaboration
Wellington, FL – January, 2020 – At the heart of the Winter Equestrian Capital of the World, the Palm Beach International Equestrian Center (PBIEC) in Wellington, FL, has proudly hosted the Great Charity Challenge presented by Fidelity Investments® (GCC) for the last decade. Having distributed $13.5 million to over 240 Palm Beach County non-profit organizations to date, the event's organizing committee has witnessed a genuine impact in the community by connecting local non-profits, the equestrian community and generous donors.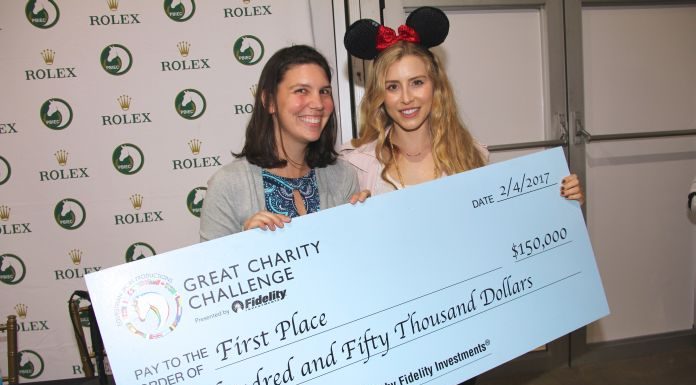 Founded by father/daughter team Mark and Paige Bellissimo, the event's sole purpose to date has been to fundraise and re-distribute 100% of the funds back to Palm Beach County non-profits, thanks to Equestrian Sport Productions' generosity of covering all costs associated with the GCC.
To be held on Saturday, February 1, 2020, the event's 11th edition is further committed to promoting capacity building, enabling and bouldering invaluable partnerships, as well as concentrating on amplifying the event's impact.
The first initiative to follow this vision took place on Tuesday, January 14, 2020, in partnership with Extraordinary Charities, a Palm Beach County non-profit organization devoted to raising awareness of small but deserving local charities. All randomly pre-selected non-profit organizations were invited to join in on a round-table discussion about the potential of creating local non-profit partnerships.
"As previously mentioned, I believe life is about perspective, overcoming adversity, learning through experience, challenging convention and making a difference …. Often there is no right or wrong answer, only better or worse answers. However, more often than not, doing nothing is the worst answer," comments Co-founder Mark Bellissimo. "Engaging in these conversations with the do-ers' in our community, we believe in the opportunities that will rise from enabling these connections."
In the spirit of collaboration, Achieve, a digital agency for nonprofits and causes, announced their Social Media Marketing Grant (valued up to $18,000) during the round-table event. "We are thrilled to be partnering with the Great Charity Challenge this year," says Director of Marketing Erica Linguanti. "We are always looking for unique ways to give back to our community and maximize impact, so this was a no-brainer for us. We can't wait to leverage sophisticated social advertising tactics to help a deserving nonprofit further their mission and goals in 2020."
Adopting a "holistic approach" to address individual needs, the feedback of participants was promising.
Christine Raymond, General Counsel at Extraordinary Charities, remarks "We are keenly aware not only of the challenges that face local nonprofits, but also the incredible heart and talent that is deployed every day in our community. Our efforts over the past year have been centered around minimizing the challenges while maximizing the impact of these organizations through connection and collaboration. We are optimistic that the conversations that took place this evening are the beginning of a whole new set of partnerships set to go to work in Palm Beach County."
"We hope to become a facilitator of these partnerships," adds Co-founder Paige Bellissimo. "Vulnerability typically exists across several sectors; we understand that one organization cannot tackle every angle on its own.  However, with the (very) vast network of non-profits that exist in Palm Beach County, there is a true opportunity for these connections/partnerships to directly increase the impact of the services rendered, hopefully giving individuals the necessary tools towards sustainability."
With February 1, 2020 marking National Freedom Day, PBIEC and the GCC are also proud to join forces with all 12 Wellington public schools to host a unique art initiative. The proposed initiative was made available for students in first through 12th grades, being given a 48"x60" blank canvas and asked to demonstrate what opportunities freedom offers while incorporating recycled materials, encouraging them to turn everyday trash into creative treasures.
This collaboration is in addition to the established initiatives, which shine light on their talents to thousands of spectators throughout the season, as well supports their PTA/PTO/PTSA's fundraising efforts through the GCC (over $500,000 contributed to date).
A panel of judges from the Wellington Art Society (WAS) will once again facilitate the judging process and present the awards on the night of the event.  The GCC guarantees a minimum of a $1,000 donation to each school's art department for participating.
Donations and sponsorships from local families, foundations, businesses, vendors, exhibitors and spectators, ranging from $50 to $50,000, are what make the event reach its fundraising goal of over $1 million every year.  Customized sponsorship opportunities start at $500 while donations of all levels are welcomed.
The GCC competition will offer free general admission and will be held Saturday evening, February 1, 2020, at 6:00 PM at the PBIEC, during WEF's "Saturday Night Lights." Free parking will be located at 13500 South Shore Blvd., Wellington, FL 33414, home to the Adequan® Global Dressage Festival show grounds.
With riders dressed up in costumes and horses adorned to match them, this year's theme of "Broadway Musicals" will pay recognition to the wisdom commonly found in these plays. From "You can change the world if you change your mind" (Kinky Boots), "Even the darkest night will end and the sun will rise!" (Les Misérables) and "If you stand for nothing Burr, what will you fall for?" (Hamilton), all who attend the event will leave inspired to foster the change they wish to see in their own backyards.
For the latest event information, application process, and sponsorship opportunities, please visit www.greatcharitychallenge.com and follow the event on Facebook and Instagram at @greatcharitychallenge.
About Fidelity Investments

Fidelity's mission is to inspire better futures and deliver better outcomes for the customers and businesses we serve. With assets under administration of $8.2 trillion, including discretionary assets of $3.1 trillion as of November 30, 2019, we focus on meeting the unique needs of a diverse set of customers: helping more than 30 million people invest their own life savings, 22,000 businesses manage employee benefit programs, as well as providing more than 13,500 financial advisory firms with investment and technology solutions to invest their own clients' money. Privately held for more than 70 years, Fidelity employs more than 40,000 associates who are focused on the long-term success of our customers. For more information about Fidelity Investments, visit https://www.fidelity.com/about.
# # #
Fidelity Brokerage Services LLC, Member NYSE, SIPC 900 Salem Street, Smithfield, RI 02917
Fidelity Investments Institutional Services Company, Inc., 500 Salem Street, Smithfield, RI 02917
National Financial Services LLC, Member NYSE, SIPC, 200 Seaport Boulevard, Boston, MA 02110
908536.2.0
© 2019 FMR LLC. All rights reserved.