The Florida Foodie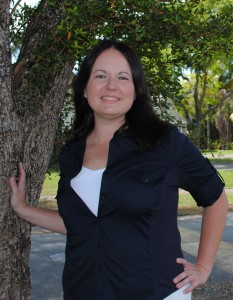 Tacos Al Carbon: Mexican Food Mecca
By Saucy Sarah
Tacos Al Carbon began as a Mexican food truck parked behind the Jiffy Lube on the corner of Lake Worth Road and Military Trail and grew in to an impressive foodie wonderland with a real restaurant right next to the original truck and several locations around Palm Beach County. What draws the long lines and fills the outdoor dining area night and day is the authentic Mexican cuisine made with fresh ingredients and adhering to traditional recipes. We visited Tacos Al Carbon on two occasions, so we could ensure we got to sample a good chunk of the extensive menu.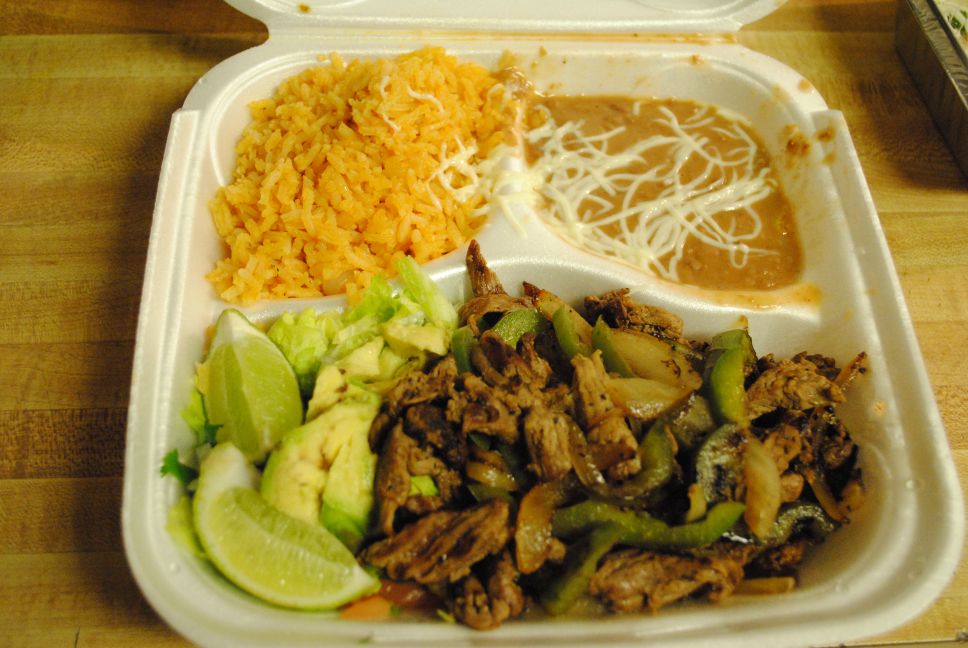 Tacos Al Carbon is not fancy. In fact, you may avoid eating there because of its first impression. I also was hesitant to eat there for many years, even though I drove by it all the time. The main location on Lake Worth Road has a small dining room in the bright yellow building and they also still serve from the food truck parked just on the other side of the asphalt outdoor eating area. Most people order from the walk-up window and eat at one of the picnic tables. Another good option is to do take-out.
Our first visit, we ordered a selection of their tacos to try since they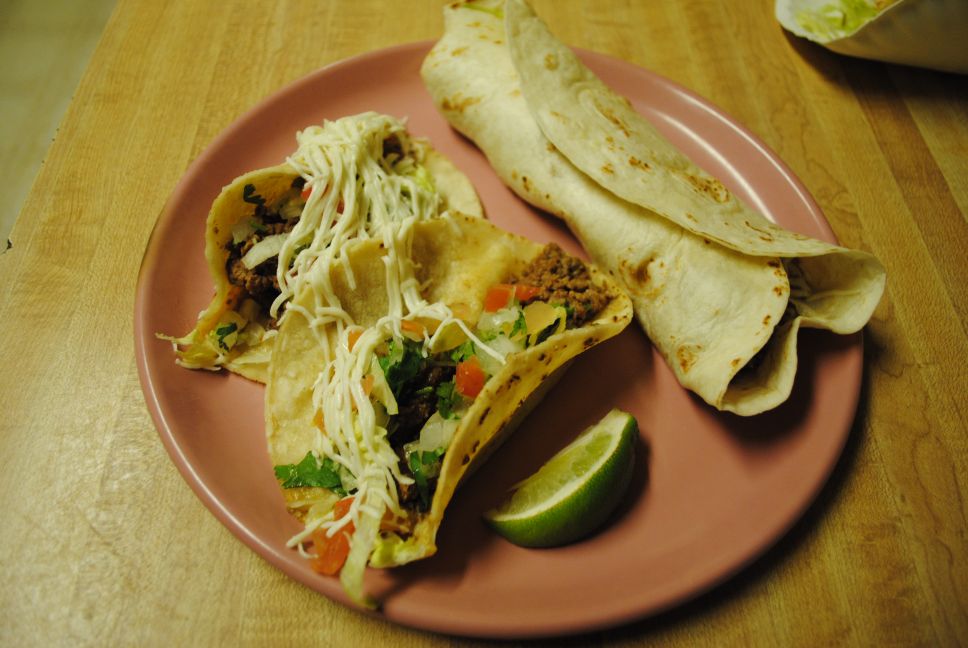 are famous for them. The chicken was all white meat and very juicy. The Carne Asada steak was flavorful and the shredded beef was moist and tender. The ground beef taco was spiced just right. Each taco came with super fresh lettuce and tomatoes and a nice sprinkle of queso fresco. The Tacos are also a great deal. Each one ranges between $1.50 and $2.00. Since the menu is Al a cart, you can order one of each to try. I will need a third trip just to try them all.
We also ordered the salsa ($1.99) and guacamole ($2.99) with chips. Both made fresh at the restaurant. You can tell that everything is made from scratch, using the freshest ingredients.  Even the tortilla chips are made from homemade corn tortillas made extra thick, so you get a hearty chip once they are deep fried.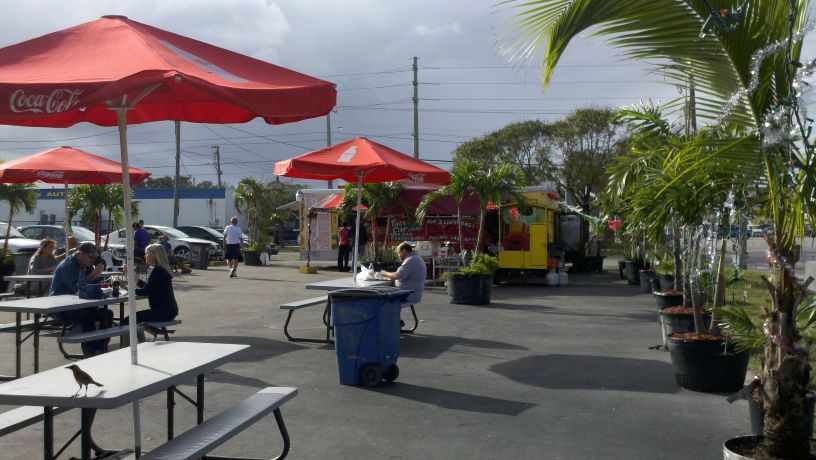 On our next visit, we tried the steak fajitas ($11.99). Though one of the more pricey items on the menu, you can make around five fajitas with what they give you, and that is way more than most popular Tex-Mex places provide. The Fajita plate comes with beans and rice and fresh cut avocado. The steak was perfectly cooked and loaded with caramelized onions and peppers and the fresh-made tortillas make them extra special.
We also tried the shredded beef Flautas (1- $1.75) – a flour tortilla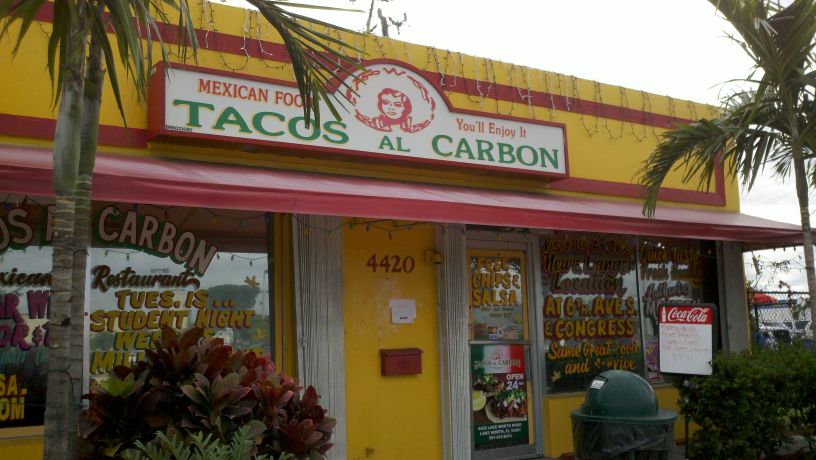 stuffed with your choice of meat, then deep fried and smothered in sour cream and fresh veggies—they were delicious. I also sampled their beef & bean burrito ($3.50). The beans lend a nice creamy texture to the shredded beef which is nice.
The food is delicious and the prices are hard to beat. It is the best Mexican food I have had in South Florida. Tacos Al Carbon is definitely worth the pilgrimage.
In her previous life, Sarah, a Palm Beach County Native, spent ten years working in various high-end eating establishments around South Florida. She is currently a fiction thesis candidate in the MFA program at Florida International University where she also teaches creative writing and rhetoric. If that is not enough, Sarah is also the owner of Cakes by Sarah, a local custom cake shop. Sarah lives in Lake Worth with her husband and two beautiful boys. "Food, fiction, and family are my life."
*****
AroundWellingon.com Best Burger of the Palm Beaches!
Starting December 1st through January 20th you can vote for your favorite burger join in Palm Beach County. Try all the nominated restaurants and see which one reigns supreme! The top 5 burger joints will be announced in the February issue of AroundWellington.com.
To vote, please send an email to: editor@aroundwellington.com, subject "Best Burger" and please include your pick (from the choices below). You can also write-in a different restaurant. Only two votes per household please. Please include: 1) your name, 2) your email address and 3) your phone number … and one lucky winner, selected from a random drawing, will receive a special prize. Deadline to enter/vote is: January 20th.
Nominated Best Burger Restaurants:
·         Backstreet's Bar & Grill: 12771 W. Forest Hill Blvd, Wellington, FL 33414
Phone: (561) 795-0100 Web: http://www.backstreetsbarandgrill.com/#
**A popular, friendly bar in the heart of Wellington with a "Cheers" ("everybody knows your name" type atmosphere). Sat. night is "Burger Night." Choose from 5 famous burgers – best known for their Peter Lugar Cheese Burger.
·         Between the Bun: 1035 Gateway Boulevard #213  Boynton Beach, FL 33426
Phone: (561) 735-8820 Web: http://www.boyntonrestaurantbetweenthebun.com/
**Small, family-owned joint in Boynton makes cooked-to-order, handmade burgers on an open grill. Classic old-time burger.
·         Brass Ring Pub: 10998 Okeechobee Boulevard, Royal Palm Beach
Phone: (561) 296-4563  Web: brassringpub.net
**Open since 1986 this dive-bar serves hand formed burgers cooked over open flame, using lava rocks. Quintessential dive-bar burger.
·         Cheeburger Cheeburger: 460 South Rosemary Avenue  West Palm Beach, FL 33401
Phone: (561) 833-1997 Web: http://cheeburger.com/home2/index.asp
**100% all natural Angus beef patties. Customize your burger by choosing from three different sizes. The definition of a retro burger.
·         Cheesecake Factory: Several locations in PB county.
Web: www.thecheesecakefactory.com/
**This chain offer several unique and interesting burgers, including an exclusive Kobe beef burger that needs no toppings.
·         Chuck Burger Joint: 4665 PGA Boulevard  Palm Beach Gardens, FL 33418
Phone: (561) 629-5191  Web: midtownpga.com/dining/list-of-restaurants/chuck-burger-joint
**Chuck's offers simple yet high-quality burgers and toppings in Palm Beach Gardens.
·         Hurricane Grill & Wings: Several Locations in PB county.
Web: hurricanewings.com/
**This chain restaurant serves tasty grilled burgers with a toasty bun.
·         Five Guys Burger and Fries: Several Locations in Palm Beach County.
Web: www.fiveguys.com/
**thin high-quality patties cooked to order on a griddle. The epitome of quality fast-food burgers.
·         Foster's Grille: 11071 Southern Boulevard  Royal Palm Beach, FL 33411
Phone: (561) 333-6720 Web: www.fostersgrilleroyalpalmbeach.com/
**High quality char-burgers cooked to order, custom topping combinations.
·         Grease Burger Bar: 213 North Clematis Street  West Palm Beach, FL 33401
Phone: (561) 651-1075 Web: http://www.bigtimerestaurants.com/
**cutting-edge burgers on hip clematis street.
·         Lindburgers: 5776 Jog Road  Lake Worth, FL 33467
Phone: (561) 649-6761 Web: www.lindburgers.com/
**over 50 unique and interesting burgers to choose from.
·         Moran's Italian Burger Bistro: 2107 10th Ave. North Lake Worth, FL
Phone: (561) 318-5048 Web: http://www.moranslakeworth.com/page/morans-home
**Build your own burger at this unique Italian burger joint.
·         Relish: 401 Northwood Road  West Palm Beach, FL 33407
Phone: (561) 629-5377 Web: http://relishburger.com/
**A dizzying array of ultra-fresh and innovative choices for your meat and toppings. Dedicated to unique and tasty burgers of all kinds!
·         The Office Restaurant: 201 East Atlantic Avenue  Delray Beach, FL 33444
Phone: (561) 276-3600 Web: www.theofficedelray.com/
**hip gastro-pub with organic burgers and interesting toppings.