Health & Fitness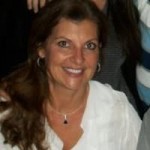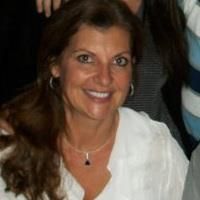 New Menu at CPK in Wellington
By Sherri Mraz
I was invited to a New Menu Tasting at California Pizza Kitchen earlier this month. I had no idea what I was in store for, because I have to admit, I assumed it was another chain pizza joint. I naively dragged a friend and from the moment we arrived we were treated like VIP's! It was our lucky night!
I am all about organic and fresh so I was so happy to find out that in an effort to stay relevant and refresh their brand CPK is using fresh, seasonal ingredients locally sourced whenever possible. They are also furnishing their restaurants with sustainable wood tables and many other eco-friendly touches. This was right up my alley!
Our first sampling was a California Flatbread with Roasted Brussels sprouts, caramelized onions, Nueske's applewood smoked bacon, creamy goat cheese, Romano and cracked black pepper. Great combo of textures and flavors, we were already happy…then they brought cocktails…bonus! I am not much of a drinker but I must say they had the mixes down to resemble and taste like artwork.  From the organic Agave Nectar, candied ginger, fruit on a skewer, subtle avocado mix and rimmed with infused salt, it was amazing. Enter the Bianco Flatbread with whipped truffle cream, Gorgonzola, Mozzarella and a fresh sage leaf, lightly fried, on top. Rich and tangy with a nice crunch. The aromatic sage leaf sealed the deal…delish!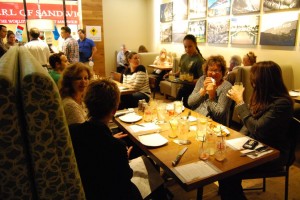 We were already feeling pretty satisfied when they brought out the brick oven Sunny Side Up Bacon + Potato pizza. It was gorgeous with shaved fingerling potatoes, Nueske's applewood smoked bacon, caramelized leeks, Parmesan, Mozzarella and cracked black pepper topped with two sunny side up eggs. The presentation was perfect and then…they pierced the eggs. The luscious golden egg yolk added a new dimension to this innovative yet earthy pizza.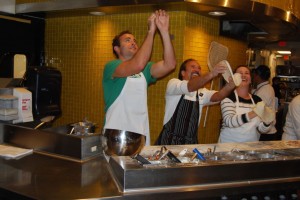 The next course was as if the "Cookin' Yogi" came up with it herself, a Harvest Kale Salad made with local baby kale, toasted farro, roasted butternut squash, Napa cabbage, shaved pear, marinated cranberries, spiced pecans and goat cheese lightly tossed with a citrus vinaigrette.
Hearth Roasted Halibut, wild caught, roasted on a cedar plank with butternut squash, farro, baby kale and asparagus which was perfectly cooked and served with a white corn and spinach succotash topped with Feta. I love fish and eat beef rather sparingly, but let me tell you when you visit CPK do yourself a favor and order the Fire-Grilled Ribeye. Served with roasted fingerling potatoes and a lemon-garlic arugula salad. What they do with the Pinot Noir sea salt will change your life!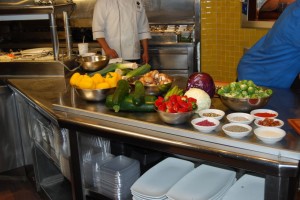 Did I practice my 80/20 rule and go for dessert? Yup, you have to treat yourself to the warm, rich, homey Butter Cake with fresh whipped cream. The menu says "Trust us. Just try it." I couldn't agree more. The next two heavenly desserts were served in apothecary jars, Salted Caramel Pudding with black cocoa cookie crumbs, fresh whipped cream, caramel sauce and natural flaked sea salt. Their take on S'Mores was SO good…kettle cooked Belgian chocolate pudding, dark chocolate chunks, double graham cracker and toasted marshmallows…OMG!
Our Wellington California Pizza Kitchen is one of only twelve nationwide to offer this new menu…Taste the Next Chapter. The first store opened in Beverly Hills in 1985, perhaps the name is a bit misleading…this is no pizza chain, people! Date night, family night, girls night…it's the perfect relief from the same old-same old. Do yourself a favor and check this place out. Tell the manager Shawn Mears that Sherri Mraz, The Cookin' Yogi sent you from AroundWellington.com. You'll be welcomed with open arms, big smiles and exceptional service!
***
Sherri Mraz is also known as the Cookin' Yogi. She works with clients privately and in groups to improve their health. She teaches healthy cooking classes, yoga and is a public speaker. Sherri has trained at the Institute for Integrative Nutrition in NYC and is certified through Teachers College Columbia University and by the American Association of Drugless Practitioners (AADP). She is also registered with the Yoga Alliance at the advanced teacher level, a member of the Physicians Committee for Responsible Medicine and studied at The Hippocrates Health Institute. She studied ancient nutritional wisdom, and the latest diet and healthy lifestyle trends with renowned experts such as Dr. Mehmet Oz, Deepak Chopra, Dr. Andrew Weil, Dr. Walter Willet, Dr. Anne Marie Colbin, and Dr. Neal Bernard. Sherri is the author of  the Cookbook "The Cookin' Yogi's, More Energy, Less Waist"  and the "3 Day Bliss Detox" She is located at Keystone Chiropractic in Royal Palm Beach. Please contact her at Sherri@CookinYogi.com or visit her website at www.CookinYogi.com
You can order a signed copy directly from Sherri's website at www.Cookinyogi.com/cookbook which also comes with a complimentary call to help you get started or you can order directly from Amazon.