Autism Action Groups
 New Support Group for autistic children takes action!
 By Kristine Messenger
                When it comes to making a difference in the community for children with autism, there are no limitations. The following groups in particular have set their sights higher than most. They are not just talking about making changes, they are making changes!
                Royal Palm Beach residents Linda Boucher and Tamara McKlveen of the newly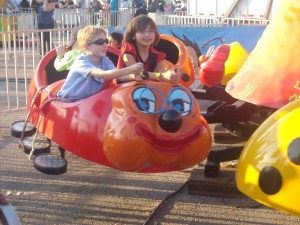 formed support group Autism Action Group and Andrea Thompson, president of The Other Side of The Fence joined forces to make their dreams of, "no limitations,  find your key to success" come true!
               These three women and other group members took it upon themselves to form a much-needed support group and not-for-profit organization to help families facing autism in the Western communities.
                It is not hard to see their determination when you meet these women. Their time and effort to make things happen is very apparent as each member brings their own talents to the table. They are parents and grandparents who are raising children diagnosed with autism. Not only are they trying to find help for their own children and grandchildren, they are trying to help other families in the process too.
            Unfortunately at this time, the obtain services in our community are few and far between. Most of the group members also agree there are little to no "affordable" services. So, in April of this year the groups came together and started to take action, seeking solutions.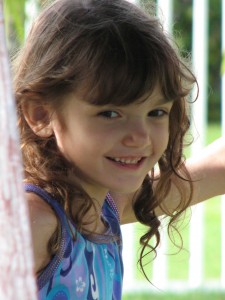 All group members are now on a mission to help bring financial, educational, emotional, and therapeutic services to the area. It was not a hard decision for them to make. They saw a need to help support children with autism and went for it.
              Andrea Thompson, president of The Other Side of the Fence says, "The Other Side of The Fence was born from a need for my son, and for other children with autism. I felt like autistic children and their parents are actually standing on the other side of the fence. Our children deserve services that are convenient and affordable in the community. My mission is to help provide affordable services and help educate individuals with autism and related disabilities. My vision is to open a therapeutic and educational center to service individuals with autism and their families, regardless of their financial abilities. I know this organization can become a success if not only families with autistic children come together, but every member of our community takes the opportunity to help. To put it simply, I am a mother of a child with autism who cannot find affordable services for my son."
             Linda Boucher of the Autism Action Group writes, "As with any disability, autism presents some very unique circumstances for those affected and their families. It didn't take me long to realize that families in our community really didn't have a place to go, or someone to talk to about these special challenges. Unless you are going though it yourself, it is very hard to grasp the gravity of what is really happening both physically and emotionally to the people involved. The support group, 'Autism Action Group' is a place to start. It is a place where people can talk to each other who have been there, and who they can relate to without a lot of explanation.
           At the present time our group meets every other week at The Old Wellington Mall @ 8:30 am. [Call for exact dates and locations.] It is my hope as membership increases (currently we are a small group, and steadily growing!) we will be able to add meeting times and places accordingly, so more people can participate.
            We have banded together with The Other Side of The Fence. In doing so, we hope to combine our efforts to promote positive change. Most families affected by autism are currently driving as far as Jupiter and Boca Raton to find care for their children and young adults. We want to bring help and awareness to those living here! We want to create an environment with a sort of 'one stop shopping place' here in the western communities.
            As of today, there are 1 in 150 children being diagnosed with autism. When a family first learns of their child's diagnosis it can take weeks, months, or longer to find which treatments are available, and where they are located. At the very least, it is our goal to make finding the information and services more accessible.
             People in our area can help by educating themselves about autism, and understanding that people with autism are a part of this community. Children affected with autism are not "bad" kids. They are very smart and loving children. Unfortunately, most individuals with autism have difficulties communicating with others. They express themselves differently and are not always able to understand socially acceptable behavior.
  Not only does Linda dedicate her time to the support group, she has also taken on another huge responsibility. In June, Linda met with Michelle Damone,
Executive Director of Project Lifesaver of Palm Beach County. Together they set up one of the first Project Lifesaver managing agencies in Royal Palm Beach. The site is located at Palms West Presbyterian Church in Loxahatchee Groves.
              Project Lifesaver of Palm Beach County is making great strides toward bringing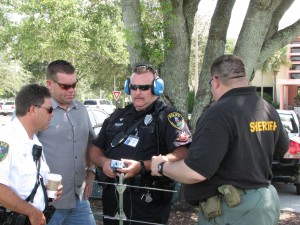 their program to the area.  It is a public safety program used to locate missing persons due to wandering because of dementia, Alzheimers's disease, autism, or related disorders. A transmitter (wristband) similar to a wristwatch is placed on the participant. Each transmitter has an assisted radio frequency inside. If that person becomes lost or wanders off, they can be tracked through the Palm Beach Sheriff's office 911 center.  To date, hundreds of officers have been trained, including many from their K9 department. Once a person is deemed eligible for the project, he or she will then be connected with a local managing agency and an initial assessment will be made. Information is then collected, including a current photo, and is stored in a private data base which is accessed by law enforcement in case of an emergency. A monthly battery change is mandatory, and at this time a fee is charged to cover costs. Currently grants and fund raising efforts are being made to provide participants in financial need with wristbands. To date, Project Lifesaver is offered in 45 states and the country of Canada.
               Linda's grandson was a participant of the PLS program in VA. When her daughter and grandchildren moved to Royal Palm Beach, they wanted to continue to be participants of the program. However, after trying to find a local managing agency, they learned that Project Lifesaver was just in the beginning stages here in Palm Beach County. While speaking with others parents, Linda quickly realized she was not the only one looking for a managing agency. After contacting Michelle Damone, within a few months she was able to get permission to have the site at her church, and the managing agency was established.
           "Project Lifesaver saves lives; I didn't want to hear about another tragedy if it could be prevented," says Linda Boucher.
Personal Note: I can't thank Linda Boucher, Michelle Damone, and the West Presbyterian church for all their energy and time spent to make the PLS Royal Palm Beach managing agency a part of the community.
           Project Lifesaver has given my family the extra peace of mind we have been looking for. It gives me a sense of pride knowing we have such committed people working together to help save lives.
            Many thanks to Andrea Thompson for taking the initiative to begin her dream and start making possibilities for the future a reality.
                                                                  Kristine Messenger
Upcoming Event to Benefit Project Lifesaver
Gourmet Macaroni & Cheese Wine Tasting Benefit
On Friday, July 24th from 6:00-8:00pm, taste your way around Whole Foods Market Wellington and enjoy varieties of gourmet Macaroni & Cheese and Fine Wines throughout the store. A $20 donation will be collected at front entrance where you will receive a wine glass for the tasting and your gift for supporting Project Life Saver.  100% of proceeds go to Project Life Saver, Palm Beach County, benefiting both the Autism and Alzheimer's community.  Pre-registration at Customer Service Required.
*** 
*Donations needed:
We need the community to come together and help us make a difference – Will you please be a part of our success?
*Volunteers and sponsors, and donations are needed to help provide services and keep 'Autism Action Group' and 'The Other Side of The Fence' a success. For more information on current fundraising events, volunteering, meeting dates and times, Project Lifesaver Of Palm Beach County, or to join this support group please contact the following:
The Other Side of The Fence:
Andrea Thompson, President
561-452-3900
Autism Action Group:
Linda Boucher or Tamara McKlveen
561-790-6751
MemberServices.TheOtherSide@gmail.com
Project Lifesaver Of Palm Beach County:
Michelle Damone
561-753-6053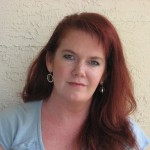 Kristine Messenger is the author of her first book, an autobiography titled "Somewhere Between Here and … Autism, Laughing with Angels, Dancing with Butterflies." Visit her website for more information on the book and on her life's journey, as a parent and as an advocate for autistic children.