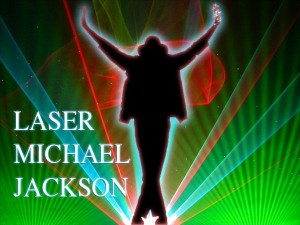 MICHAEL JACKSON MANIA AT SOUTH FLORIDA SCIENCE MUSEUM
New laser concert schedule kicks off with costume contest for all!
(West Palm Beach) – Attention all Michael Jackson fans…the South Florida Science Museum is unveiling its newest laser concert, Michael Jackson: Laser Spectacular!  The laser show will open Saturday, June 9th with showings at 6:30 p.m., 7:30 p.m. and 8:30 p.m. in the South Florida Science Museum's Marvin Dekelboum Planetarium.  Seating is limited and advance tickets are available for purchase online at www.sfsm.org, by calling 561-832-1988, or at the Museum's box office.
"As Michael Jackson's song goes, 'Don't Stop 'Til You Get Enough,' we anticipate guests won't stop until they get enough of this exciting laser show," said Kate Arrizza, Chief Operating Officer at the South Florida Science Museum.  "This particular laser show has been sold out throughout the country and we are happy to be unveiling it here for all to enjoy!"
Guests will be doing the moonwalk during this 60-minute thrilling laser concert.  The show features all the great musical classics from the legendary pop-star as they pulse to lasers, stars and other special effects. On opening night, guests dressed as the "King of Pop" will receive one free popcorn and a buy-one-get-one-free ticket to an upcoming concert at the South Florida Science Museum. 
The South Florida Science Museum is home to the first and only public planetarium in Palm Beach County.  The Museum's laser concerts are shown in the Planetarium on the second Saturday of each month.  Admission to the show is $8 for Museum members and $10 for non-members. 
The South Florida Science Museum is a non-profit organization dedicated to exciting curiosity and furthering the understanding and appreciation of science and technology. The Museum features more than 50 hands-on exhibits, a digital planetarium, fresh and saltwater aquariums, as well as natural history exhibitions. Each year the Museum welcomes more than 125,000 visitors and reaches more than 45,000 students through workshops at the Museum and outreach programs to local schools. The South Florida Science Museum recently celebrated its next 50 years of science in the community with a groundbreaking to launch Museum expansion plans. Construction is targeted for completion at the end of 2013, and the Museum will remain open during construction
The South Florida Science Museum is located at 4801 Dreher Trail North in West Palm Beach. For more information regarding the South Florida Science Museum or the laser shows, please call 561-832-1988 or visit www.sfsm.org.