Dixie Art Loft
Presents
"Circles of Light"
The Dixie Art Loft presents Circles of Light a photographic exhibit by Raymond Gehman.  The exhibit will take place from June 23 to June 28, 2011.  Opening reception is on Thursday, June 23, 5:30 – 7:30 PM.  The Dixie Art Loft is part of the Craft Gallery, 5911 South Dixie Highway, West Palm Beach.  The Dixie Art Loft presents Exceptional Work by Exceptional Artists.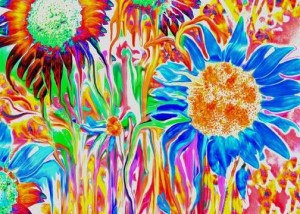 For 24 years, Pennsylvania-based National Geographic photographer Raymond Gehman has traveled the world chronicling the world's pristine environments. He has also been shooting closer to home, creating fine, impressionistic photographic art. Everywhere he has found circles of light gracing both the natural landscape and his heart's own intimate landscape. Mr. Gehman's Circles of Light exhibition will open at the Dixie Art Loft in West Palm Beach on June 13, 2011 with a reception on June 23. This exhibition features film images representing Mr. Gehman's love of big sky places: arctic night canopies with swirling beams; dusk-drenched mountain tops hanging out under sparkling moons. It also exhibits more recent digital images conveying Mr. Gehman's belief that art can be made anywhere: everyday subjects transformed into the mysterious and bizarre. Having been awarded three National Geographic Magazine covers and having been published in numerous books and articles, Mr. Gehman increasingly allows his internal experience to color his images, always searching for wilderness places where people are few and far between, and where numinous luminosity abounds.
Betty Wilson, founder of the Craft Gallery has been creating "Invitational Group Art Exhibits" to showcase Celebrated Artists as well as Emerging Artists in a collaborative event. The "Invitational Group Art Exhibits" now has a home of its own at the Dixie Art Loft.


For additional information contact:
Betty Wilson
DIXIE ART LOFT at The Craft Gallery
5911 South Dixie Hwy.
West Palm Beach, Fl 33405
561-585-7744
561-762-8162
www.dixieartloft.com