Komen Florida Names T.A. Walker as Race Chair for
2020 South Florida Race for the Cure®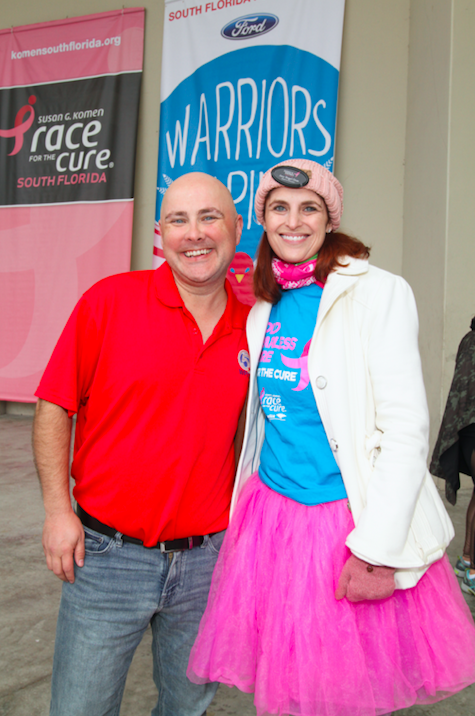 West Palm Beach, Fla.– Longtime Komen supporter Tim Allan "T.A." Walker, WPTV's Taste & See entertainment reporter, will serve as Race Chair for the 29th annual Susan G. Komen South Florida Race for the Cure in Downtown West Palm Beach. The popular journalist is known for his fun coverage of local events, music, dining, arts, tourism, festivals, and nightlife, but leading up to the 29th annual event, he will use his voice to spread the word on the disease that affects 1 in 8 women in their lifetime, and hundreds of men each year. Walker, who had a scare himself, knows firsthand the importance of the work Komen Florida is doing and the direct impact they are making.
"Breast cancer has touched the lives of so many friends, and colleagues," shared Walker. "I am lucky enough to work for a station that supports women's health and Susan G. Komen Florida as a whole. We have a platform to reach a great number of people and we do not take that lightly. Providing the most current and impactful information to viewers is important and I know that together as Race Chair and journalist, WE WILL SAVE LIVES."
Walker, who describes himself as a happy-go-lucky troublemaker from Texas, first started in radio in 1995 at a little station in Missouri prior to his short stint as a television news producer at the early age of 19. Following those stints, he interned for David Letterman's Late Show where he says he researched "just about anything Dave needed to know about before the Internet," and then went to work as an on-air producer for The Randi Rhodes Show before joining the cast of The Mo and Sally Morning Show on KOOL 105.5.
Walker received a Bachelor of Science degree from Southwest Baptist University, and now holds a master's in integrated marketing from Georgetown University. His Capstone Project helped to guide some of Komen Florida's marketing, something he has been involved in as a volunteer for a decade.
In addition to his role as Race Chair, Walker uses his education, expertise, and extensive media experience to assist the organization as it helps the 13,728 women in Florida diagnosed with breast cancer annually, the 2,704 who lose their battles and the countless others who are yet to be affected.
"While the numbers seem staggering, they are steadily improving," Walker continued. Komen is the first responders to breast cancer and in the last year has expanded its Treatment Assistance Program so patients do not have to choose between treatment or food on the table, has enacted a county-wide Community Breast Health Navigation program that reached 2,000 women in its first year in Delray Beach alone, and is working to advocate for better health care and health care options for Florida women. I have seen firsthand that with timely access to care, we can reduce breast cancer deaths by as much as one-third."
The 2020 Susan G. Komen South Florida Race for the Cure will take place on Saturday, January 25, 2020, at the Meyer Amphitheatre in downtown West Palm Beach.
Race Day schedule includes:
5:30 a.m. Race Day Registration opens at Palm Beach Post Centennial Park (South Flagler
Drive between Evernia Street and Fern Street)
7 a.m. Main Stage Program begins at Meyer Amphitheatre
7-9 a.m. Survivor Café Open
7:30 a.m. Women's and Men's 5K USATF Run (3.1 miles)
8:15 a.m. Runner's Awards Ceremony and Entertainment at Meyer Amphitheatre
8:30 a.m. Acknowledgements/Entertainment at Meyer Amphitheatre
9 a.m. Warrior/Survivor Recognition Ceremony at Meyer Amphitheatre
9:30 a.m. 5K Walk (3.1 miles) and 1-mile Family Fun Run
10:15 a.m. Kids T-Shirt Art Contest Awards at Meyer Amphitheatre
10:30 a.m. Tots Run for the Cure (ages 5 and under) at Flagler & Evernia near Kid Zone
10:45 a.m. Kids Run for the Cure (ages 6-12) at Flagler & Evernia near Kid Zone
11 a.m. Event concludes
Registration: Visit komenflorida.org/race. Registration fees start at: $25 for adults and survivors; $10 for youth (under 18); and $45 for virtual participation. Adult and survivor fees will increase by $10 starting October 2. All fees will go up an additional $5 the day of Race.
Seventy-five percent of net proceeds from the Race will provide screenings, treatment and education in Palm Beach, Martin, St. Lucie and Indian River Counties. Local programs funded include Bethesda Women's Health Center, Caridad Center, Department of Health-Broward County, Florida Community Health Centers, Genesis Community Health, Lakeside Medical Center, and Martin Memorial Health Systems. Last year 45,219 local individuals learned about breast cancer including 24 who were diagnosed; 749 benefited from diagnostic services such as clinical exams, diagnostic ultrasounds, and biopsies; 77 received patient navigation services; and 978 received a screening mammogram.
The national presenting sponsor of the 2020 Komen South Florida Race for the Cure is Bank of America. Local sponsors as of the date of this release include presenting sponsor, South Florida Ford Dealers, Hubbard Radio West Palm Beach; 97.9 WRMF, New Country 103.1, X102.3, Sunny 107.9, Party 96.3, 850 WFTL & Fox Sports 640 South Florida, WPTV, University of Miami Health System, Tropical Shipping, Good Samaritan Breast Institute, FPL, Comcast, Macy's, Florida Cancer Specialists, Office Depot, Zebedee Productions, Lesser, Lesser, Landy & Smith, Dunkin' and Mobil Holmes.
Contact: To learn more, email race@komenflorida.org, or visit komenflorida.org/race.
About Susan G. Komen and Komen South Florida
Susan G. Komen is the world's largest breast cancer organization, funding more breast cancer research than any other nonprofit while providing real-time help to those facing the disease. Komen Florida is working to better the lives of those facing breast cancer in the local community. Through events like the Komen South Florida Race for the Cure®, Komen Florida has invested over $14 million in community breast health programs in Palm Beach, Martin, Indian River and St. Lucie counties and has helped contribute to the more than $920 million invested globally in research. For more information, call 561-514-3020 or visit www.komenflorida.org.