Yummy Treats
La Bombonera Serves Up Coconut Flan
LA BOMBONERA located in SAN JUAN, PUERTO RICO, fed our married Dessert Reviewers called 'THE SWEETHEARTS', a consummately mouth-watering classic Coconut Flan. They also enjoyed an initial warmer upper so-called "Classic" Flan which didn't hurt:) CLICK the link below to see what naughty yumminess they got up to:
After watching this short clip Please Subscribe to The Sweethearts (subscribe button at bottom right under their video on youtube) and if you have something nice to say, comment on youtube as well because Frannie and Dani are being considered for a TV show and their youtube following is a significant component in the decision, and of course should it move forward they will certainly push for local coverage so it's a win-win for us all.
La Bombonnera
259 Viejo, Calle San Francisco, San Juan, 00901, Puerto Rico
Phone+1 787-705-3370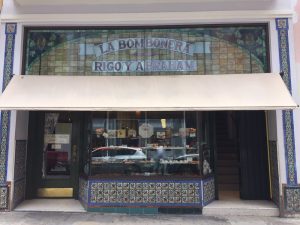 We are pleased to have Real-Life married sweethearts Frannie and Dani, who are also Dessert Critics appropriately called 'The Sweethearts', add a little sweetness to Around Wellington with their playful, yummy weekly 3-5 minute dessert video reviews.
Their online dessert critiques have been transformed into a Reality Food Show/Sitcom called 'SWEETHEARTS', now in development with 2-A-Listers attached. More info viewable at https://www.franniesheridan.com/ Frannie and Dani can currently be seen in several TV commercials in which they play themselves as Dessert Critics for Aztil air conditioning.