Lessons from Environmentalist Jeff Corwin
By Bryan Hayes
"It is like Stage 4 plastic cancer," Jeff Corwin explained. "That is where we are with plastic."
To think of it in those terms is very powerful, and if there is anyone who knows about the severity that plastic has on the environment, it is the Emmy award-winning Jeff Corwin. Through his television shows taking him around the world to the tune of over 21 countries annually, he has seen just how pervasive plastic is throughout the world. Even when diving to the depths of the ocean in search of new fish species, the fish he did not find, but plastic debris he did.
Plastic – it is all around us wherever we go and where ever we look. It does not matter how remote a region whether it be at the top of a mountain or at the bottom of the sea. Plastic is ever present.
While tackling the enormous problem of plastics, and their effect on the entire planet, is a monumental task that can leave someone like Jeff Corwin staying up at night, there are other incredibly pressing issues facing us today and well into our future. Florida is at the forefront of all those issues as well as the conservation efforts.
Florida has unequalled natural habitat and plentiful wildlife, but it also has an incredible number of people that is increasing every day. With the influx of people comes more pollution because of more cars on the road, additional area needed to build, and so many other factors that directly and indirectly impact the environment.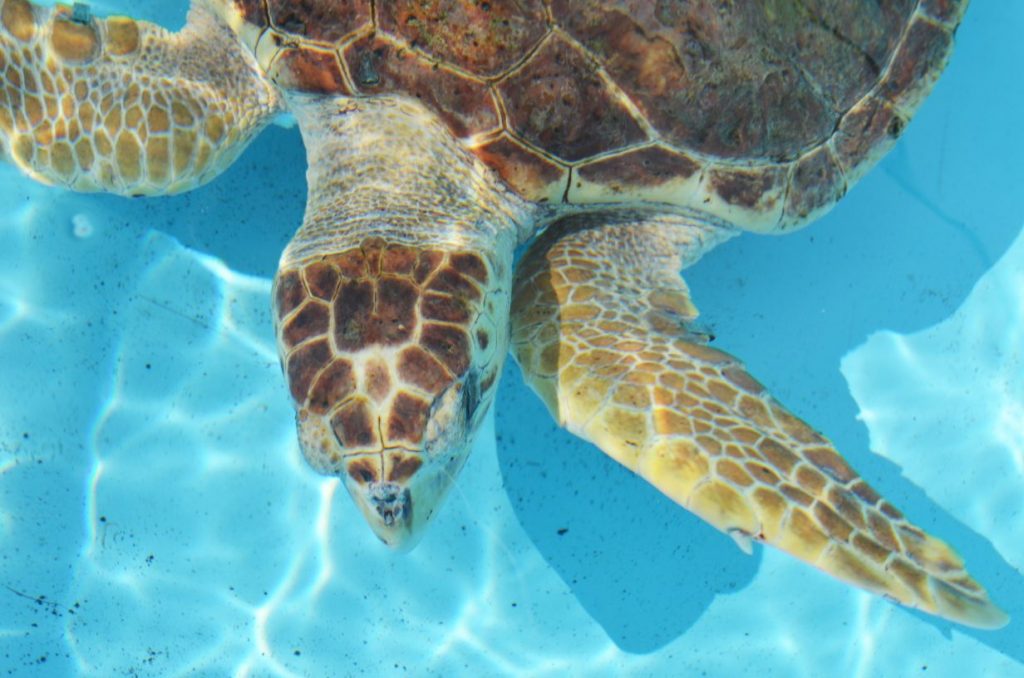 With the national government no longer taking a leadership role, and in fact, downplaying any environment impact, it has become critically important for local communities to step up to fill that void. In Florida, there are businesses who are making a difference. There are leaders who are driving environmentally friendly policy. And, individuals who so often go without any recognition but are volunteering their time and their efforts for lasting, positive change.
One of the best examples of local leadership being a pillar of strength for the Florida community is right here in our backyard. Loggerhead Marinelife Center located in Juno Beach has been rescuing sea turtles for 30 years. In that time it has expanded, and is expanding once again with visitors from all over the world flocking to see endangered turtles being cared for and eventually released back into the ocean. Being that the facility is free to the public, this is a rare opportunity to see local efforts being put into practice.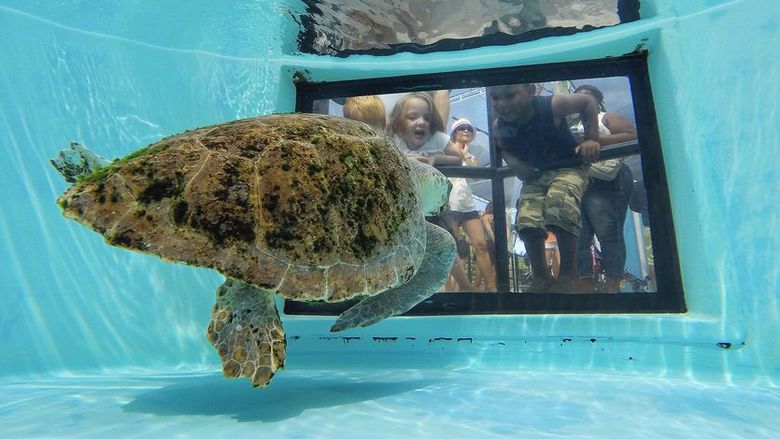 An incredible 350,000 visitors every year visit the Loggerhead Marinelife Center including thousands of children. In addition to their efforts in saving sea turtles, the center actually does so much more. They offer a free outlet for education and inspiration to new generations who get to be witness to the beauty of nature and see turtles as a gateway to being more aware of the environment, of sea life, wildlife, and nature in general.
Jeff Corwin recently visited Loggerhead Marinelife Center and was the keynote speaker for the Tenth Annual Go Blue Awards Luncheon that drew over 700 guests. The event was not only the biggest to date, but it was so large that it had to be moved to the Kravis Center to accommodate everyone. During his speech, he spoke about having hope amidst the dire straits that the planet faces in regard to the overall health of the planet's environment. His message was of community and how local efforts are taking up the slack from the national level.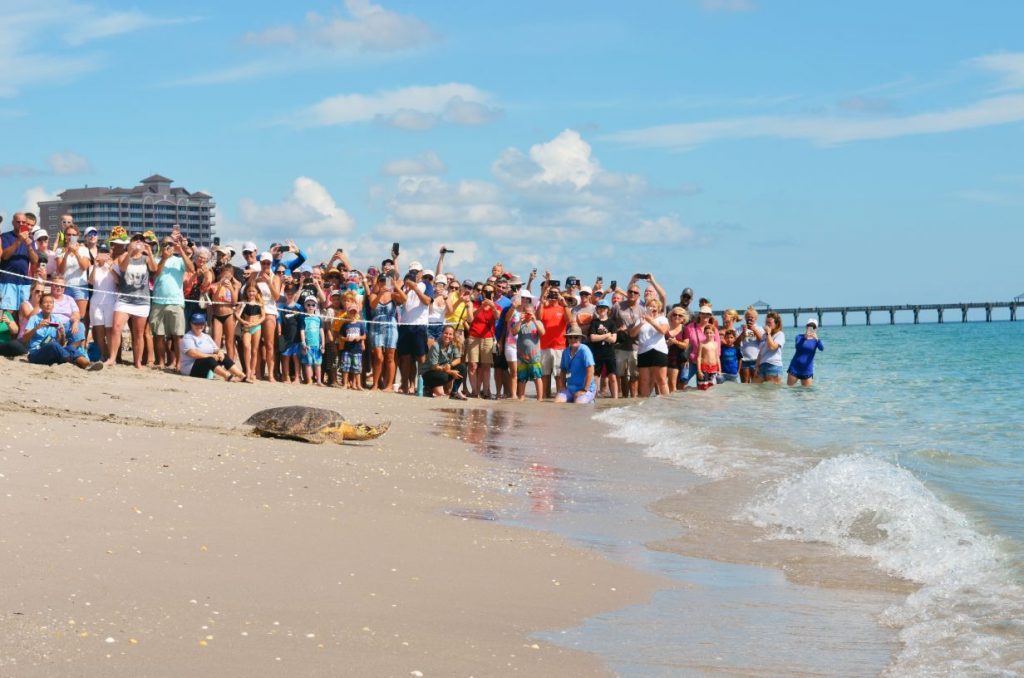 As an Emmy award-winning renowned biologist, conversationalist, and TV personality, Jeff Corwin has impacted countless of viewers – whether it is on "Going Wild with Jeff Corwin," "Ocean Mysteries with Jeff Corwin," "Ocean Treks with Jeff Corwin" or many others.
While at the Loggerhead Marinelife Center, I was able to sit down and spend a few minutes interviewing Jeff Corwin, and for the full transcript see below.
For more information on the Loggerhead Marinelife Center, please the website at: www.marinelife.org.
***
An Exclusive Around Wellington Interview with Jeff Corwin by Bryan Hayes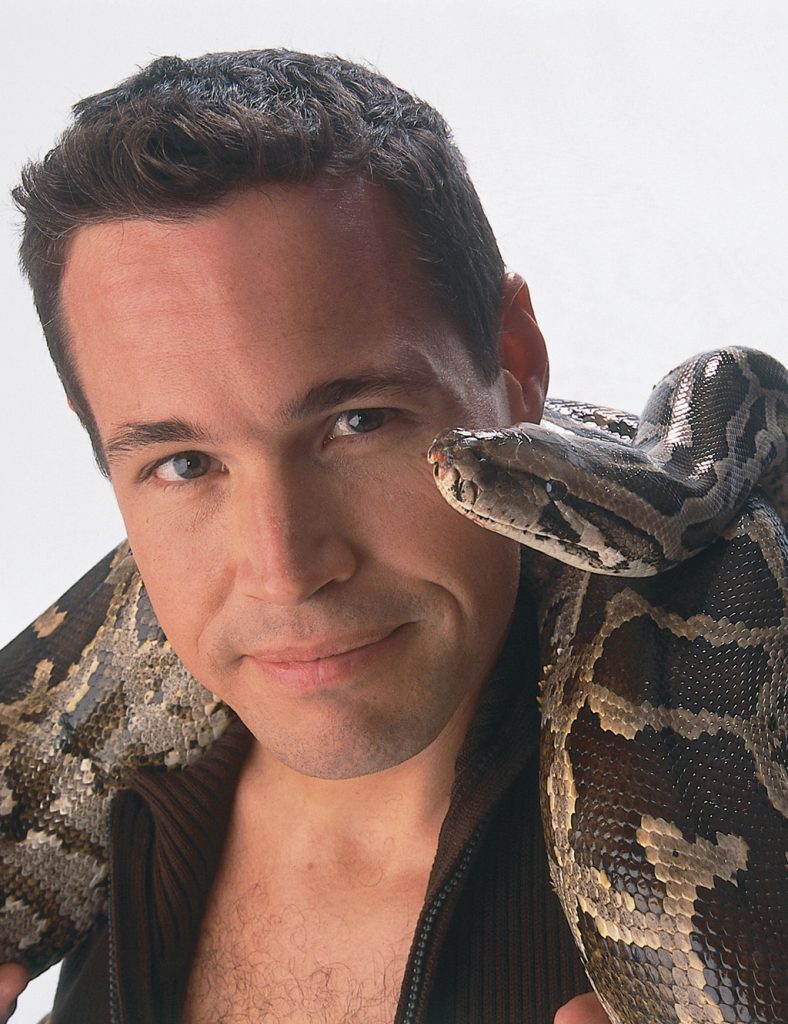 AW: Your impression on being here (at Loggerhead Marinelife Center) for the first time?
Incredibly impressed to just to see how proactive they are being on the front lines and how Loggerhead is really building success on building relationships with the community.
I travel around the world and just got back from Australia a few days ago. I was in the French Polynesia doing stuff on whales and was there filming the largest shark sanctuary in the world with over 4 million square kilometers of habitat for sharks. All of that success is based upon community effort.
Look at something like sharks. A creature that is normally vilified, they have recognized from a community level coveting that group of animals.
Here sea turtles aren't a hard sell, because everyone has an anthropomorphic connection to sea turtles, but I don't think that people realize how complex the issues are at saving our planet's sea turtle species. So, we only have that success with grass roots community efforts that have an international ripple effect.
Through international partners throughout the world they (Loggerhead) are able to create a story about how a sea turtle here will someday be a sea turtle over there off the coast of Africa or Norway. A leatherback can come from nesting grounds off the coast of Florida and be feeding in arctic waters. For the first time we are telling a story of what we do in our backyard effects your backyard, and Florida is on the front lines of that.
We live in such a dire world in terms of conservation, so it's so inspiring to see promising stories. Sea turtles have so many challenges, but for the first time we are seeing glimmers of hope. I just filmed the first turtles to nest in Italy in a hundred years, and people in Italy can't believe that they have sea turtles now nesting on the beaches. And, that is, the result of people in those communities engaging the community.
And, I think that is probably the best asset of Loggerhead.
AW: You've been all over the world, do you see any next big conservation effort to tackle in Florida?
Florida is the poster child for conservation challenges, because everyone feels that Florida will always be Florida, because of of a lot of multi-generational people here. It's the highest influx of people with 3,000 people moving to Florida every month. That is a lot. Because, everyone likes the real estate, and the landscape including, the wildlife. It's (Florida's) habitat. Pine herbs and mangrove forests, grasslands, and wetlands, and riparian habitat, and springs and you know Florida has the only subtropical reef system in all of North America, and we know how fragile that is. So, Florida is the ultimate kaleidoscope of the best of the best most prestigious and celebrated of our nation's wildlife.
But, it also is under the microscope of what we face as a nation in terms of challenges. It literally is converged in the perfect extinction storm with habitat loss, climate change, pollution, environmental degradation, and species management. All of those things come together including human population growth, habitat fragmentation, and what we are discovering and what Florida shows us is that these challenges do not work independently. They conspire with each other, so we can see for example how climate change, and environmental degradation, and urban sprawl, can impact something as ancient and as common as red tide.
Red tide is not new to the coast of Florida. There are accounts going back to the 15th century. What red tide does today, it is conspired by human activity which makes it more devastating than it would be in its natural state on populations of species that are already compromised: manatees, sea turtles, birds of prey, so Florida embodies all of those challenges.
All of the successes, all the marvels and wonders, and all of the emergency room scenarios that is conservation, is in Florida. That is why I have spent a lot of time working in Florida.
So, that's one part of answering your questions and of course sea turtles is a thread, a charismatic thread, through all of those things from red tide, to habitat loss, and Florida is also on the front lines of conservation. It is one of the first places in the world to manage light pollution for nesting turtles, educate people to become not only loving turtles to death but doing good behaviors to ensure the survival of the sea turtles and the nesting sites, so all of that is really good.
But what Florida has got in common with everyone else, which is one of the things that I think about 24 / 7 when I'm sitting in the car when I am going for a jog, I think about plastics, plastics, plastics.
In this room, we are surrounded by plastic prison and this is a center for conservation. Now, these are not single use plastics like this (a cup) is an eco product but even when you do conservation you find yourself as part of the problem. Every day, I find myself saying how do I eliminate this, how do I stop this, how do I change my behavior? What are the baby steps? And, what are the monumental steps we need to take to curb plastics, because this is happening right now, and it is devastating every level of aquatic life there is.
From micro beads that are now in our bodies, that pass through filtration systems, to mass plastics pooling as continental drift size petroleum waste, and we are culturally here (seeing it) as a dirty habit.
There are many places in the world where good people make bad decisions, because plastic isn't dirty, and to me that is the biggest challenge. There is no perfect place in the world. No matter how remote. No matter how deep.
I have been in Arobees. I have been trained to dive in the most technical deep breathing skills and have gone to the bottom of the earth in the ocean hundreds of feet under in search of new species of fish. We didn't find the fish, but we did find the plastics.
They are everywhere and I just don't, I struggle, to determine how we manage that 100 million tons we throw into our oceans every single year.
I wrote a book with a graphic artist called, "I'm not a plastic bag!" following the life of a plastic bag. One plastic bag killed 5 sea turtles. We don't realize that. It will take 5 moments of being crunched up, swallowed, crunched up swallowed, before it is no longer has the integrity to cut off blockages in the sea turtle. That is the biggest challenge.
Also I think the other big challenge we face is that historically we have been pioneers as a nation for conservation. For the first time in the history of our nation, not at the civic level and not at the private level, or at an institutional level, but at the national political level we are no longer the leader of the planet. We are in the back seat.
AW: When did that happen?
That happened with Donald Trump. That was the worst thing for the environment, ever.
AW: What kind of message do you say, like to children, or an individual in terms especially with plastic?
It all comes down to community. It all comes down to how we behave civically.
What makes Loggerhead so great is that this is a community effort making a real big impact on a species that is global. It is transoceanic.
The loggerhead that is saved here may be in Venezuela. The leather back could be in Costa Rica or around the world.
That model where we recover whales, we use that model here, but unlike whales which very few of us will experience anyone in Florida can experience sea turtles. Anyone can come and marvel at this ancient moment that is unfolded and rippled out on beaches on the North American coastline for millions of years, going back hundreds of millions of years. We are part of this ancient time tested ritual, and I think that is remarkable, and we are seeing a positive effect.
We are seeing increasing populations of loggerhead populations. Increases in green turtle populations. There are beaches in Costa Rica where now they are seeing what was just ten years ago, an 80 to 90 percent loss survival rate. Now up to 70% hatch rate.
How? Being community focused.
Teaching people who used to eat those eggs, finding ways to maybe have a few eggs and pay it forward. The bigger effect is that when you save something like a sea turtle you check all the boxes for a sea turtle: habitat, climate issues, environment, pollution, conservation, management, that sea turtle becomes a tent pole for everything else that is integrated into the system.
By protecting a beach for nesting sea turtles it doesn't just protect sea turtles it protects oyster catchers, pluggers, and every other creature that would rely on that environment for survival. There is degrees of separation that are hard to snip when you are using this animal as the keystone model for conservation. And, that's awesome. And, when you save sea turtles you are not only protecting your regional heritage, it is a global contribution and you are embodying that whole ecosystem because that creature cannot survive without all those things in play, so everything else will also benefit as well.
AW: Did you ever envision yourself making a global impact especially for someone who says, "I don't make a difference?"
I don't. I still don't. I live very simply. We live in a little house up in Massachusetts. I am out on the road a lot. I am out on the road eight months out of the year. I typically do 22 countries a year. It is moments like this where I get to appreciate the connection I have had over the years with people.
And, I don't think that way. I am more excited and more enthusiastic to see people who are making a difference in the natural world based on something I have done and something they have watched.
I think that is the biggest reward is when someone became a vet because of something they have watched.
We all love sea turtles, because they are so beautiful but not everyone likes snakes, and when I started out people hated snakes. I would like to think some of the things I have done have changed people culturally on how people look at that who don't have that charismatic appreciation for snakes. Sea turtles luckily don't have that problem.
The good news is that globally there is a huge attitude with sea turtles and while plastics are terrifying, because it is like stage 4 plastic cancer. That is where we are with plastic. When you have stage 4 you don't look forward to stage 5. And, we are at stage 3 to 4 in plastic cancer on our planet. It is just so pervasive.
But, on the other side, we can look at the benefits of positive stories of moderate increases in populations. And, the cultural change is phenomenal.
Just 10 years ago, I would walk to the market in Indonesia and I would see sea turtle meat, sea turtle eggs, sea turtle products, and (now) it's gone. It is not just gone, or been reduced dramatically because no one wants to get caught, but because it is culturally unacceptable to many people now. And, really culturally powerful and penetrable communities where "my grandfather did", "that's how I did it", and that has changed dramatically.
That to me is great. That is very important.
People in Thailand have so many challenges but are doing some incredible stuff in terms of sea turtle conservation.
It will be technology, so while I believe recovery for sea turtles is all about culture, it's sweat equity. It's science. It's getting on your knees counting hatchlings. It is cleaning up beaches.
Managing plastics has now come to a place where it will need major technological innovative breakthrough.
It is like cancer. With cancer where we are now, and I am thinking of a friend who is dealing with this, and she now has hope through immunotherapy, so we will have to think about that.
And, there are people who think how do we manage plastics like that?
We have a big catastrophic problem, so we need a need a big groundbreaking novel solution, and I think we are right around that corner, but it can't come soon enough.
AW: What is the overall message you want to get across in your speech tomorrow?
As a dad, I am terribly concerned about the future of our environment, because I have this species survival investment in the next generation who will replace me, and I talk about all the things that we do for our children, providing a good education, security, a stable environment, economic opportunity, and all those things are important, exercise, healthy bodies, but what is more important than having a healthy robust dynamic environment for them to thrive to feed the economy, to feed their bellies, to provide the air they breathe, to provide opportunities for recreation?
If you don't have that, then you don't have a future.
That for me is the most important investment I can make because that is just as important as a college fund for my kids.
And, in America we have a great history of being innovators when it comes to conservation, being pioneers, and while we have certain challenges at a national administrative level, what gives me hope is that there are thousands and thousands of people from every level from the volunteer, to the professional scientists at every manifestation where science could be.
You have a great population of people who do it not just because they can, but because they are passionate. It is their life focus. It is their mission. It is what drives them. It is what makes them the Rachel Carsons and the Archie Cars and all of these people who do great things like the many people from Florida who have done amazing things. They don't do it for that job security. They do it because that is their passion.
This sea turtle sanctuary was founded by a woman, that was her passion, back when I was 2 or 3 years old.
That's how that stuff happens. We need to remind ourselves of that. Something else that this center does that is very important is that introduction. If you think of the 50,000 school kids that will come through here. This may be their only access to nature.
My dad was a Boston police officer who lived in the city. My only access to nature as a kid was at a zoo. I now get to be on the board of directors of that zoo. That zoo allowed me to become the scientist, conservationist and personality that I am today.
I think you need to make that introduction.
We have learned that with science if you covet that information and you share it in a convoluted scientific way that is only understood by people at a certain level, only shared with technologically complex and confusing journals, that no one in mass populations is ever going to read, you have failed. But, if you can take that important scientific information, and distill it, and engage the mainstream consumer consumption audience, then you have succeeded.
The best way to do that is with children. To get them onboard early, to excite and entice their natural malleable scientific minds to set them on course, because what I've learned is that you cannot protect what you do not love. You will never love it if you never get to meet it and learn about it.
That is the other mission of advocacy awareness, and building that stewardship for children who will be owning these beachfront real estate properties and running these businesses, and the role where corporate America plays such an important role. We cannot rely on the traditional vessels of support anymore.
You can't turn to a government for your climate change initiatives when they don't believe in climate change. You can't rely on your department of education when they don't believe in science.
What do you think Betsy DeVos cares about and the science of climate change? You know what? She doesn't believe in climate change. Neither does Donald Trump. Look at how his children were raised and how they treat wildlife.
My point is we are at a moment where we are pulling the bootstraps up and snapping our suspenders and that may not be a bad thing, and I see corporate America playing a huge, huge role in that today.
We rely on our states.
Florida has a great investment in long term multi-generational approach to conservation. I have never heard two potential governors talk more about environment than they did in the last debate, because necessity is the mother of invention, and we find ourselves in a moment needing very necessary changes in the way we manage.
Florida embodies all of these wonderful things, and all these challenges on so many different levels, and it is very encouraging to come to a place like Loggerhead to see them really as pioneers and leaders in a very practical, fun engaging way.
When you go to an aquarium, like back home which I love, you are probably going to have to drop a $100 dollars to get your family in, and people can come here for free. That's great.
You can follow the treatment of a patient that you were a part of and that's, I think, those are the key components to 21st century conservation.
And, people need to stand up and be proactive, and I think, we are going to be at a very critical time in the next decade and a half where we are going to start seeing dramatic (changes) in species that we thought were stable.
There will be this argument, where were you when this was happening? Why did you let it happen?
It is as little as in the little town where I live in a very practical New England town where it is supposed to be a fishing community and we are eliminating single use plastics in the supermarkets, primarily plastic bags.
We just passed that, but people don't like to pass stuff like that.
I am an avid fisherman, and I fish about every day when I am home during the summer. Monofilament? How do we manage monofilament better? Every day when I go out I probably collect a 100 yards of monofilament and hooks and stuff.
How do we manage that?
There are practical solutions to that.
This facility having its hands in all of those cookie jars from the local town pier, to managing all of that stuff, it all adds up.
It makes a difference.