Sixth Annual Live Like Jake 5K Virtual Run/Walk A Huge Success
A record number of sponsors and participants gathered online due to COVID-19
Palm Beach Gardens, FL –  Although the race looked different this year, an amazing 750 virtual participants from around the nation and a huge number of generous sponsors came together on Saturday, August 29th in support of childhood drowning prevention. Originally set for May, the rescheduled annual event was a success thanks to technology and raised over $50,000 for the nonprofit.
Event organizers encouraged participants to tune in via social media for announcements before they took to their neighborhoods to walk the distance of the 5K. Though participants could not be together in person, they could still do their walk "together" to support the organization's efforts.
According to the Centers for Disease Control, drownings are the leading cause of injury death for young children ages 1 to 4, and three children die every day as a result of drowning.
Live Like Jake Foundation was created after a very personal tragedy. In 2013, Jake Morrison passed away a couple of months before his third birthday in a drowning accident. Turning heartbreak in to something good, his Palm Beach Gardens family created the Foundation and has been working nonstop to raise awareness and awarding scholarships to prevent childhood drowning ever since.
"Drowning knows no season and doesn't discriminate. We're thankful for the generous support of our sponsors and participants who help us by continuing to share the importance of water safety and establishing multiple layers of drowning protection. Working together, we can end this epidemic," says Keri Morrison, race director, founder and Jake's mom.
Live Like Jake provides ISR self-rescue swim lesson scholarships for those who cannot afford them as well as emotional and financial assistance for families who have lost a child or have a child with critical care needs. Since the Foundation was created, more than 2,200 ISR self-rescue swim lesson scholarships have been awarded.
Race results are as follows: overall male top finishers in each category: 13 and under, Vincent Weber with a time of 20:39 minutes; 14 – 39 years, Eric Wanner with a time of 22:18; and 40 – 69 years, Sean McGould with a time of 21:58 and 70 & Over, Ron Griswald with a time of 34:11 . Overall top female finishers were: 13 and under, Fiona Foster with a time of 23:27; 14 – 39 year olds, Danita Jones with 24:40; 40 – 69 year olds, Patricia Lewis with 22:59 and 70 & over, Karen Bense with a time of 1:18:00.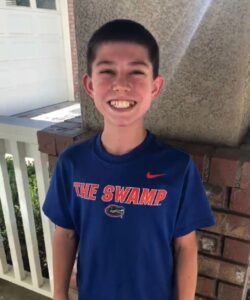 This year's Life-Saver Sponsor was Infant Swimming Resource. Platinum Sponsors were Domnick Cunningham and Whalen, and Euro-Wall. For a full list of generous sponsors, please visit livelikejake.com.
"We are hopeful we'll be able to host our 7th Annual Live Like Jake 5K on May 9th in Jupiter like we have always done in the past. So, please mark your 2021 calendars now," says Morrison.
For information about this or future events, scholarships, or the Foundation, please visitwww.livelikejake.com or call 561.441.7611. Donations may also be mailed directly to the foundation at 10311 Ironwood Road Palm Beach Gardens, FL 33420.
About The Live Like Jake Foundation
Committed to honoring the life and joy of Jake Roarke Morrison, our foundation's mission is to raise awareness for drowning prevention. We achieve this by providing ISR self-rescue swim lesson scholarships to those who cannot afford them and also by providing financial assistance to those families who have lost a child or have a child with critical care needs. Visitlivelikejake.com and facebook.com/livelikejake and @livelikejake3939 on Instagram. Watch for the new indoor swimming facility coming this fall!