Loggerhead Marinelife Center launches Blue Table program, working with local businesses to reduce single-use plastics and promote sustainable seafood.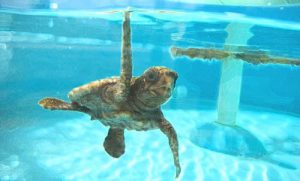 Juno Beach, Florida: Loggerhead Marinelife Center (LMC) announces the launch of its Blue Table program, a collaborative effort with local restaurants and businesses to help protect the marine environment. Blue Table partners are working to reduce single-use plastics and promote sustainable seafood choices in their establishments.
During the initial phase, the Blue Table program will encourage participation of restaurants, hotels, bars, resorts, and businesses adjacent to the 9.5-mile stretch of sea turtle nesting beach monitored by LMC research biologists; this stretch of beach is one of the most densely-populated sea turtle nesting grounds on our planet.
"Florida's environment is our economy; the Blue Table program recognizes local businesses who are going above and beyond to promote ocean conservation in their establishments. We thank our founding partners for taking a leadership position to help us protect one of our community's most precious resources, our beaches, our oceans, and our sea turtles," said Katie O'Hara, LMC's Conservation Coordinator. "By joining the program, these businesses are setting an example for their patrons on how to eliminate single-use plastics, which pose some of the biggest threats to sea turtles, marine life, and our economy."
Six founding businesses are already onboard, including Tommy Bahama Restaurant and Bar located at Harbourside in Jupiter, FL. "At Tommy Bahama, we believe that our collective effort to preserve our oceans, lakes, rivers and streams is a powerful force in preservation. We are convinced that simple, small steps today will have monumental impacts for generations to come. We're very proud to be part of the Blue Table program," commented Rob Goldberg, Executive Vice President, Restaurants, Bars & Food Concepts at Tommy Bahama.
Blue Table Founding Businesses include:
1000 North
Carve Surf & Coffee
Hog Snappers
Papa Kwan's Coffee Shop
The Cooper Restaurant
Tommy Bahama Restaurant & Bar
As noted by the National Oceanic and Atmospheric Administration (NOAA) in 2019, "While photodegradable plastics (plastics capable of being broken down by light) may break down from its first state (or created state), these plastics never completely degrade, but actually divide into tiny pieces called microplastics." Plastic and photodegraded plastics (microplastics) pose threats to sea turtles and other marine life. Single-use items, such as plastic bags, cups, straws, and pieces of polystyrene (aka Styrofoam) to-go boxes, are some of the most common items found during LMC's monthly beach cleanups.
Blue Table businesses will work to eliminate single-use plastics and promote sustainable seafood choices. Through a partnership with Monterey Bay Aquarium Seafood Watch, LMC provides Blue Table program partners with recommendations for sustainable seafood options.
To-date, the 2019 LMC conservation Sort Report identifies seven of the top ten most commonly found items were single-use items from the foodservice industry. These items were identified as: foam plastic pieces, plastic bottle caps, plastic wrappers, plastic straws, plastic bottles, plastic bags, and aluminum cans. LMC's Blue Table program focuses on reducing single-use plastics from local restaurants and businesses.
In 2019, Loggerhead Marinelife Center has removed the following single-use plastic items from our local beaches:
42,740 plastic hard pieces
17,569 plastic foam pieces
5,029 plastic bottle caps
3,873 plastic wrappers
1,269 plastic straws
961 plastic bottle cap rings
864 plastic bags
807 plastic utensils
726 plastic bottles
292 plastic cups
Once a business becomes a Blue Table program partner, the partner is showcased on LMC's robust traditional and digital platforms, which in 2018 generated over one billion impressions. In addition, these partners are  displayed on the Center's area maps for LMC's 360,000+ visitors to see and learn more about.
LMC welcomes additional businesses to sign up for the Blue Table program, continuing to make a difference in sustainability and conservation. Restaurants interested in becoming a Blue Table program partner should contact Katie O'Hara at kohara@marinelife.org.