Loggerhead Marinelife Center receives mobile debris sorting station, and Project SHIELD funds, at the Bank of America ribbon-cutting ceremony
JUNO BEACH, Fla. – Loggerhead Marinelife Center (LMC) received a holiday gift that will cultivate conservancy in South Florida and further demonstrate Bank of America's commitment to environmental sustainability. On Thursday, Dec. 12, LMC joined the bank at the Merrill Palm Beach Office for a ribbon-cutting ceremony to celebrate the mobile marine debris sorting station's completion. The station will assist the efforts of Project Shield – a multi-faceted program that provides conservation solutions to man-made threats faced by sea turtles.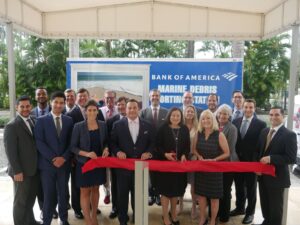 Last year, Bank of America granted LMC funds to develop the mobile vehicle as part of the bank's annual 12 Days of Giving initiative. In 2020, the bank is investing an additional $25,000 to spearhead Project Shield strategies as well. It is committed to helping local communities like Palm Beach thrive by forming strong partnerships with nonprofits that address the greatest issues residents face.
"We are grateful to our community partners who are helping us revolutionize the way we orchestrate beach cleanups, education, and overall conservation," said LMC Board chairman Lynne Wells. "In 2019 alone, the Center removed more than 392,422 pieces of debris during beach and underwater cleanups. With this gift, we will be able to develop a greater understanding of the waste that's harming marine life, ecosystems, and our everyday health."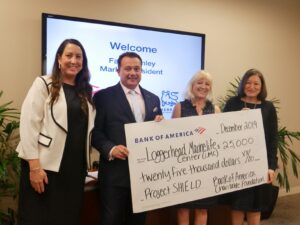 The presented check will go to one of the cornerstones of LMC's conservation efforts – Project Shield. Project Shield is a program that provides conservation solutions to fishing piers, recreational boaters, beach-side hotels, snorkel, and SCUBA operators. The program also bands with fishing charter operators, beach access points, and pollution prevention partners.
"We are thrilled to continue our partnership with the Loggerhead Marinelife Center in 2020," said Fabiola Brumley, Palm Beach County Market President, Bank of America. "By supporting initiatives like Project Shield, we are helping make a difference in the communities we serve and demonstrating strategies that can be scaled to have a significant impact across the globe."
Kick-off the new year with conservation in mind! Join LMC in its next Juno Beach clean up on Saturday, February 15 from 8:30 a.m. to 10 a.m. Respond to Lynne Wells at  bluefriends@marinelife.org if you plan on helping.
About Loggerhead Marinelife Center
Loggerhead Marinelife Center (LMC) is a nonprofit sea turtle research, rehabilitation and educational institution that promotes conservation of ocean ecosystems with a focus on threatened and endangered sea turtles. The Center features an on-site hospital, research laboratory, educational exhibits and aquariums, and also operates the Juno Beach Pier, which hosts world-class angling and sightseeing. Situated on one of the world's most important sea turtle nesting beaches, Loggerhead Marinelife Center is open daily and hosts over 350,000 guests free-of-charge each year. The Center's conservation team works with 90 local and international organizations across six continents to form partnerships and share conservation initiatives and best practices that are core to its mission of ocean conservation. The Center is expanding and has launched its Waves of Progress capital expansion campaign, designed to accelerate and amplify LMC's conservation and education impact. When complete, the facility will offer one of the world's most advanced and unique experiences for guests and scientific partners. For more information, visit www.marinelife.org or call (561) 627-8280.
About Bank of America
At Bank of America, we're guided by a common purpose to help make financial lives better, through the power of every connection. We're delivering on this through responsible growth with a focus on our environmental, social and governance (ESG) leadership. ESG is embedded across our eight lines of business and reflects how we help fuel the global economy, build trust and credibility, and represent a company that people want to work for, invest in and do business with. It's demonstrated in the inclusive and supportive workplace we create for our employees, the responsible products and services we offer our clients, and the impact we make around the world in helping local economies thrive. An important part of this work is forming strong partnerships with nonprofits and advocacy groups, such as community, consumer and environmental organizations, to bring together our collective networks and expertise to achieve greater impact. Learn more at about.bankofamerica.com, and connect with us on Twitter at @BofA_News.