MAMA LUCY'S ALL-PRO RIBS: A SUNSHINE STATE STANDOUT
By Mike May
There's a BBQ restaurant in Miami, Florida that is taking 'finger lickin good' to a new level. And, it's not the latest KFC franchise to open in Miami-Dade County. It's Mama Lucy's All-Pro Ribs. Located at 2201 NW 119th Street in Miami, Mama Lucy's is owned and operated by Jack and Sheila Holmes. Their restaurant has been serving food to hungry customers since 2000.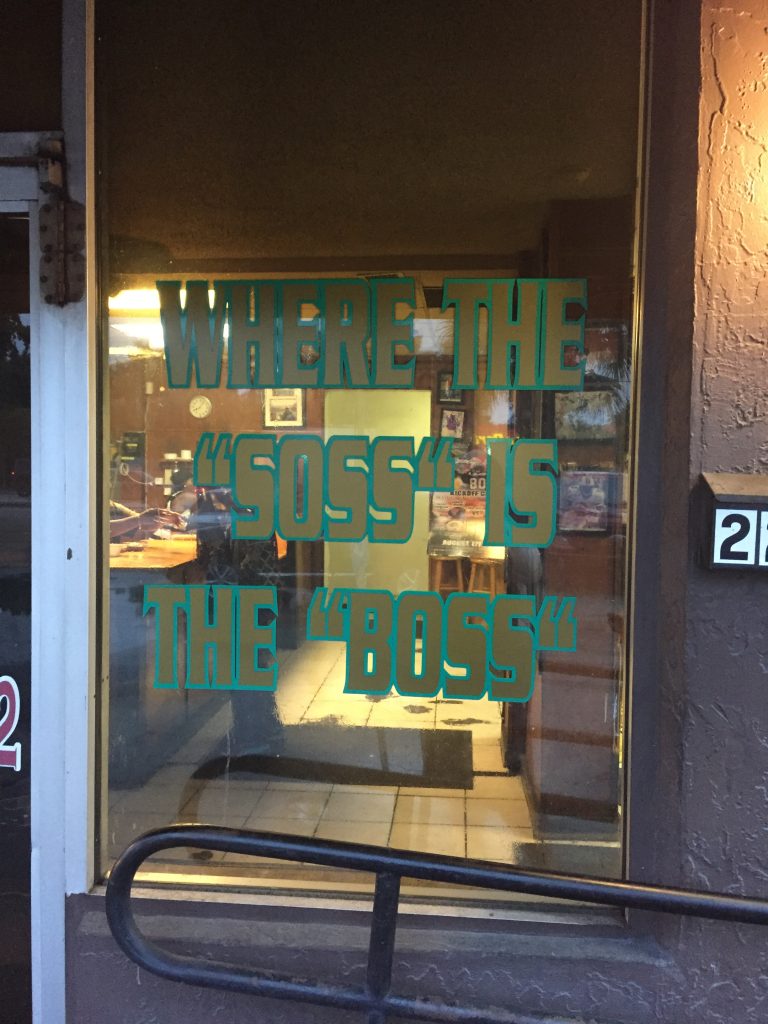 At Mama Lucy's All-Pro Ribs (305-687-8782), you should read the sign on the front door that says Where The "Soss" Is The "Boss." You would expect nothing less from a BBQ joint! The quality of the food at Mama Lucy's All-Pro Ribs is so good that you are wasting your time if you don't show up with a big appetite. Open every week from Wednesday through Sunday, the portions are generous and are guaranteed to end any and all hunger pains. While Mama Lucy's is a restaurant, all of the food is served 'to go.'
While Mama Lucy's is known for its barbecued ribs, the quality and diversity of the other items on its menu, especially the side dishes and desserts, are second-to-none.
"People love our food, especially our ribs," said Jack Holmes. "You should have seen the number of people lined up for our food on the 4th of July."
If you don't eat meat, you will still enjoy what Mama Lucy's has to offer. The list of side dishes is huge and includes baked beans, candied yams, collard greens, macaroni & cheese, pigeon peas & rice, yellow rice, potato salad, black eyed peas, lima beans, okra & tomato, corn, string beans, French fries, and souse. Yes, if you are a vegetarian, you can order a vegetable plate. But, it's important to note that the vegetable side dishes really deserve a better moniker: Soul Food, Southern Comfort Food, or Super Duper Fixins' might be a better way to describe those side dishes, which taste just like Mama Lucy used to prepare, according to Jack Holmes.
But, who is Mama Lucy? Jack revealed that she was his late grandmother, who lived long enough to see her name attached to the name of the restaurant.
"She was a great cook," remembered Jack. "And, the barbecue sauce that we use is her recipe. That's why the "Soss" Is the "Boss," always has been and always will be."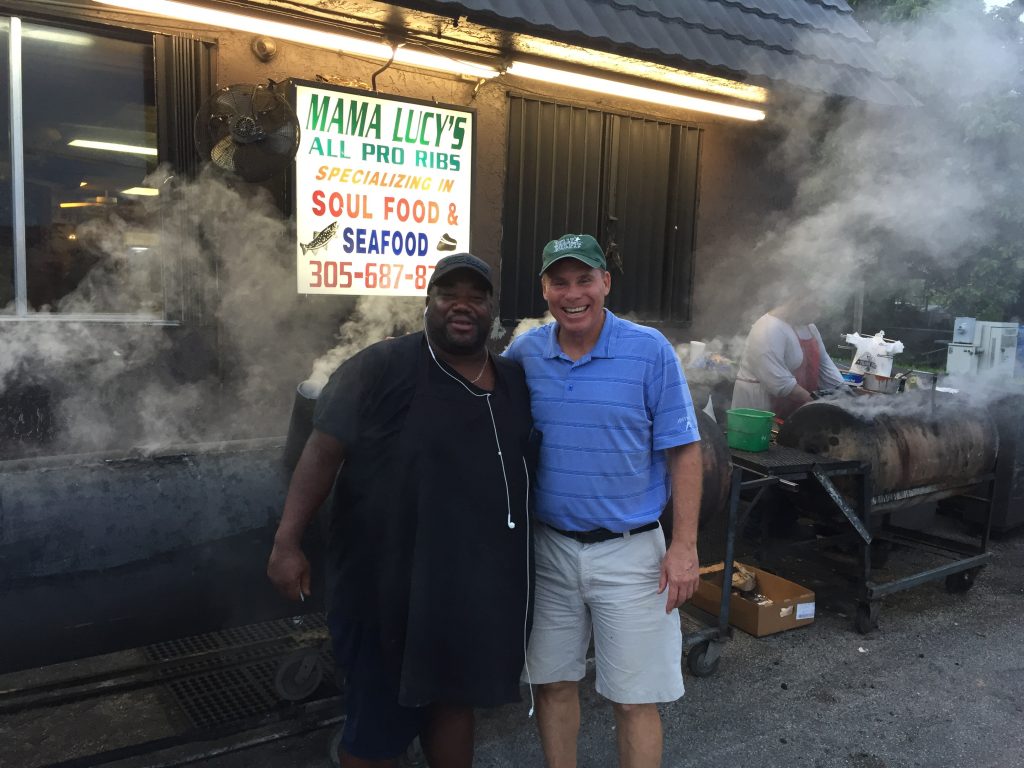 The deep fried seafood — conch, shrimp, catfish, grouper, tilapia, and red snapper — at Mama Lucy's is also highly acclaimed.
The quality of the desserts and their portion size will dictate that you will have to return in order to sample every dessert, which includes sweet potato pie, peach cobbler, red velvet cake, bread pudding, banana pudding, and sweet potato pound cake.
While Mama Lucy's is known for its ribs, its other main courses have earned my 'blue-ribbon seal of approval.' They include delicious pork chops, mouthwatering chicken wings, homemade meatloaf, terrific turkey wings, and out-of-this-world barbecue chicken. As for the ribs, they are cooked outside in one of three large covered barbecue pits which are used to barbecue the ribs and chicken. Each morning around 10:30, Jack Holmes fires up the grills with wood and charcoal. Ribs are ready to eat by lunchtime. And the grills keep cooking meat until well after dark, sometimes as late as 1:30 in the morning on a Friday night.
It's fair to say the locals in Miami must feel that it's always great to eat late, especially on the weekends at Mama Lucy's.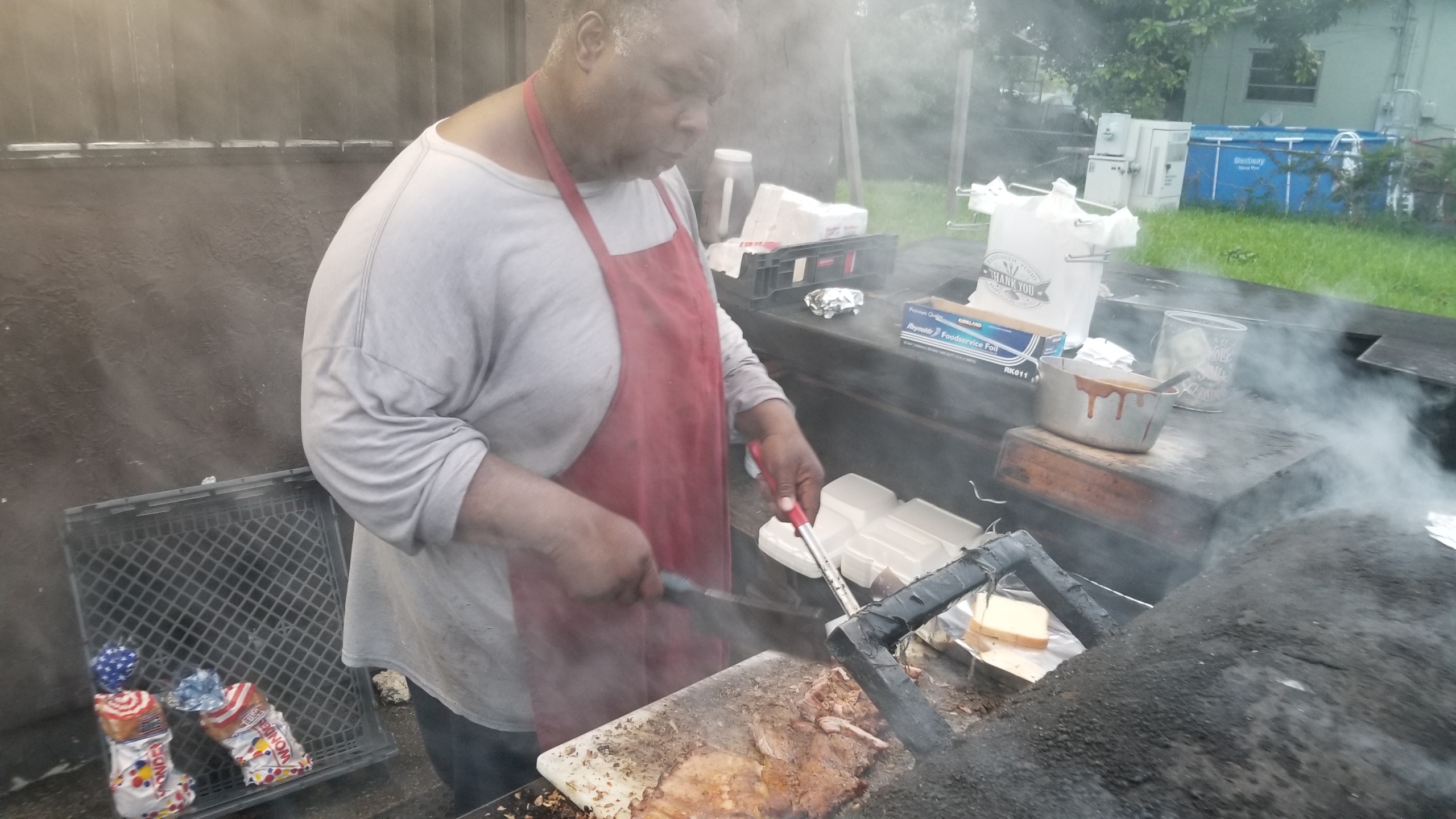 "Every item on the menu is so good that you don't know where to start," said Joel Dunn of nearby Hollywood, Florida. "Starting with dessert and finishing up with the ribs is a novel idea. The ribs are delicious. They are better than advertised."
Some of the more well-known clientele at Mama Lucy's have been so well treated and fed that they have left their shirt behind as a thank you. Those shirts are actual jerseys worn by many pro athletes who have been customers at Mama Lucy's and whose autographed jerseys are hanging on the wall in a frame. That list includes former Miami Heat superstar Lebron James and a number of former University of Miami Hurricanes football players who also found a home playing in the National Football League such as former New England Patriots All-Pro nose tackle Vince Wolfolk, former Buffalo Bills running back Willis McGahee, former Houston Texans wide receiver Andre Johnson, and former Miami Dolphins offensive lineman Vernon Carey.
The number of star athletes who have sampled and enjoyed the cuisine at Mama Lucy's All-Pro Ribs is not limited to those athletes whose jerseys are currently hanging on the wall.
"I have another 30 jerseys which still need to be put in frames," added Jack Holmes.
So, if you want a true 'finger lickin good' dining experience, go see Jack and Sheila at Mama Lucy's All-Pro Ribs. And, if you want to leave one of your autographed jerseys behind as a thank you, that's OK, too.
# # #
The author of this story is Mike May, a freelance writer based in Wellington, Florida. Mike is an experienced sports writer, golf/travel writer, and restaurant critic. He can be reached on email at mmaymarketing@gmail.com. Many of his stories can be seen on his website – mikemaymarketing.com