Letter from the Editor
March, 2010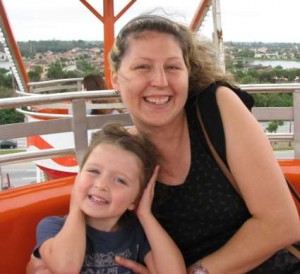 Dear Around Wellington Readers,
Happy March and Happy St. Patrick's Day!
We've had a theme of "Making a Difference" for the month of March for the past three years of the print magazine Around Wellington®, so it seems fitting to keep it going with . In our AW Stories of the Month (also under "Mommy Moments"), we feature four local moms who find a way to balance their work, volunteer work and responsibilities as mothers. You'll meet Andrea McKenney, Amy Roberts, Lois Spatz and Lisa Dawn Wax and see how they're making a difference in our community. I was inspired by each one of them, as they show us how they make it work, sometimes struggling and sometimes making it look easy.
Also in our AW Stories of the Month, writer Marla E. Schwartz introduces us to Isabella ." Yes, the beautiful Rossellini dares to venture into the mating habits of bugs, marine animals and other animals, while sharing her passion for environmental conservation at the same time. Also see one of the videos to get a glimpse of Rossellini in one of her anatomically correct costumes.
Marla Schwartz also gives us an exclusive interview with the husband and wife team of Michael Tucker and Jill Eikenberry (of L.A. Law fame). They talk about their new book "FAMILY MEALS: Coming Together to Care for an Aging Parent." Tucker was the author and Eikenberry was the editor.
Get ready ahead of time for Earth Day with "Living Green!" Christine Powell Smith brings us "Five Ways to Celebrate Earth Day."
Don't miss our story, which focuses on "That's Dancing" this month! At "That's Dancing," a Lake Worth dance studio founded by two, hard-working sisters, they teach ages 3 though adult in Ballet, Pointe, Modern, Lyrical / Contemporary, Tap, Jazz, and Hip Hop. It's a great place to learn, whether you're just starting or very advanced in your practice of dance. Also see the and photos that we've posted of their rehearsals for a glimpse of what goes on inside the studio.
Our terrific continue! Thanks again to Sanda Gané European Day Spa in Wellington for providing our most recent prize, a facial and microdermabrasian! Don't forget to enter to win our beginning-of-the-month contest, a relaxing one-hour massage at Massage Envy. So please enter between March 1st – 10th. The winner will be announced on our website on March 11th. And here's another great contest coming in the middle of the month! You could win an Oral-B Triumph Professional Care 9100 toothbrush, valued at $130! THANKS to Dr. Haik, the Kids Teeth Doctor, for providing this prize. Details to follow. Don't forget to check out our ! THANKS to our advertisers for making these contests possible! And welcome to our new advertiser this month, (located in the Mall at Wellington Green)! By the way it's our sexiest ad so far…check it out! (www.aroundwellington.com).
On the lighter side this month, you will love Alan Williamson's "," an investigative look into his own, ridiculously-large collection of drinking glasses. You will also laugh out loud (as I did) at Wendell Abern's "Laments of a Senior Stud Wannabe." OK, so Internet dating is not for everyone, especially those with critical kids.
Our "" column this month focuses on the Palm Beach Poetry Festival, including an interview with Miles Coon, the founder of the festival. Also see photos from the festival under our "Photo Galleries." One of the festival's participants David Plumb provides a wonderful poem this month (see ""). Plumb is the author of a recent book, "Poetry on Strings."
Feeling a little down and gray from the unusually cold winter we've had? Get inspired with "Lighten Up with Lisa." This month she writes "With the Sun Comes a Time for Congratulations, not Condolences." It's a motivational piece about the beauty of spring and a non-denominational treatment of the symbols in Easter and Passover. Thanks for the spring cheer, Lisa!
If you'd like a little more pet knowledge, read Frances Goodman's helpful "" this month. She answers a reader's question about some questionable black spots on the dog's tongue.
As usual, there's something for everyone! This is just a taste of what our March issue brings. Here's our March table of contents. Feel free to explore.
THANKS so much to our readers and our advertisers! We appreciate you!!
Also, we wish you a Happy St. Patrick's Day! You'll find a nice recipe for in our AW Stories of the Month, in case it comes in handy.
Cheers,
Krista Martinelli
Editor