AW Stories of the Month
The Theater World's Michael Hall
Bringing Depth and Artistry to the Stage
By Marla E. Schwartz
Michael Hall, founding Artistic Director of the Caldwell Theatre Company, deserves your adoration. He'll be uncomfortable with it, but he deserves it. It was only back in May 2009 when he officially announced his retirement and revealed that his replacement was to be Clive Cholerton, the former chairman of the company's board. It was Michael who had the courage to stay with the idea of bringing regional theater to Palm Beach County back in 1975 to an area that was practically bereft of such cultural benefits. This is why he deserves your adoration, for following the altered to stand alone phrase 'if you build it – they will come' and for returning so soon after his retirement to direct once again as the company celebrates its 36th Season with a stellar production of Geoffrey Nauffts' Pulitzer Nominated and Tony Nominated hit Next Fall.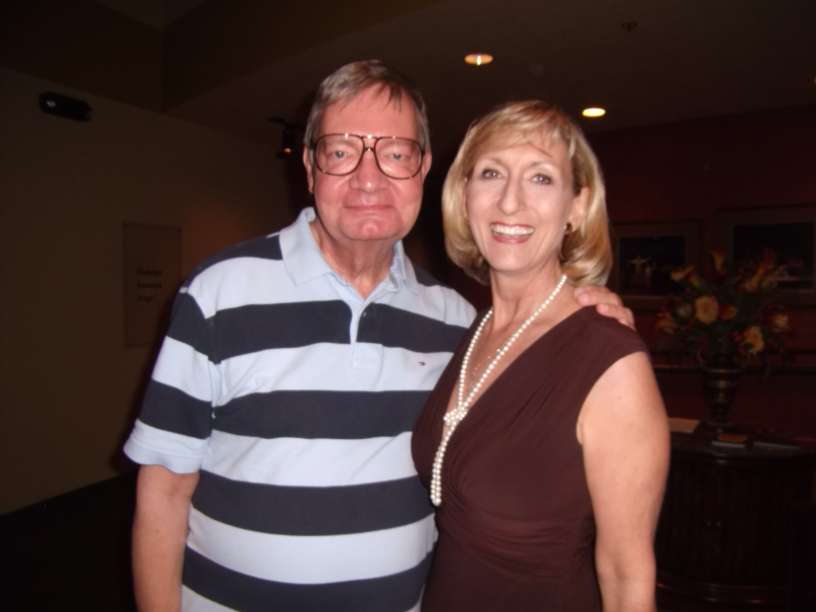 Michael continues in the tradition he created for this company by building a reputation on being the first theater in the region to transfer immensely successful New York shows to Boca Raton. In this instance, Michael, along with Clive, began the process of producing rights while the play was still being produced on Broadway. Nauffts, an exceptional playwright who is the Artistic Director of Naked Angels in NY has skillfully created a scenario in this play about a modern couple comprised of Luke, who is semi-closeted and deeply religious, and Adam who is out, proud of it and a resolute athiest when tragedy strikes. The story is about family, love, commitment, acceptance, loss, faith – the very struggle and purpose of our existence. It's no wonder that the highly creative, gifted and gentle Michael Hall was drawn into the world of this play because – like most of us – these are issues he has grappled with during his lifetime.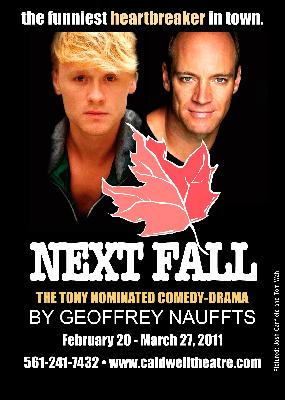 Michael has selected a splendid group of actors to portray the six characters in this poignant piece. In order of appearance, you'll have an opportunity to see performances by Irene Adjan (Holly), Christopher A. Kent (Brandon), Pat Nesbitt (Arlene), Dennis Bateman (Butch), Tom Wahl (Adam) and Josh Canfield (Adam). The play opened on February 20th and runs until March 27th, with performances on select Tuesdays at 8 PM, Wednesday-Saturday at 8 PM and Wednesday, Saturday and Sunday at 2 PM. If you're interested in staying after the show for a complimentary talk back between the audience with the actors, as well as Michael and Clive, they will be held on Thursday, March 3rd at 8:00 p.m.; Wednesday, March 9th at 2:00 p.m.; Thursday, March 17th at 8:00 p.m. and Sunday, March 20th at 2:00 p.m. Please call the box office, 561-241-7432, to purchase your tickets which range anywhere from $27 to $75 depending on performance/seat location. Students can purchase tickets for $10 with a college ID. You can also go to caldwelltheatre.com to find out more information on the company and future scheduled events and productions.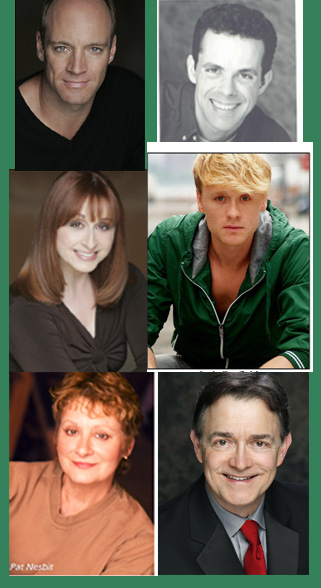 It was literally the eve of rehearsal time for the play when Michael sat down and very candidly discussed this project and other personal ventures.
How did you choose to direct NEXT FALL?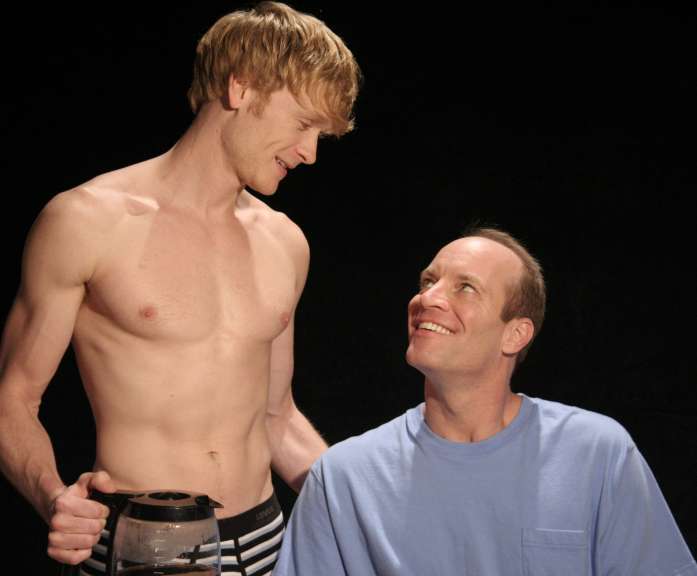 I was in New York with a few friends, including Pat; we went to see a show written by her friend. It was in a tiny little off-Broadway theater. We obviously loved it. When it was over I asked Pat if she could contact the playwright and see if he'd give rights to the Caldwell. She did and discovered that the play was possibly going to Broadway so it wouldn't be available. It did go to Broadway and we persisted with the play leasing company and once it had established its run on Broadway, we were told we could do it. It actually made it to Broadway because Sir Elton John and his partner David Furnish put money into it and what a wonderful thing for them to do because a little drama doesn't have a chance on Broadway anymore.
Is this a gay play?

No. What we have here is a play about religion or the lack of. We have a play about two people who love each other, but they're fifteen years apart in age which is another interesting subject. We have a play about a divorced couple who still care for each other. And then there's Holly, the friend, who glues it all together because she doesn't know what she believes.
What about your personal beliefs?
I have an interesting background. I was Presbyterian as a kid, went to Sunday School, and when I was in high school I was chosen by the Presbyterian Church in Pennsylvania to go to an international convention in Iowa. I was one of three in our district who are chosen to attend and when we arrive there were thousands of kids from all over the world. And I spot across the campus – a movie theater. It said "World Premiere: Jean Seberg in Saint Joan."  I went AWOL. I thought I've got to go see this and nobody ever knew I did.
Do you want people to know now?
(He laughs) I don't care now. What my background in religion did for me was to create a love for the theater. I was able to create the Christmas Pageant or write the Christmas play for the church. I was always the kid who wanted to direct, put tinsel on the kids and turn them into Angels. I was fortunate enough to grow up with a wonderful Minister. He had been a POW in WWII, captured by the Japanese because he was a missionary. I was fortunate to have been guided by a true believer. I haven't been to church in years, so I guess I'm somewhere floating around with my beliefs and that's why the play intrigues me so much.
Did you have a favorite movie when you were growing up?
The one that totally changed me was East of Eden. I'm a James Dean kid and the biggest thrill of my life was honoring Julie Harris. I told her that she and James Dean totally changed my life because of the work they on this film – it really influenced my life.
And what was the name of the honor you gave Julie Harris?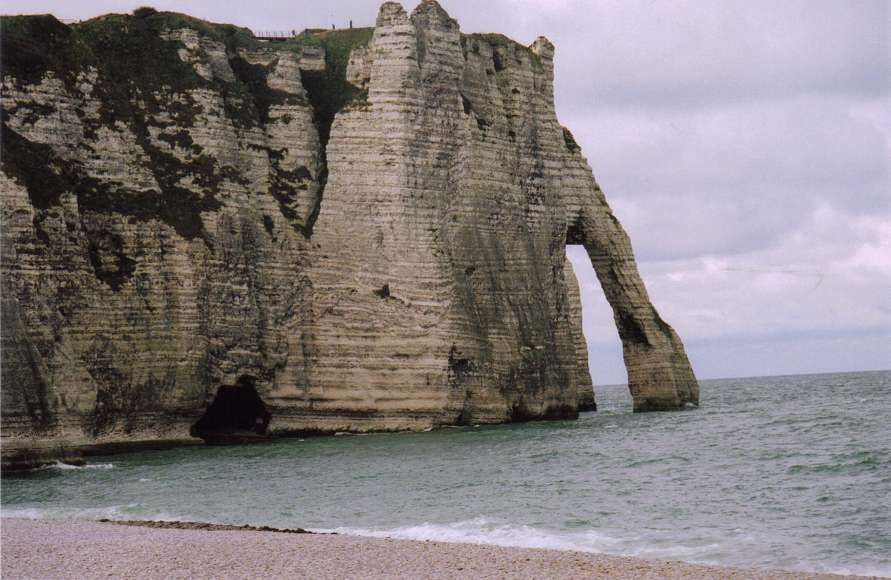 It was the Spotlight Award. And she agreed because we had honored Charles Nelson Reilly, they were very great friends, and so he offered to come see her if she would receive the award. She did. She was so gracious and she's certainly not a diva. Many years ago a man called the box office claiming to be Charles. We spoke for a bit and at first I thought it was a friend putting me on. He told me that he saw my show The Middle Ages and, along with a producer from the TV show Match Game, wanted to produce it in California. He flew all of us, the designers, the actors, the stage manager, me – out to the west coast. Then he went on Johnny Carson and he told us to go to Joe Allen's where we watched Charles talk about us on national television. It was really incredible. My family certainly went "wow, the kid did alright."
How did you choose the music that's in the play?
An actor who has worked for me in the past, John FitzGibbon, composed it. His CD is called REFLECTIONS and it's a perfect fit for the fifteen transitional scenes in the play. I thought it would be nice to sell the CD in the lobby because the music is beautiful and wonderful to have on in the background during a dinner party.
Michael has a lifetime of interesting professional and personal experiences and he's writing a book (or two) about these fascinating intertwining stories. And more recently, he has taken to traveling and indulging his passions in art, architecture and photography.
"I went to see THE KING'S SPEECH and it was breathtaking and when it was over a friends on mine wanted to see it again – now that's a good movie," Michael said. And after you see Michael's production of NEXT FALL, you'll no doubt feel the same way. Now that's a good play!  Please call the box office at 561-241-7432 for tickets.
***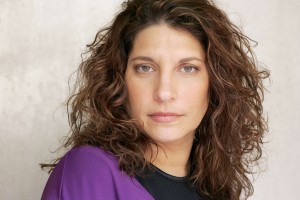 A native of Toledo, OH and a graduate of Kent State University, Marla E. Schwartz is a Senior Writer for Miami Living Magazine and is currently a cultural arts columnist for AroundWellington.com and Lighthouse Point Magazine. Her photographs have appeared in these publications, numerous Ohio newspapers, as well as in The Miami Herald, The Ft. Lauderdale Sun-Sentinel and The Palm Beach Post. She has had numerous plays published and produced around the country. Her short play, America's Working? was produced in Los Angeles at both the First Stage and the Lone Star Ensemble theater companies, in Florida at Lynn University and then at an off-Broadway playhouse in NYC. Her piece, The Lunch Time Café, was a finalist for the Heideman Award, Actors Theatre of Louisville. Please check out the re-prints of her interviews with authors Dave Barry & Ridley Pearson and Dexter novelist Jeff Lindsay in the October 2010 issue of Duff Brenna's ServingHouse: A Journal of Literary Arts at www.servinghousejournal.com. You can contact her at marlaschwartz@att.net.