Cultural Corner
Chef Tom Azar, Working Wonders at City Hall
By Marla E. Schwartz
City Hall – the Restaurant is the newest down-home, succulent dining establishment to enter Miami's foodie scene. And just as the role of a governmental city hall is to organize a town, owner Steve Haas and Executive Chef Tom Azar have judiciously created their own distinctive province where your taste-buds will be satisfied with everything from turkey burgers, fresh seafood, steak and ribs to meat loaf and fried chicken.
Haas actually has governmental experience as the first board chairman of the Greater Miami Convention & Visitors Bureau where he created the highly successful Miami Spice. He was also a co-owner and operating partner for Soyka Restaurant/News Café Corp, General Manager for China Grill, Tuscan Steak, Red Square and Social Miami the featured restaurant at the Sagamore Hotel. He's a native Miamian who attended Miami Beach Senior High, Miami-Dade College and graduated Florida International University. The Miami Beach Chamber of Commerce has named him to the Travel and Tourism Hall of Fame and honored him with a Lifetime Achievement Award.
Azar, a Chicago native, is the man who received a job offer from Master Chef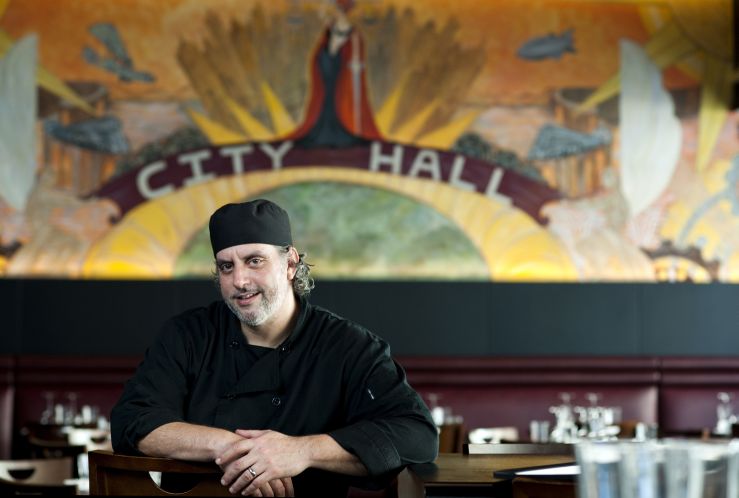 Emeril Lagasse right after he graduated from culinary school. Together, they worked in the kitchen of NOLA in New Orleans' French Quarter. He eventually moved to Orlando where Lagasse appointed him as a Sous Chef then Executive Sous Chef at Emeril's Orlando at Universal Studios City Walk. And luckily for us, he was brought to Miami to oversee Emeril's Miami Beach. He now gratifies patrons at City Hall. He took a few moments to answer some questions for us.
AW: You and City Hall have been creating a huge buzz. How were approached to become its Executive Chef?
TA: Steve and I met through a mutual acquaintance. We met in person and I agreed to do a food tasting for Steve at my home. For the tasting, Steve asked that I make a Timpano, which I had heard of but never actually made. To Steve's surprise, my first time making a Timpano was a success and the next day he offered me the position of Executive Chef of City Hall.
AW: It's my understanding that the Timpano is becoming your signature dish.
TA: I guess you can say this dish is a signature due to the uniqueness of it and how people relate it to our restaurant. It's a big baked pasta dish with Italian sausage, meatballs, three different types of pasta, three different types of cheese and marinara sauce, all baked in a pasta shell.
AW: Can you tell me about the House Blend Meatloaf? I've heard it's a menu favorite, is this particular a dish one that you created specifically for City Hall, or is it something you brought along with you, maybe even tweaked, along the way.
TA: This is a dish that was designed for City Hall we made a couple of dishes and then found the perfect recipe through trial and error. I must say we ate a lot of meatloaf throughout the process. One of the major components that makes ours special is the combination of beef, pork and veal and also the chorizo macaroni and cheese.
AW: Tell me about your participation in the 2012 Food Network South Beach Wine & Food Festival.
TA: City Hall – the Restaurant will be participating in Thrillist's BBQ & The Blues.
AW: Emeril will be attending this year. Do you have any plans to reconnect?
TA: It sure would be nice to spend some time with Emeril during the South Beach Wine & Food Festival. Emeril is a very busy man and hopefully I'll run into him and we will be able to reconnect.
AW: What is the most essential component of the food industry that you learned from Emeril?
TA: Chef Emeril is a very detail-oriented individual. If there was one thing I took from him in the sixteen years I spent with him in the kitchen, it's the importance of details and tasting and the seasoning the food, among a whole lot of other lessons.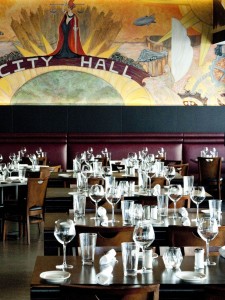 AW

: I know you're busy, but when you go out to eat at a restaurant, what is the most important thing or a few very important things that you look for when dining out?
TA: I would have to say I look for how the staff interacts with the table and other tables and of course, the quality and presentation of the food.
AW: If you're allowed to tell – what is your favorite dish, whether or not it's available at City Hall?
TA: My all-time favorite dish I would have to say is a big pile of boiled crawfish with corn on the cob, new potatoes, and Andouille sausage with a pitcher of Abita Amber. I'm also Lebanese so I enjoy authentic Lebanese food as well. My favorite dish at City Hall is both the House Blend Meatloaf and the fried chicken.
AW: Do you have any advice for young people just starting out in the business?
TA: Don't be in such a hurry to become a chef. Take the time to really learn the craft. Eat out a lot, and read a lot of magazines and cookbooks.
AW: What do you like the most about living and working in Miami?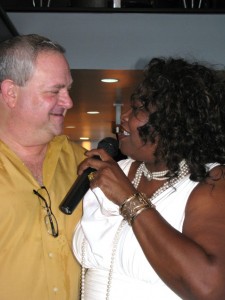 TA: Miami is so culturally diverse, especially with food, that I love being able to go out and eat pretty much whatever I have a taste for, oh and being so close to the ocean doesn't hurt either.
AW: Please feel free to add anything at all.
TA: City Hall is a great restaurant to visit before or after performances and concerts in the area. Also, during Art Walk, we are a perfect dining option, since we are located just blocks away from the hustle and bustle of that monthly event.
If you want a chance to met this culinary phenom in person he'll be at the Eden Roc Renaissance, Miami Beach, February 25th, from 7 – 10 PM go to sobefest.com or call 877.762.3933. The festival runs from February 23-26, 2012. And for information and reservations for the restaurant you can call 305.764-3130 or go to cityhalltherestaurant.com.
Here is more detailed information about the festival:
Food Network South Beach Wine & Food Festival presented by FOOD & WINE Unveils New Schedule of Events for its 11th Year!
Miami Beach, Florida (September 2011) – Festival Founder and Director Lee Brian Schrager is pleased to unveil the program for the 2012 Food Network South Beach Wine & Food Festival presented by FOOD & WINE.
Taking place February 23 – 26, 2012 the 11th annual edition of America's favorite wine and culinary extravaganza will feature new events and programming guaranteed to please. All proceeds from the Festival benefit the Florida International University (FIU) Chaplin School of Hospitality and Tourism Management and the Southern Wine & Spirits Beverage Management Center; monies raised to date total approximately $14 million.
"Celebrating the milestone of our 10th year at the 2011 Festival was truly extraordinary," says Schrager, who also serves as Vice President of Corporate Communications & National Events at Southern Wine & Spirits of America, which hosts the Festival. "I believe the 2012 program features a number of fresh and exciting changes as well as those events that have become fan-favorites over the years."
Transformations to the Festival program are most evident on Thursday, February 23 with a new event that takes the place of the beloved BubbleQ®. Promising even more fun, the Festival will kick-off with Moët Hennessy's The Q presented by Allen Brothers, sponsored by Miami magazine, hosted by Emeril Lagasse and Guy Fieri. For those who wish to partake in a late-night experience, the best part of this change is that The Q will also feature its own after-party, The Q After Dark! The Amstel Light Burger Bash presented by Allen Brothers hosted by Rachael Ray moves to Friday, February 24; a night which is also home to the eighth annual Fontainebleau Miami Beach presents Wine Spectator's Best of the Best sponsored by Bank of America.
The 2012 Tribute Dinner presented by Bank of America keeps its long-standing tradition of honoring the world's greatest wine and culinary talent by paying tribute to esteemed chef Charlie Trotter and celebrated winemaker Piero Antinori. Now celebrating its 25th anniversary, Trotter's namesake restaurant in Chicago is regarded as one of the finest restaurants in the world. The Antinori reputation as innovators has grown throughout the centuries, woven through 625 years and 26 generations of winemaking, making it one of the leading Italian producers of fine wines. Author and host of the popular Travel Channel series No Reservations, Anthony Bourdain will serve as the evening's master of ceremonies.
Capitalizing on the excitement surrounding last year's 10th anniversary party, the Festival will again take over the stunning 1111 Lincoln Road space for Party: Impossible featuring Epicure Gourmet Market hosted by Robert Irvine. Also reinventing itself for 2012 is Food Network presents The Best Thing I Ever Ate: Late Night Bites, an event based of the hit primetime series. Dedicated foodies will get an exclusive opportunity to savor all of famed chef, restaurateur, and cookbook author Bobby Flay's restaurant concepts in one evening at the casual dinner The Flavors of Flay. The program is rounded out by highlighting the hottest trend in food at Trucks on the Beach presented by Diet Pepsi hosted by Andrew Zimmern, which doubles as the official Festival closing party.
A fresh set of Wine Spectator Wine Seminars and Bank of America Lifestyle Seminars will delight everyone from the novice to the aficionado throughout the weekend. Additionally, in line with previous years, the 2012 Festival will also host an array of unique brunches and dinners to appease even the most discerning of taste buds. They include:
• Dining in the Dark hosted by David Burke with Market 17
• Conscious Bite Out with Geoffrey Zakarian
• Dolce Lunch hosted by Charles Phan at The Setai
• Farm to Table Brunch hosted by Michael Schwartz & Friends
• Interactive Lunch hosted by Anne Burrell
• Napa Style at the Mandarin: hosted by Michael Chiarello and Joel Huff at Azul
• Interactive Dinner hosted by The Neelys
• Salsa @ Sea hosted by Douglas Rodriguez & Aarón Sanchez
• Sunday Supper by Meatball Shop

Tickets for the 2012 Festival went on sale at midnight on Monday, October 24, 2011 and can be purchased at www.sobefest.com and via phone at 877.762.3933.
Fans can follow Festival Founder and Director Lee Brian Schrager on Twitter at www.twitter.com/Lee_Schrager or at the Festival's official Facebook page at www.facebook.com/SOBEWFF.
For more information about Florida International University visit www.fiu.edu, for the School of Hospitality and Tourism Management visit www.hospitality.fiu.edu and for more information about Southern Wine & Spirits visit www.southernwine.com.
***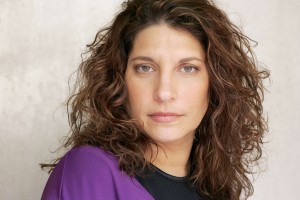 A Toledo, OH native, a graduate of Kent State, Marla E. Schwartz is a Senior Writer for Miami Living Magazine, a freelance writer for Lighthouse Point Magazine and the a cultural arts columnist for AroundWellington.com. Her photographs have appeared in these publications, in many Ohio periodicals, as well as in The Miami Herald, The Ft. Lauderdale Sun-Sentinel and The Palm Beach Post. She has had numerous plays published and produced around the country. Her short play, America's Working? was produced in Los Angeles at both the First Stage and the Lone Star Ensemble theater companies, in Florida at Lynn University and at an Off-Broadway playhouse in NYC. Her piece, The Lunch Time Café, was a finalist for the Heideman Award, Actors Theatre of Louisville. Please check out the re-prints of her interviews with authors Dave Barry & Ridley Pearson and Dexter novelist Jeff Lindsay in the October 2010 issue #2 and Chris Bohjalian in the April 2011 issue #3 of Duff Brenna's ServingHouse: A Journal of Literary Arts at www.servinghousejournal.com. You can contact her at marlaschwartz@att.net.