Experience A World of Music and Food at Irish Fest On Flagler March 8 & 9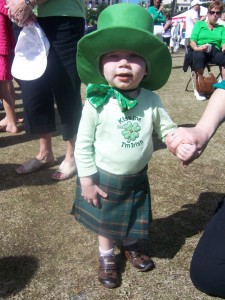 (West Palm Beach, FL) February 19, 2014 – Bring your lads and lassies to two days of Celtic fun as Irish Fest on Flagler returns for another weekend of Irish food, Irish-inspired crafts, dancing and great Irish music in downtown West Palm Beach, March 8 & 9.
Irish Fest on Flagler offers guests the opportunity to experience authentic Irish dance and discover the best of Irish music, food, and culture without the cost of traveling to Ireland. Save a little green as well – Irish Fest is value priced at only $5 per ticket and children under 12 are always free.
This year's entertainment headline is an eclectic mix of traditional Irish music and dancing to edgy Irish rock bands that offer up a diverse mix of entertainment as diverse as the Irish themselves. Headliners for this year's Fest are the Screaming Orphans and The Young Wolfe Tones with Derek Warfield and Seven Nations.
In addition to the music, don't miss the always popular Noel Kingston, Tir Na Greine Dancers, Aranmore Irish Dancers, the Keltic Kids Korner, and great Irish-inspired crafts at the Irish Marketplace.
Don't forget some of the best food this side of Dublin – guests can sample a wide variety of foods from Celtic to more traditional American foods. Some of the Celtic food to try includes bangers, shepherd's pie, corn beef and cabbage, scones, bridies and lamb stew, as well as the traditional fish and chip meal. Some other festival favorites include, ice cream, hot dogs, fries, cotton candy and burgers.
Irish Fest takes place at the Meyer Amphitheater; Datura and Flager, in downtown West Palm Beach. The festival runs Saturday, March 8 from noon-11pm and Sunday, March9 from noon –8 pm, admission is $5 per person; children 14 and under are free. For more information visit www.irishflorida.org or call 561 394 5121 or 954 946 1093.
Irish Fest Schedule:
SATURDAY — MARCH 8
12:00 PADDY NOONAN
1:00 FIRE IN THE KITCHEN
2:30 SUZUKE SCHOOL OF MUSIC
3:00 THE YOUNG WOLFETONES
4:00 NOEL KINGSTON
5:00 TIR NA GREINE DANCERS
5:30 SEVEN NATIONS
6:45 ARANMORE IRISH DANCERS
7:00 SCREAMING ORPHANS
8:30 THE YOUNG WOLFETONES
SUNDAY – MARCH 09
11:00 GAELIC MASS
12:00 CROSSROADS CEILI DANCERS
12:15 TOMMY GOODWIN & SHARON
1:00 NOEL KINGSTON
2:00 TIR NA GREINE DANCERS
2:30 SCREAMING ORPHANS
4:30 THE YOUNG WOLFETONES WITH DEREK WARFIELD
6:00 SEVEN NATIONS