Travel with Terri
Quebec City: Celebrating All Things Winter
By Terri Marshall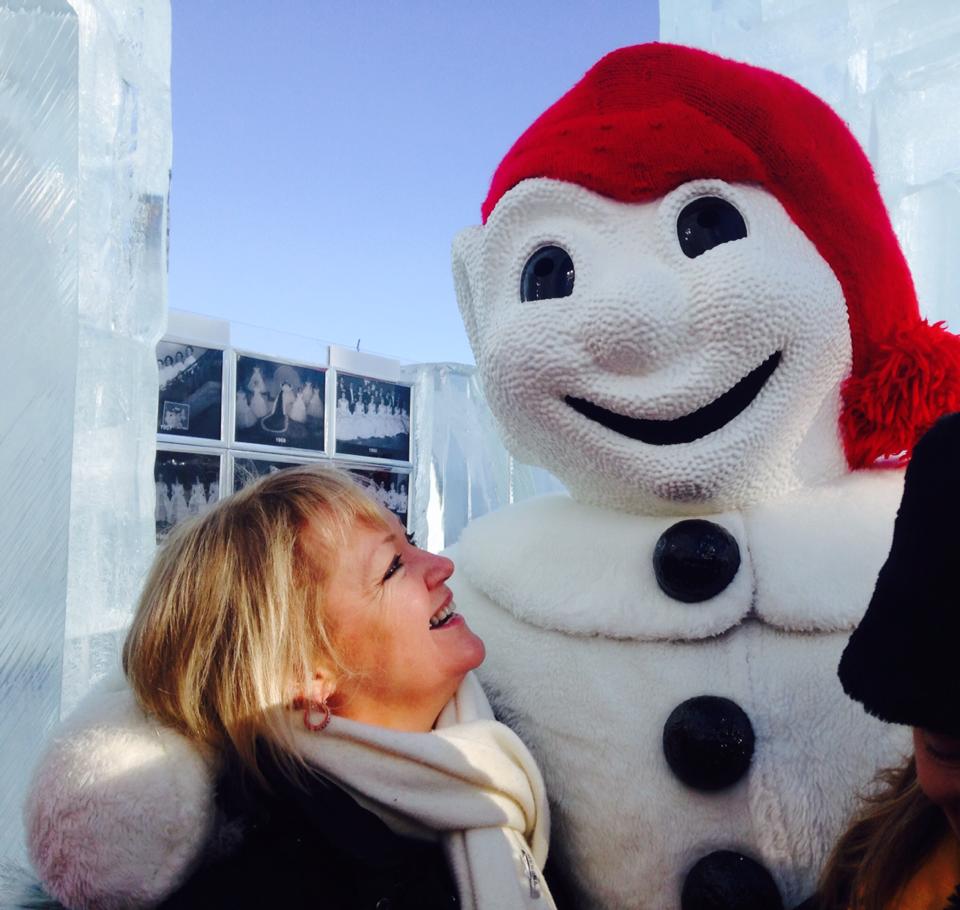 For 60 years Carnaval de Quebec, the world's largest outdoor winter festival, has turned the chill of the Canadian winter into a party of snow and ice.
As Quebec residents will tell you, winter is in their DNA so why not celebrate! Attracting over 700,000 visitors each year, Carnaval de Quebec offers a winter playground for all ages.
Here are five reasons you should pack a coat, scarf, gloves and snow boots and head north to join the celebration.
Bonhomme and the Ice Palace
Everyone knows about Santa Claus, but to the children of Quebec, Bonhomme is a much bigger deal. A lovable larger than life snowman wearing a brightly colored arrowhead sash, Bonhomme is the main attraction at Carnaval de Quebec.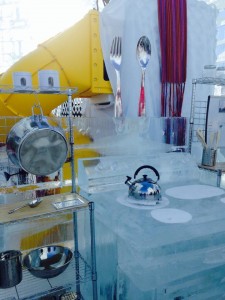 This isn't your average snowman…Bonhomme is alive! You will find him dancing to his favorite tunes on the snow, embracing children of all ages with his generous hugs and entertaining in his spectacular home, the Ice Palace.
Constructed in three weeks using over 2,000 blocks weighing 300 pounds each, the Ice Palace is fully equipped with everything Bonhomme needs to eat, play, rest and refresh. Bonhomme's dining table is set for 12 guests complete with placemats and a table runner matching his brightly colored sash. There is a fully equipped kitchen with an ice stove where Bonhomme can prepare for his dinner parties. What does a snowman serve for dinner? Ice cream cones, ice cream sandwiches and popsicles of course!
The Plains of Abraham
This enchanting urban park offering unobstructed views of the mighty Saint-Lawrence River is the heart of Carnaval de Quebec. There are approximately 8 miles of ski trails for beginner and intermediate cross-country skiers, a 2.5 mile trail for snowshoeing and 3.5 miles of walking trails.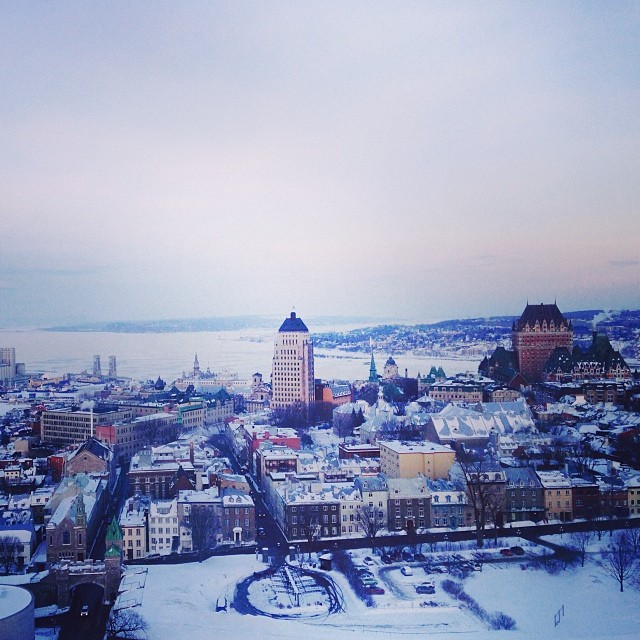 Activities differ each weekend of Carnaval de Quebec but there is always something magical happening.
Join in a huge snow ball fight, cheer for your favorite team at the ice canoe races or marvel at magnificent works of art sculpted from dazzling white snow at the national and international snow sculpture competitions.
Keep the winter fun coming with a nostalgic horse-drawn sleigh ride, glide across the winter landscape behind a team of powerful Alaskan Husky sled dogs, take the plunge down a huge snow slide or soak in an outdoor Arctic spa surrounded by pure white snow.
When you need to knock off the chill, step inside Bistro SAQ for delicious flavored coffees or a glass of warm mulled wine mixed with brandy – the Caribou. http://carnaval.qc.ca/en/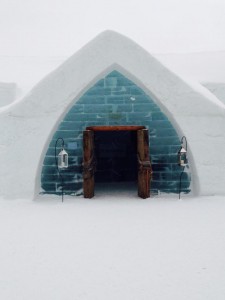 Hôtel de Glace
Seeking the ultimate cool experience? Book a room at the Ice Hotel.
Open from January until late March, this 44 room adobe structure is an artistic masterpiece. This year's themes include Olaf and the abominable snow monster from Disney's hit movie, Frozen. There is even a replica of Elsa and Anna's frozen bedroom!
Sleeping on an ice bed isn't for everyone. If you prefer a warm and toasty bed, check out the Ice Hotel during the day.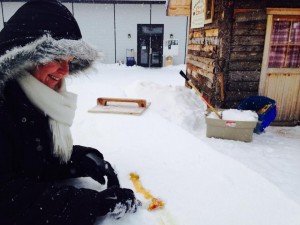 Sip a cool cocktail at the Ice Bar – served in an ice glass of course. Glide down the ice slide or tie the knot in the ice chapel.
Satisfy your sweet tooth outside at the Sugar Shack by rolling your own yummy maple snow taffy. www.hoteldeglace-canada.com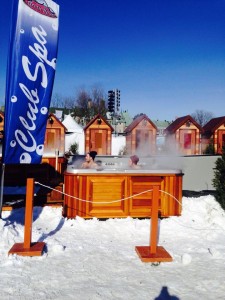 Nordic Spa
Energize your mind, body and spirit at a Nordic Spa.
Based on an ancient Scandinavian concept, treatments provide deep relaxation by alternating between soaking in hot and cold water followed by periods of rest.
This form of thermo therapy reduces stress, eliminates toxins, relaxes muscles, improves sleep quality and strengthens the immune system while revitalizing the body and soul. Start with a hot steam soak followed by a chilling dip in icy water.
You can even take a dip in the frozen river…you choose how cold you go! www.quebecregion.com/en/nordic-spas

Village Vacances Valcartier
During winter, the largest water-park in Canada transforms into North America's largest winter playground.
Located just outside Quebec City, Village Vacances Valcartier has more than 35 snow slides, skating paths, snow rafting and tubing. Get a group of eight thrill seekers together and board the Tornado. The Tornado tube is equipped with a spinning mechanism that will have you twirling and whirling down the slope. Looking for the ultimate thrill? The Himalaya whirls you down four slides at speeds between 50 to 55 mph overlooking the Jacques-Cartier River Valley.
Breathtaking thrills and breathtaking views – can't beat that! www.valcartier.com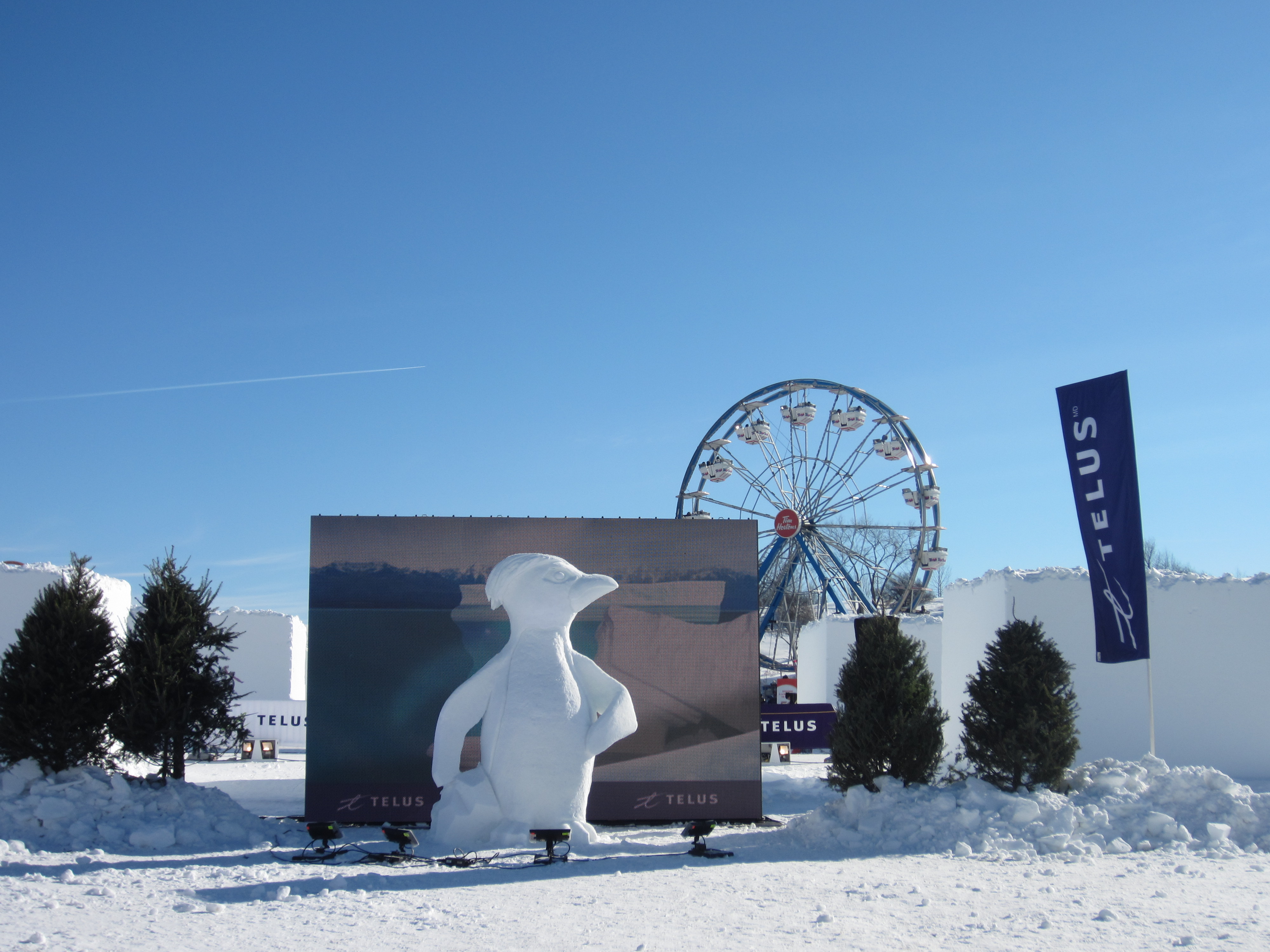 Next winter don't shy away from snow and ice, embrace it and join Bonhomme for Carnaval de Quebec. You won't even notice the cold! www.quebecregion.com
Terri is a freelance writer with regular columns on travel, chocolate and bar reviews. She is busy each month visiting new places to bring unique travel destinations and events to you. Yes, it is a sacrifice – but she is willing to do that for her readers! You can see more of Terri's writing at www.examiner.com where she is the National Chocolate Examiner and at www.barzz.net. Also, check out her blog at www.trippingwithterri.com. You can contact Terri at terri.marshall60@gmail.com.