Cultural Corner
An Interview with Author Lisa Unger
By Marla E. Schwartz
It's comforting to believe the myth that we're safer in small-town America. Perhaps on one hand there's a kernel of truth in this ideological precept, but in reality we know it's not true. And who better to tackle this subject? None other than best-selling author and Tampa resident Lisa Unger, whose current book deals with this particular subject.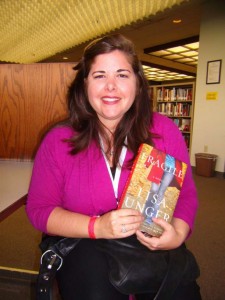 Lisa was born the small town of New Haven, Ct., the oldest "small town" in America. But she moved around a great deal in her formative years so it's not clear whether or not her early environment subconsciously affects her writing material. No matter the influence, the world is fortunate to have her writing for it. Lisa studied and graduated from the New School for Social Research in New York City, achieved success in the publicity field and then followed her dream of becoming a published author. Her first set of novels, known as her 'Lydia Strong' series, Angel Fire (2002), The Darkness Gathers (2003), Twice (2004), and Smoke (2005), were published under her maiden name, Lisa Miscione.
She attended the 2010 Miami Book Fair International where she spoke about her novel FRAGILE that's being released in paperback this month. Her next novel. Darkness, My Old Friend will be released in hardback in August 2011. In respect to FRAGILE, the story revolves around the mystery of a missing girl in a small town and how her disappearance is connected to that of another missing girl from the past. This funny, endearing, sensible and wise author took time to answer a few questions specifically about her book.
AW.COM: How does living in Florida or other places you've lived influence your work, or doesn't it?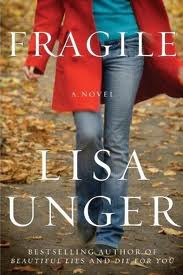 LISA UNGER: It certainly does. I was in Florida for about four years before I started writing about New York. My first book as Lisa Unger is BEAUTIFUL LIES and it's my love letter to that city. A lot of what's in that book is me; my first apartment, the places I've been, and I left because the city started to shut me down a bit because it's such an intense place to live. I left without a second thought and moved to Florida. I had met my husband at Sloppy Joe's in Key West. He was living in Detroit at the time and I was still in NYC. Right before I met him I'd finished my first novel so we decided when we were going to get married that we would go where he got the best job, so that's how we ended up in Clearwater, which is near Tampa. I've been here for about seven years so I really have this sense of Florida. I found the things I love about Florida are very similar to the things I love about New York. They both have this dark heart, this ethereal center and subterranean worlds that appeal to my imagination. It's all these things mingling together that are fascinating to me. It takes time for a place to metabolize for me. I must have a primary knowledge of a place to the degree where I can feel super comfortable writing about it in an intimate perspective. You have the insider's knowledge of having lived in a place and now you have an outsider's perspective where you see things in a way that you can make it relatable.
AW: What gave you the courage to leave your job in publicity?
LU: It was a difficult transition. I worked in publicity for a publishing company and even having that knowledge and kind of access to the field didn't help in the transition. I was a closet writer. My job was getting bigger and bigger and the time I spent writing got smaller and smaller and the only thing I wanted drifted a little bit. Then I had an epiphany where I thought I could live with crashing and burning but not so much a slow fade. I got very serious about it and it took me about a year and a half to finish my book, something that I started when I was nineteen and finished when I was twenty-nine. That was Angel Fire. I finished it and a few months later I met my husband and before we left for Florida I took my manuscript to an agent and kind of went for broke. It was pretty scary.
AW: When did you first realize you wanted to be a writer?
LU: I actually don't remember a time before – I define myself that way. It's been a driving force for me throughout my education. It's definitely something I gravitated to early as I've been an avid reader since the time I could read. Then there's a moment, I don't remember the moment, but there must be one where you realize you're not content to just read. So you start writing and writing awful stuff at first. But I had a lot of early recognition and support and that was very helpful.
AW: I wonder if people from your hometown have made any comments to you about FRAGILE because the story is loosely based on your childhood memory of an abduction and murder that took place.
LU: After I got back from the Netherlands and England my family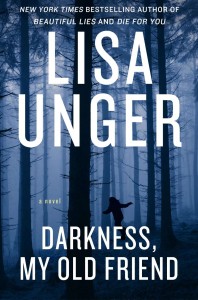 settled in New Jersey. The town (in the book) itself isn't the town where I grew up but it's not so wildly different from it. The event that inspired the book is by no means a re-telling of it, and that was very purposeful of me because I had a fear of exploiting the memory of someone who was my classmate and her family. But what I did tell was mine to tell. For me, when I write, in some sense I'm not even thinking that it's going to be published even though I have a contract and I have every reason to believe that my book will be read by some people – I never think about it while I'm writing. But in this case it was very much something that impacted me, it changed the way I saw the world and it changed my perspective on everything. And not to say it hung heavy on my heart or that it was something I had nightmares about but it changed me in a significant way. It was a moment in time when she called her mom and told her she'd missed the bus which she had done hundreds of times. So her mom was annoyed and told her to walk. I mean, it's not even a mile and you could easily walk it, yet it was also that moment when he had been waiting and this story has tried to find its way onto the page before. I've never been able to resolve it or find strong enough voices to tell the story. It's interesting because the voices that finally did succeed in telling the story were much older and it was almost as if I had to be older, to be a wife and a mother to have access to all of the layers of the story. You have to have empathy for the mother to tell the story. You never think something like this is going to happen to your child, especially in a town like this that is idyllic, very quiet.
AW: You once stated that people who read and write books turn to books to understand life? Why do you think this is true?
LU: I think it's true because every good book is a little bit of a slice of life. As a crime fiction writer, I'm trying to find a way to make order out of chaos. I feel most people, especially people who get together to talk about books, are getting together to talk about life and trying to understand it a little bit more. I don't believe people are reading necessarily to escape, maybe in some cases, but real readers, people who are truly reading and loving it and belong to book groups and are also writers, is that we're trying to understand things that don't make sense. It's only in the course of living your life and making good choices and bad choices and then making choices yet again to deal with the consequences of whatever these choices were – is a chain link of choices and ultimately that's what your life is – a series of choices. And that's something that I come back to again and again because I like exploring this theme.
AW: Tell me more about Jones.
LU: I felt it was very clear to me that Jones is really the central figure of that story even though Maggie probably has more page time. I was so interested in him as here's this man, actually, interesting enough that in my next book (Darkness, My Old Friend) it continues with him, which I almost never do. But I couldn't give him up. He has a long road ahead of him because in this terrible moment he made terrible choices. He's not guiltless, and yet he's not culpable. He didn't truly do anything wrong. It was just afterwards he made these really bad choices. But they were choices informed by adults who also made terrible choices. He was really just a kid, and if he had had more strength, somebody to bolster him and lead him through it he may have come out of it totally different. He's now resigned from the police department so what can he do? And what is going to happen to his marriage?
AW: In FRAGILE, the word fragile appears in several places throughout it. Did the title come first?
LU: In this case, which is often not the case, the title choice came first. The word means something to me and the idea that it touches on so many threads of the novel such as the fragility of your own memory and the memory of events and the course of life itself and our relationships and how tenuously we're connected. And yet how powerful those connections are and how those relationships have the ability to impact everything in our lives. Titles are something that I usually have a problem with, but not in this case.
AW: I'm curious as to your use of a psychic energy and intuitive references in your book.
LU: For me the feeling of energy off of people is very real. I honor it and it finds its way even more so into my next novel. We're beings that are connected to energy. You may feel unusually close to someone or repelled by others. And if you're getting a negative energy from someone this is important and I don't know how people can ignore that fact.
AW: The title of your next book – is this an homage to the Simon and Garfunkel hit The Sound of Silence?
LU: Yes, it was inspired by that song, "Hello darkness, my old friend, I've come to talk to you again".
AW: Is there anything you want to add?
LU: Read. Read anyway you want – Kindle, a bound book, and support your local library. Librarians are telling me how their new book budgets are being slashed and this is very sad to me. Obviously I'm an author and I make a living by the sale of my books, but I feel that art should be available to everyone whether they can afford it or not. I want people to read and have a way to explore life and to broaden their minds.
AW: Thank you, Lisa Unger!
***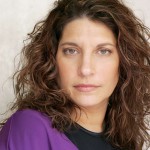 A Toledo, OH native, a graduate of Kent State, Marla E. Schwartz is a Senior Writer for Miami Living Magazine, a freelance writer for Lighthouse Point Magazine and the a cultural arts columnist for AroundWellington.com Her photographs have appeared in these publications, in many Ohio periodicals, as well as in The Miami Herald, The Ft. Lauderdale Sun-Sentinel and The Palm Beach Post. She has had numerous plays published and produced around the country. Her short play, America's Working? was produced in Los Angeles at both the First Stage and the Lone Star Ensemble theater companies, in Florida at Lynn University and at an Off-Broadway playhouse in NYC. Her piece, The Lunch Time Café, was a finalist for the Heideman Award, Actors Theatre of Louisville. Please check out the re-prints of her interviews with authors Dave Barry & Ridley Pearson and Dexter novelist Jeff Lindsay in the October 2010 issue #2 and Chris Bohjalian in the April 2011 issue #3 of Duff Brenna's ServingHouse: A Journal of Literary Arts at www.servinghousejournal.com. You can contact her at marlaschwartz@att.net.